EAST RUTHERFORD, N.J. –** Antrel Rolle played in every game in his first three seasons with the Giants and to his recollection, his practice attendance was perfect except for one absence. He missed a day last season when he suffered lacerations and contusions on his knee when he collided with a photographer near the sideline late in a victory at Carolina.
](http://www.giants.com/news-and-blogs/article-1/Special-Teams-could-be-key-for-DE-Ojomo/d3930c4e-391e-4e5e-93a8-ed8df511004f) [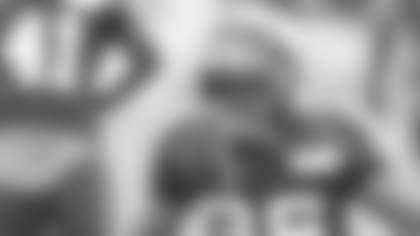 Quotes: Read Antrel Rolle's comments](http://www.giants.com/news-and-blogs/Watch-Videos/article-1/Antrel-Rolle-updates-injury-status-/da126fbc-b666-4f42-80d0-f446222a66ff) But Rolle was not on the practice field today because of the sprained ankle he suffered yesterday and is uncertain when he might return. But Rolle vowed to be ready for the Sept. 8 season opener in Dallas. And Tom Coughlin is hopeful Rolle is patrolling the back of the defense much sooner than that.
"I hope he comes back next week," Coughlin said when asked if he expects Rolle to return for the Cowboys game. Rolle was optimistic immediately after suffering the injury yesterday, three times telling Coughlin on the field, "I'll be fine."
"I'm going to do whatever it takes to make sure (he plays in Dallas)," Rolle said. "(Missing the game is) not even a possibility. Treatment, two times a day, three times a day, four times a day. Whatever it takes, I'm going to do it."
In the interim, however, he'll be uncommonly idle.
"It's extremely tough," Rolle said. "I'm not a fan of injuries and unfortunately I know injuries do take place in this league. But in my eyes, I just see injuries as some sort of sign of weakness. Although it may be unrealistic, that's just the way I see it. You try to do your best to prevent things like that, but some things are going to happen. You can't prevent everything. It was just unfortunate. I don't like leaving my guys out there by themselves. That's just the way I look at it, I feel like we all need each other. I need them, they need me and I'd like to be out there with them at all times.
"There's no timeframe at the moment (for his return) but as soon as possible. I'm a hard worker, on the field and off the field. I really hate to even speak about this, but it happens in this game. I'm just going to do the best I can, try to get out there before the preseason's over with and take it one day at a time."
Rolle's coaches have great admiration not just for his ability and consistency, but for his determination to stay on the field.
"He has an ankle injury and he'll do everything he can to get back in," Coughlin said. "He doesn't like to miss anything and, quite frankly, if he can possibly avoid it, he misses nothing, which is a good attitude."
Rolle has led the Giants in tackles in each of the last two seasons, last year with 108 (89 solo).
"He's one of the building blocks," defensive coordinator Perry Fewell said. "He's a brick. He's always there. He's tough. He's the motor that sails us. His presence is always valuable for us."
Rolle has been replaced in practice by Ryan Mundy, who was signed in the offseason as a free agent from Pittsburgh.
Mundy will certainly have plenty of conversations with Rolle, who had an MRI yesterday, then went home to watch the practice he had to leave.
"I'm definitely going to be hands on and learning what I can learn or critiquing what I can critique," Rolle said. "Sometimes, the best way for a veteran player to learn is to watch others. So I'm definitely going to sit back and watch practice and go back and even watch it again later at night on my iPad. I'm trying to do everything I can to keep myself in the game."
Rolle was injured when he got tangled up with tight end Bear Pascoe in a one-on-one drill. He limped off the field, where he was examined by the team's athletic trainers before being carted indoors at the Quest Diagnostics Training Center.
"I got caught up with his foot before I actually jumped," Rolle said. "My foot just kind of rolled up underneath, on both sides. Got me pretty good.
"It's a pretty good sprain. I always said that if I can't get up and I can't walk off on my own, then it's pretty bad. For right now, just from yesterday to today, it feels 10 times better. Just rehabbing and doing all the treatments as necessary, just try to push my way back."
Rolle can't predict when that will be, but he will return to the field as soon as the Giants' medical staff permits him to.
"I hate missing even a practice, being out there with my teammates, with my brothers," said Rolle said. "This is very hard for me to accept but at the same time, I have to be smart about it. I'm going to push myself because that's who I am, I push myself in everything I do. I'll try to get out there with those guys as soon as possible."