EAST RUTHERFORD, N.J. – Each Wednesday morning, Tom Coughlin conducts a team meeting at which he introduces the next opponent and discusses the importance of that week's game.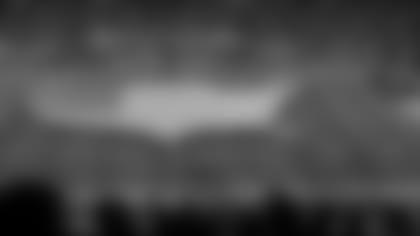 Photos: Giants Remember 9/11 ](http://www.giants.com/photos/photos/Giants-Remember-911/9dbb729e-6eec-4284-9c32-86eb6328c9fe)
Today, the Giants' head coach added a notable addendum to the meeting when he spoke to the players about the Sept. 11, 2001 terrorist attacks on the 12th anniversary of that awful day. He made a similar presentation on Aug. 28, the 50th anniversary of the March on Washington and Martin Luther King, Jr.'s famed "I Have a Dream" speech.
At the conclusion of his PowerPoint presentation, the iconic photo of first responders raising the American flag above the ruins of the World Trade Center appeared on the screen at the front of the auditorium.
"I think it's important for our young people to remember what happened on 9/11," Coughlin said. "Many of them did recall exactly where they were on that day, but I want them all to try to remember where they were. Some of them are 21 or 22 years old, which put them at 10 years old when this occurred, but they still must understand the incredible significance of that event in the history of our country, because our nation and our people were violated in that way and it is the only time in history that's ever happened.
"I'll never forget 9/11 and I don't want anybody to forget 9/11. It's the 12th anniversary of 9/11 and the cowardice terrorist act that decimated our city and our country and killed so many innocent people, I don't ever want to forget that."
Coughlin, 67, believes it is important that his players are aware of and understand the significance of epochal historical events. In addition to sharing the same heartache of millions of Americans on Sept. 11, 2001, Coughlin was touched personally. Tim Coughlin, the second-eldest of his four children, was a bond trader for Morgan Stanley who safely escaped the South Tower – the second hit by an airplane, but the first to collapse.
"I was compelled to make sure, as I've done the same thing with Martin Luther King's famous 'I Have a Dream' speech, I was compelled, as a historian, to remind our players about that and the significance of that," Coughlin said. "There were 250,000 Americans at the Lincoln Memorial and what the significance of that speech was and (King's) Nobel Peace Prize and all of that. And today, again, as a historian, reminding all of us that this is something that we can never forget. We don't ever want to forget this because this event took place, it changed the pattern of history, it changed our acknowledgment of worldly responsibilities. I didn't want our young people to slide by this day without devoting recognition to this day. It should be something that we as Americans don't forget."