EAST RUTHERFORD, NJ - The NFL spotlight will be on the Giants Sunday night when they visit the Indianapolis Colts in the second game in league history in which the starting quarterbacks are brothers. Peyton Manning and the Colts won the first such meeting, defeating Eli Manning and the Giants, 26-21, in the 2006 season opener in Giants Stadium. The Colts lead the regular season series, 7-6. But the Giants won both of their previous games in Indianapolis, 24-7 in 1990 and 44-17 in 2002. This will be the Giants' first visit to Lucas Oil Stadium, which opened in 2008.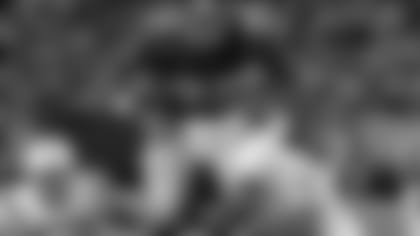 The defending AFC champion Colts return 40 of the 53 players who were on their roster at the end of last season, including all 11 starters on defense and 10 on offense.
The Colts annually are one of the NFL's highest-scoring teams, thanks to a prolific passing offense triggered by Peyton Manning, and this year is no exception. On Kickoff Weekend, Indianapolis gained more yards (463) and threw for more yards (419) than any other team in the league. But the Colts lost to the Houston Texans, 34-24.
The opener marked the first appearance of the year for tight end Dallas Clark, center Jeff Saturday and left tackle Charlie Johnson, all of whom were kept out of the four preseason games. The Colts were also missing right guard Kyle DeVan with a hamstring injury.
The Colts use the same skill position personnel grouping for the vast majority of every game: three wide receivers, a tight end and a running back. Because Clark is so versatile, they have only four receivers on the roster. Indianapolis does not have a true fullback. But that doesn't mean the Colts are predictable; they present a defense with many different offensive looks using the same players.
Clyde Christensen has replaced Tom Moore (now a consultant) as offensive coordinator and is calling the plays. Indianapolis basically plays a no-huddle offense the entire game. The attack is predicated on tempo. The Colts often vary their snap count. They like to run their receivers on crossing routes and screens.
Indianapolis' success on offense starts with Manning, a four-time NFL MVP. His numbers – 50,561 yards, 369 touchdown passes – are otherworldly. Manning is as polished mechanically as any NFL quarterback. He is brilliant at reading defenses and when he sees a hole in a zone or a blown coverage, he will exploit it instantly. Manning has outstanding movement in the pocket and he has an uncanny ability to bide time until a receiver breaks open. Manning constantly keeps the pressure on opposing defenses by keeping the offense moving at a fast pace with his decision-making and his accuracy. Manning will often make a defense pay for making a late substitution. Last week, he completed 40 of 57 passes for 433 yards, three touchdowns and no interceptions. Manning's backup is Curtis Painter.
Manning throws to several talented targets, including wide receivers Reggie Wayne, Pierre Garcon and Austin Collie, plus Clark. Collie and Clark caught 11 passes apiece last week, and Wayne and Clark each had 110 receptions in 2009.
Wayne has started 114 consecutive games (the longest active streak among wide receivers) and leads the NFL since the start of the 2004 season with 539 catches and 7,593 yards. He does not have blinding speed, but he runs precise routes, makes instant adjustments and his non-verbal communication with Manning is uncanny (notwithstanding the breakdown in the Super Bowl that resulted in Tracy Porter's game-clinching interception). Garcon is the unit's most explosive player and best blocker. Collie is a reliable receiving threat who caught 60 passes as a rookie last season. The fourth wideout, Anthony Gonzalez, has an ankle injury.
Clark never leaves the field when the Colts are on offense. He lines up all over the formation – on the line, in the slot or the backfield – and is a complete player who has a knack for being in the exact spot Manning wants him. Rookie Brody Eldridge was drafted on the fifth round to be a blocker, but he has proved to be an all-around player. Jacob Tamme will come in to run some short routes.
The Colts finished last in the NFL in rushing yards in 2009 and are 31st after one week of the new season. They ran the ball only 10 times for 44 yards at Houston. Indianapolis has two quality backs in Joseph Addai (who had all 10 rushes vs. the Texans) and Donald Brown. Addai is faster and more elusive and has good receiving skills. Brown is a stronger, more powerful runner. Both excel at protecting Manning with their blitz pickups, a requisite for any Colts back. Without a fullback, Indianapolis will employ a second tight end (Brody Eldridge), defensive lineman (Eric Foster or Mitch King) or a linebacker (Cody Glenn) as blockers in short yardage and goal line situations.
Indianapolis' offensive line is not particularly powerful, but it is smart and competitive and it excels at protecting Manning. The leader of the group is four-time Pro Bowler Saturday, a tough, competitive blocker who is always in sync with Manning. Left tackle Charlie Johnson is battling a right foot sprain, but he is the best athlete of the group. Right tackle Ryan Diem has a big blocking surface that makes it difficult for defensive ends to navigate around. Left guard Jamey Richard played little last season, but he is adept at picking up defensive line tricks and blitzes. Mike Pollak played right guard last week for DeVan.
The Colts' defense is undersized compared to many in the NFL, but it is extremely fast and athletic. They have excellent speed to the edge, which makes it difficult for opposing offenses to run wide. The Colts swarm to the ball and gang tackle anyone in possession of it. In 2009, they were 18th in total defense, but eighth in points allowed. Indianapolis forced an NFL-high seven red zone turnovers and allowed 25 touchdowns in 51 opposing possessions inside the 20.
The unit must once again play without safety Bob Sanders, the 2007 NFL Defensive Player of the Year, who had surgery this week to repair a right torn biceps muscle suffered in the opener.
The Colts have two lightning-quick defensive ends in Dwight Freeney and Robert Mathis. Freeney has six seasons with at least 10 sacks, including 13.5 last year, so the Giants must know where he is at all times. Indianapolis has started to take him off the field in short-yardage situations. Mathis is explosive and relentless and is skilled at using his hands to work away from offensive linemen. Since 2002, Freeney leads the NFL with 36 forced fumbles. Mathis is second with 35. Tackle Dan Muir is the Colts' best run defender. At 6-3 and 310 pounds, right tackle Antonio Johnson is the biggest player on the line. Keyunta Dawson is a sub lineman who sometimes lines up at linebacker, much like Mathias Kiwanuka does for the Giants. Fili Moala also gets plenty of playing time. Indianapolis blitzes infrequently, preferring instead to generate a pass rush with its front four. The Colts will, however, blitz in the red zone, which can expose their corners.
Middle linebacker Gary Brackett is the captain of the defense, a player who never comes off the field and gets everyone lined up. He has finished with at least 113 tackles in each of the last six seasons. Weakside backer Clint Session is the Colts' most physical and powerful linebacker. On the strong side, Philip Wheeler is instinctive and tough. Both outside linebackers are very active and tough to cut off in pursuit.
The Colts already have five defensive backs on injured reserve and now must again play without Sanders, who missed 14 games last year with an elbow injury. His replacement, Melvin Bullitt, is a four-year veteran with good coverage skills. The other safety is Antoine Bethea, who quickly diagnoses plays and finds the ball. Jerraud Powers is the Colts' best cornerback. He teams with Kelvin Hayden to give Indy a pair of quick and aggressive corners. Justin Tryon is the third corner in the nickel. He plays the right side with Powers moving inside to cover the slot receiver (Wheeler comes off the field).
Adam Vinatieri, one of the best pressure kickers in NFL history, is healthy after missing most of last season with injuries. The two-time Pro Bowler and 15-year veteran still has a strong leg, but he has yielded kickoff duties to punter Pat McAfee. The punter has the ability to hang the ball in the air, but he has given up a lot of long returns, in part because the coverage teams have not played well. Indianapolis has new players handling both punt and kickoff returns. Oddly, Gonzalez is listed as the first punt returner on the depth chart, but he has never returned a punt in a game. Last week Powers had the Colts' only punt return. Devin Moore averaged 22.1 yards on seven kickoff returns at Houston.