Safety Cooper Taylor was drafted by the New York Giants in the fifth round this past April. Throughout the year, the University of Richmond product and Georgia native will provide an inside look at his journey of making it in the NFL. This week's post picks up with Cooper coming off his first two practices of training camp at the Quest Diagnostics Training Center…
We're coming up on our third day out on the fields here. The game is definitely a lot faster now in terms of the complexities of the defenses we're running and the guys we're playing against. Everybody's been great -- even to a young guy -- and it's a bunch of learning. But it's going well so far.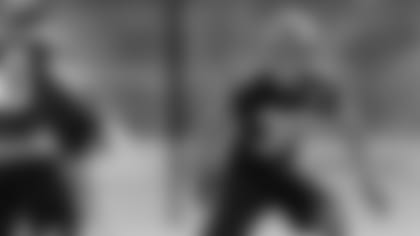 It's a little bit different than college training camp because you can't do two-a-days. So we have a lot more meeting time and a little less time on the practice field. So you definitely have to get your mental reps in the meetings and the walkthroughs, and whenever you get out in practice, you make every rep count.
In the pros, everybody has speed, and it's just about making sure, as a young guy, I know my responsibilities and then where I fit in all the route combinations. That's really where it starts.
So far, the biggest thing is just keep improving, that's what you need to do -- know my assignments down pat and keep improving.*
You can also follow him on Twitter @Coop__Taylor*