It's hard to explain what I felt for my first real NFL game. I'm still at a loss for words now. When you walk into that stadium, it's one of the biggest venues I have seen personally and from what I have read. To pull up to it in the bus and to see it in the distance and know that's where my first game is going to be, it was an amazing experience. The scoreboard, the ambiance, the field, to play in the home of the Cowboys as a Giant, it was unreal.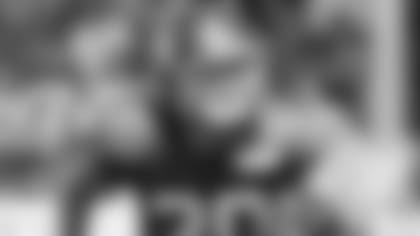 View photos from team practice About half of my family is from San Antonio, so they grew up Dallas fans. To go in there and play my first game in Texas with an away crowd, 95,000 people screaming, it was one of the most exciting things. I had about 30 family members there, all on my dad's side. I got to see them after the game, and it couldn't have been a better place to start off my career if it had to be on the road.
And I was right out there on the first play of the game on kickoff return. I still can't put it into words. It's one of the most exciting times of my entire life. It was a blur. From when I was little, I've always known I'd like to get to the NFL. I was talking to Ryan Nassib about that before the game. We came out a little early before we did warm-ups, and we were both sitting on the bench talking. We were like, "When we were little, this is the moment we always thought of." To sit there and just take 10-15 seconds to kind of soak it all in was really cool. Then it was game time and time to go to work.
The dream of making it to the NFL starts to become a reality in high school once you start getting recruited by Division I schools. You're like "maybe." Then as you progress in college, in the first couple college years, you realize if I can do it here, then maybe there's an opportunity at the next level. But it never really came to fruition until I walked out there on that first play. What most people don't realize about the NFL competition is most guys don't make it. There's such a small squad. Even after final cuts, it goes from 53 to 46 active players who dress on game day. Then of that 46, only the best guys are going to play. So it's just an absolute, absolute battle every week just to get on the field for your team. Once you get on the field, you have to perform as well.