With Michael Strahan inducted into the 2014 Hall of Fame Class, which Giant great do you want to see next getting into Canton, and why?* * -Abel**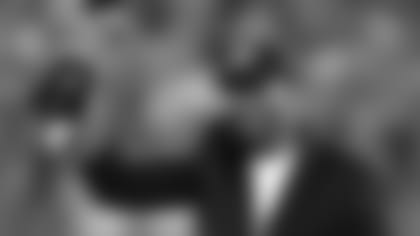 Read More from Eisen's Mailbag Dear Abel:
I'd love to see Phil Simms and George Young get inducted in the Hall of Fame, but it likely won't happen. Simms played one of the best games ever by a quarterback in a Super Bowl and held all of the Giants' passing records until Eli Manning came along. But his Hall of Fame candidacy has never gained traction. Young was one of the most successful and influential executives of his generation. He built the rosters that took the Giants from chronic losers in the 1970s to Super Bowl champions in 1986 and 1990. But Young's Hall of Fame bids have lost steam in recent years and with so many worthy candidates coming aboard, it's hard to see him getting it back. Unless you count Morten Andersen (he spent the 2001 season with the Giants), the franchise might have to wait for Tom Coughlin and Eli Manning to become eligible.
Bigger need: LB or OL?
-Bob
Dear Bob:
I believe it's the offensive line. The line is the heart and soul of any football team. It is simply impossible to win without a good offensive line. In 2013, injuries forced the Giants to constantly shuffle their interior linemen. That was a big reason the offense ranked 28th and Eli Manning absorbed a career-high 39 sacks. A strong defensive line and secondary can help a team overcome a mediocre group of linebackers. But there's no hiding a subpar offensive line.
I'm wondering why the Giants ever let Mitch Petrus go. I don't know that we had a more powerful drive blocker than him. Perhaps his pass protection was weak?
-Art
Dear Art:
Petrus had plenty of opportunities to prove what he could do and failed to distinguish himself as either a run blocker or in pass protection. It was time to move on. Since he did not play in the NFL last season, the other 31 teams obviously agree.