Cullen Jenkins is having the best camp out of the free agents the Giants signed this offseason.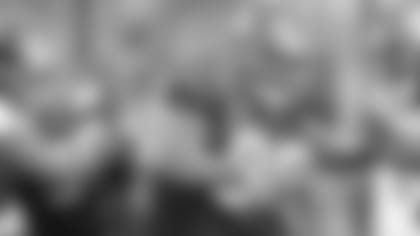 Read More Fact or Fiction](http://www.giants.com/news-and-blogs/fact-or-fiction.html) MICHAEL EISEN: Fact -Though I think Jenkins is tied with Brandon Myers and Josh Brown. Jenkins and Myers were the only two free agent imports to start the preseason opener. You can give Jenkins a slight advantage because he started at defensive end (because Justin Tuck didn't play), though his regular position is tackle. Myers has caught passes every day in camp and should be a threat in the aerial attack. Brown has proven to be the steady, professional veteran the Giants expected when they signed him.JOHN SCHMEELK: Fact -
What has impressed me most is his ability to move out there and also play defensive end in the 4-3. I knew he could play that position in the 3-4, but he has shown the quickness and speed necessary to get off the edge on a four man line as well.
DAN SALOMONE: Fact - I'm guilty of underestimating what his role would be on the Giants when he was first signed -- and even through OTAs and minicamp -- but that changed on the first day of training camp. That's what I get for not thinking a 10-year vet and a Super Bowl champion would contribute right away. Every opponent knows the Giants like to rush the passer, but with Jenkins, they'll be able to present more looks to throw off offenses.
Damontre Moore will have more than 4.5 sacks as a rookie (Jason Pierre-Paul had 4.5 in his first season).
MICHAEL EISEN: Fact -
Provided the shoulder injury that has kept him out of practice this week is minor, as it appears to be. Moore is obviously a skilled pass rusher. He's going to get better as he improves his technique and becomes more familiar with the pro game. The unknown is how much opportunity he will have. In Justin Tuck, Mathias Kiwanuka and JPP, he has three outstanding ends ahead of him. JPP's return date is still unknown, so Moore may get an early opportunity show what he can do.
JOHN SCHMEELK: Fiction -
I know everyone loves Damontre Moore, but I'm just not sure there is going to be enough playing time for him to accumulate that many sacks especially if JPP gets back for game one of the season. I'm still not convinced he is ahead of Adrian Tracy on the depth chart either since Tracy is so good on special teams.
DAN SALOMONE: Fact - Consider this as me buying into the rookie defensive end. Sorry, Schmeelk. Paul Dottino has brainwashed me. This could go one of two ways when we hit the regular season. 1) He looks like an overwhelmed rookie and spends the year at the back of the rotation learning from talented veterans. 2) He shows a flash early on and runs with it. He made a big impression in his first live game last weekend. I think he will again when the games count.
Eli Manning will win his third Super Bowl before Andrew Luck wins his first.

MICHAEL EISEN: Fact -Manning is a proven winner. Luck had a terrific rookie season, but it's a big leap from an initial playoff berth to a Super Bowl champion. Manning won a Super Bowl on his third trip to the postseason. Let's see if Luck can lead Indianapolis back to the playoffs and how well he plays when he gets there. And I believe the Giants are a better team right now than the Colts.JOHN SCHMEELK: Fact -
This is absolutely not anything negative in regards to Andrew Luck who I think will be a top quarterback in this league for a long time. I think he'll be the best quarterback out of last year's impressive draft class. I like the talent the Giants have around Manning more than I like the talent the Colts have around Luck.
DAN SALOMONE: Fiction - I use history to answer these ones. Four quarterbacks in the history of the NFL have won three or more Super Bowls. Just four. The likelihood of there being a fifth is less than another quarterback, who made the Pro Bowl as a rookie, going on to win one. The Colts also have a better path to the playoffs every year, while the Giants grind out postseason berths in the NFC East.
Ahmad Bradshaw is a top-five running back in Giants history.

MICHAEL EISEN: Fiction -He doesn't make it according to the numbers: Bradshaw is sixth in team history with 4,232 rushing yards. The five layers ahead of him are Tiki Barber, Rodney Hampton, Joe Morris, Brandon Jacobs and Alex Webster. One of the backs behind him is frank Gifford, who is in the Pro Football Hall of Fame. Bradshaw was a terrific player, but not good enough to be a top five back in Giants history.JOHN SCHMEELK: Fiction -
If not for his bad feet we could have this conversation, but he's behind Tiki Barber, Rodney Hampton, Frank Gifford, Joe Morris and probably Alex Webster. I think it is also a good argument as to whether he was better than Brandon Jacobs. I honestly think it is a coin flip. So he is close, but comes up just short.
DAN SALOMONE: Fiction - This is a lose-lose proposition. You diminish a Giants legend if you say fact. You undervalue Bradshaw's grit if you say fiction. I was too young (and too Minnesotan) to fully appreciate three of the top five Giants (Alex Webster, Rodney Hampton, and Joe Morris), and I never like comparing eras. But based on what I've seen, heard, and read, Bradshaw just gets edged out. His two Super Bowl rings will be a nice consolation in saying fiction.