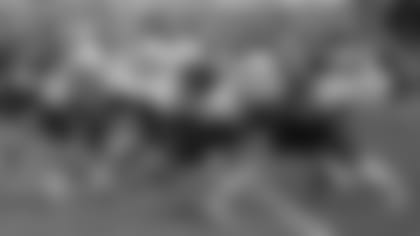 Mundy is no stranger to being a fill-in at safety, having done so behind players like Troy Polamalu and Ryan Clark in Pittsburgh. Mundy started three games last season (playing in all 16) and is praised for his businesslike approach to the game. Asked about him after practice, head coach Tom Coughlin agreed, saying, "He's a good, sound player."
2) Adrian Tracy's name came up again during Monday's practice. The versatile defensive end found his way into the backfield on consecutive plays during full team drills, one of which would have been a sack. He is currently listed third on the depth chart behind Damontre Moore, but Tracy has been having a strong training camp, which materialized in Saturday's preseason opener.
3) Linval Joseph is regarded as one of the strongest players on the team (Chris Snee is in that conversation, too), and we received a good look at that muscle on Monday. The 323-pound defensive tackle broke through the line on a run play and met David Wilson, the ball carrier, in the backfield. There is no tackling in practice, but Joseph, somewhat playfully if you're not asking Wilson, bear-hugged the running back, lifted him up, and took him back a few yards without breaking a sweat. Wilson may be only 5-foot-9, but he's 205 pounds of muscle. Add in the bulk of his helmet and pads, and you understand Joseph's standing in the gym.
4) Cornerback Terrell Thomas, who hasn't played in a regular-season game since 2010, appeared in live team drills for the first time this training camp. Thomas is working back from the third major knee injury of his career, which he suffered last season. He saw extensive action at the nickel corner role, and made a good play on a pass intended for Victor Cruz. Justin Tuck, who was also returning to practice after missing the previous two with a tight back, came over to congratulate him after the play.
Read more about players returning to practice, including Justin Pugh: CLICK HERE
5) The Giants ended practice with the four-minute drill. It's an area Eli Manning and the Giants offense have excelled at in recent years to close out halves with points. Sometimes the four-minute offense is the best defense. Tight end Adrien Robinson had the best catch of the drill from Manning, but then the actual defense made some stops before time was up on a hot practice at the Quest Diagnostics Training Center.