1)** There was a parade of offensive linemen at the podium during media availability before Tuesday's practice. We saw why once they took the field. An MCL injury to center David Baas caused a chain reaction that moved Kevin Boothe from left guard to center, David Diehl from right tackle to left guard, and rookie first-round pick Justin Pugh up to playing with the ones at right tackle. That's the look for now, at least.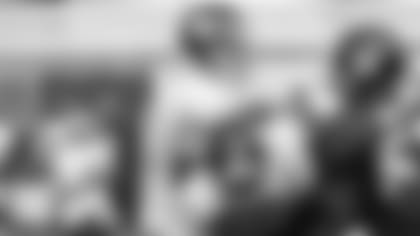 Photos: Training Camp Practice](http://www.giants.com/photos/photos/Training-Camp-Practice-Photos---820/69f3cd0f-f058-4d9a-8d02-5b350a30ca42) 2) While the offensive linemen moved around on Tuesday, the first-team linebackers in the base defense remained the same. Dan Connor, who was promoted to the ones late last week and started the second preseason game, held onto the middle linebacker spot when practice was held today at the Quest Diagnostics Training Center. Meanwhile, linebacker Kyle Bosworth was rewarded for a big night on special teams in Sunday night's game and saw more action in practice, breaking up a pass at the line of scrimmage from Eli Manning at one point.
3) Tuesday pitted the ones against the scout teams in preparation for the next preseason game against the Jets. First-team offense went up against the reserves, and vice versa. Performance on these scout teams can make or break jobs when the Giants are putting together their practice squad before the start of the regular season. A week from today, clubs must reduce their rosters to a maximum of 75 players before cutting it down to 53 players on Aug. 31. Clubs can establish their practice squads of eight players the day after.
4) Charles James, a rookie cornerback out of Charleston Southern, made the play of the day for the defense. He broke up a long pass from Eli Manning intended for Hakeem Nicks. Not giving an inch in coverage to the wide receiver, James was able to palm the ball away as it came down.
5) Later in practice, Manning and Rueben Randle liked the right sideline so much on a long completion that they wanted to see if it worked on the left. The two hooked up on big gains that were mirror images of each other. Randle caught the first one over cornerback Terrence Frederick on the right before coming back and making the play over James on the left.