1) Mark Herzlich continued to hold the fort at middle linebacker on Sunday. About the linebacker competition, Tom Coughlin said yesterday he wants steady, consistent tacklers who can also help underneath in coverage. While we won't see tackling until the full pads are on, Herzlich showed improvement in coverage on Sunday, batting down a ball from Eli Manning over the middle. The lineups from day one to day two remained constant at the position.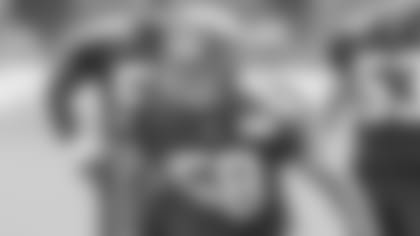 PHOTOS: TRAINING CAMP PRACTICE](http://www.giants.com/photos/photos/Giants-Training-Camp-Practice-7-28/e53adde7-3d72-47ff-b0ed-72ea4c5e68a1) 2) The fans were treated to some one-on-one drills between wide receivers and cornerbacks on their near sideline. One after the other, the wide receivers got back at the secondary, which grabbed the highlights from the first day. Wide receivers Rueben Randle, Brandon Collins, Victor Cruz and Hakeem Nicks all pulled in deep balls to much applause. Once Nicks left practice with tightness in the groin, as Coughlin referred to it after practice, Louis Murphy and Kris Adams also got into the rotation with the first team on offense.
3) Josh Brown, the Giants' lone kicker since David Buehler was waived at the start of camp, booted live kickoffs today as well as his first field goal attempts of training camp. His leg – as well as punter Steve Weatherford's – looked strong so far at camp. A fan yelled, "You have big shoes to fill," to Brown as he lined up for a field goal, in reference to former Giant Lawrence Tynes, who now plays for Tampa Bay. With a firm thump, Brown knocked it through the uprights.
4) Running back Michael Cox worked into the kickoff return mix today. On both punt and kickoff, the returners continue to rotate. Like David Wilson on kickoffs, wide receiver Rueben Randle wants to be part of the return game. But it will be up to the coaches to find the right balance between special teams and their increased roles on offense.
5) Defensive end Damontre Moore, playing with the second string, continued his battle with offensive tackle Justin Pugh. They go at it hard against each other despite not being in full pads yet. Watching the two draft picks compete should be fun for fans to keep track of throughout camp.