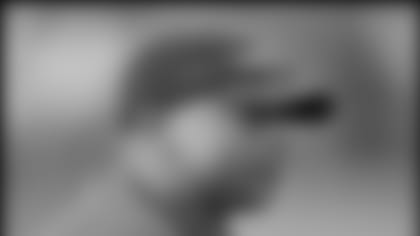 Jerry Reese is one of the most successful general managers in the NFL. His first five seasons as head of the Giants' football operations included victories in Super Bowls XLII and XLVI, a 49-31 regular season record and an 8-1 postseason mark. During his tenure the Giants have won two NFC East championships, earned three postseason berths and have finished .500 or better in every season. In an interview conducted before the regular season opener, Reese discussed numerous topics about both the 2011 and 2012 Giants.*
Q: We're about to begin a new season. Excitement, anticipation, anxiety - what are some of your emotions on opening night?
Reese: " Always excited. You never know what you're going to get. On paper it looks great and it doesn't turn out that way. I feel good about our roster. I think we have a chance to be good again, but you have to get out there and do it. Five years after I've been general manager, I thought our best team on paper was the team that went 8-8 (in 2009). It just didn't turn out like we thought it would be. I feel good about this roster but we have to get out there and prove that we're a good team."
Q: Is every season a mystery that unfolds as it progresses?
Reese: "Sure it's a mystery. There are also known facts. We have a good core group of players coming back, actually from two Super Bowl teams. The core players know what it takes to win. We have some new pieces that have to gel with the rest of the club. We brought some veterans from other teams in. Keith Rivers, Martellus Bennett - those guys looked good this summer and seem to be fitting in nicely. And of course, the rookies have to learn how to play pro football. Overall, I think if things come together like we hope, we can have a good football team again."
Q: You can have a better team talent wise, yet not have as good an ending because there are so many other factors.
Reese: "Injuries always come into play. The word I heard you say was team. That's the most important. You can have a lot of individually good players but if you can't play together as a team, it's hard to win in this league. It's really all about the team for us. People say you're a quarterback driven team or you're a defensive line driven team. That's not true. We're a team driven team. It doesn't hurt to have Eli Manning as your quarterback. It doesn't hurt to have some of the good guys we have on our defensive front. Overall, we're a team driven team."
Q: Tom Coughlin has preached that since…
Reese: "Since day one. The coach preaches that. Our players buy into that. It's really not about the individual. It's about our efforts as a team to get the win. Nobody cares who gets the credit for it just as long as we get the win. In this league, some of the wins are not pretty. You have to manufacture some tough grind-them-out wins. At the end of the day, it's still a win. That's what's most important."
Q: As someone who works with coach Coughlin every day, what do you most admire about Tom?
Reese: "I admire his passion to win. That's pretty easy. Nobody wants to win more than Tom Coughlin. The preparation that he puts into it, that's pretty special."
Q: You are very calm when you watch a Giants game. Are you like that before a game? Is that just your personality or do you figure at that point, it's up to the players and coaches?
Reese: "Really, my easiest day of the week is when we play, because there's nothing I can do except watch and hope that the team plays well. That's really all I can do. I don't really get emotional at the game. You really can't tell if it was a good play or if it was a bad play if you look at me during the game. Inside, I'm hoping that our coaches and our players do well."
Q: You sleep well the night before a game?
Reese: "I do. I'm not an uptight kind of guy. I'm really not the stressful type. I go to a game and it's always exciting to see our coaches and our players out there and to see them play well. Some days, we don't play as well as we want to. I'm just making mental notes in my head of what went wrong or what went right and how we could win the next game."
Q: Do you always watch the tape of the game as soon as possible?
Reese: "On Monday, the first thing I do is come in early and watch every player, every snap – offense, defense and special teams. Every play, every snap - I make notes and in the afternoon I meet with coach Coughlin and we talk about everything. We talk about the good, the bad and the ugly that happened in the game and what do we have to do to win the next game. Obviously we talk about injuries, what kind of roster moves we need to make. We talk out loud about the game and what happened and who's playing well, who's not playing well and have a healthy discussion about the game. Then we put it behind us and move on to the next game. How do we win the next game?
Q: How long does it take to look at every player and every play?
Reese: "Probably about three hours."
Q: How often do you watch a game live and have a perception and then watch the tape and your opinions change?
Reese: "It happens all the time. Obviously, it's a lot easier to see it when you can rewind it a hundred times if you need to do that. So sometimes the tape will tell you something different than what you thought when you saw in the game. So you can really evaluate the tape and evaluate the team and evaluate the players much easier by watching the tape after the game. It's a great tool to have and to be able to sit down and talk about it with the staff and with the head coach."
Q: Do you try to avoid making snap judgments during a game or right after a game?
Reese: "Absolutely. Sometimes what you think you see in the game, it's really not what you saw. I reserve my judgment on most everything that happens in the game until I watch the tape and I have a good idea of what really happened."
Q: I guess you can't reserve your judgment on the final score…
Reese: "The outcome is the outcome. We have constructive conversations about the game and we always try to accentuate the positives that happen in the game and try to correct the things that went wrong and how do we win the next game."
Q: Eli Manning is now in his ninth season. He's one of the senior members of the team. You've been here his entire tenure, including the last five as general manager. Has it been gratifying to watch him grow as he has?
Reese: "Yes it has been. To see not only him, but a lot of the players that have grown with him. I remember when Osi (Umenyiora) first got here. He looked so young and still had a round face and you see these guys grow into young men and you see Eli with the same thing. He looked so young when he was first here and now they've matured and look like veteran players. To see the maturation of Eli's growth and a bunch of players that have been here for that long period of time, it's been fun to watch them grow up and be successful and see the joy on their faces, too. Reap the labors of winning Super Bowls. Multiple Super Bowls for those kinds of guys - it's been fun to watch them."
Q: You're a former quarterback. Seeing what he's done in the fourth quarter, the 15 touchdowns and all the comebacks last year. Do you have more of an appreciation of what he can do in those tight situations at the end of the game?
Reese: "Yes, but it's apples and oranges from my level of playing quarterback to Eli Manning. I was more like a triple option quarterback and the few times that we threw it, the guy was wide open, because they thought we were running the option. I don't think that's a fair comparison to when I played quarterback. For Eli to grow and to make you think you're never out of a football game, that's a really good feeling. In the 2010 season, when we were 10-6, he had 25 interceptions and he said he's not a 25 interception guy. And he's right about that. He tried to do too much with the ball. He put the ball in harm's way too often. I said last year, 'This guy is one of those guys that's smart. He can self-correct.' He and I talked about it. We always have a short conversation right after the preseason before the regular season. We come in and talk and have a five-minute conversation. The one thing we talked about last year is that a sack is a good play sometimes. You saw that manifest itself in the playoffs against San Francisco. He never put the ball in harm's way. He took a beating out there, but that made me think about the conversation we had before the season. A sack is a good play. Didn't turn the ball over and we ended up winning the game, I think because of that, because of how he took care of the ball. He's one of those guys that's smart and he is still an ascending player. I said he was in his wheelhouse last year, but I still think he's an ascending player. He can play better than he's played. I really think that. You still haven't seen the best of him."
Q: You were a scout and a member of both the pro and college personnel departments. There are so many players in the NFL and so many trying to get in. How hard is it to keep on top of everybody in the league and outside the league? Is that something you always have to keep on top of?
Reese: "We do that. We always try to improve the back end of our roster. So those guys on the back of the roster are always looking over their shoulder, because we're always trying to find somebody better to make our team stronger. That's important to us. That never ends. That's almost 365 days out of the year. Obviously, our personnel staff, our pro department. Dave Gettleman has been there for a long time and now Kenny (Sternfeld) has taken over (as director of pro personnel), but obviously Dave is still around. They do a really good job of having our short list ready. Injuries are part of the game. We never use that as an excuse. We had tons of injuries last year and we were able to get through them. You expect to do that every year. You have to try and stack as much depth as you can at every position, but you're never deep when you only have 53 players on your team. You're never deep when you play a 16-game season. (Director of college scouting) Marc (Ross) does a terrific job with our college draft and our scouts, who I always say are our unsung heroes. They go out and find the Jacquian Williams, those kind of guys, the Victor Cruzes of the world. It's pretty easy to pick out Hakeem Nicks and Jason Pierre-Paul and those kinds of guys. But the guys that the people don't know that well, those are the kind of guys where the scouts really make their money, when you unearth some of those back end of the draft guys."
Q: When the Giants need a player, do the personnel experts give you two or three options and then you study them and make the final decision?
Reese: "I look a lot more than you probably would imagine and our system is pretty easy. If we have some defensive tackle problems and this is our short list and there is a player we're interested in, we have a written report and a profile video attached to how he's played. So it's pretty easy to quickly put the tape on and watch the players. We have a really good system like that. If it's a guy that's not fresh in my mind that I don't know that well, I can just pop the video on. If Kenny comes out and says there are three defensive tackles, we have videos in there of them. Obviously, we have the college report and we have the pro report in there, so we try to quickly look at them that way. Our scouts, our personnel guys, I trust those guys and they do a terrific job."
Q: Is scouting and personnel still the fun part of the job for you?
Reese: "It is. Obviously, you can't see everybody. Marc Ross, you go in there and you can ask him about anybody on that (draft) board right there and he can tell you something about them. I probably see the top 120 guys. To do a good job, that's about as much as I can do. I actually still write reports. When John Mara and Steve Tisch hired me as G.M., I told them, 'You'll never lose me as a scout because that's what I know best.' That's how I was raised, as a scout. The fun part of the job is scouting and trying to figure out which players fit in with what we're trying to do."
Q: Do you think the fact that you worked in both the pro and college scouting best help you prepare to be general manager?
Reese: "Coming into the front office and working in the pro department for those three years (1999-2001) with Dave, that was invaluable for me. You're a college scout, you're watching college players. You don't have a good idea of who plays in the league. In those three years I was in the pro department, I got a good grasp of what type of players were playing in the National Football League. That was invaluable to me. I saw that some guys that you really didn't think were that good in college are playing in the National Football League. So there's a broad spectrum of players that play and when you're a college scout, you can be overly critical of players, because you don't realize the level of some of the players. So I got a tremendous perspective when I was in the pro department and that was invaluable for me."
Q: It's looks like the first three draft choices we had this year, David Wilson, Rueben Randle and Jayron Hosley are going to be able to help this year. That doesn't always happen. Do you agree with that and how important is that?
Reese: "It's important, because your first three picks, those guys should come in and be contributors for you right away and you might even get a couple of starters out of your first three picks. When you pick down at the bottom of the draft, which is a great problem to have because that means you had a good season - we thought David was a first-round pick, but a lot of times when you're picking that late, the guy you're getting probably has second round value or second row value. We call them rows. Second row value. But when you get your first three picks, you expect those guys to come in and contribute right away and if you're in the back end of the draft, that's a bonus if you can get some guys to contribute. Last year, we were able to get Tyler Sash, Greg Jones, Jacquian Williams - they were one, two and three in special teams tackles. Those are the kind of guys that help you out. Obviously, Prince (Amukamara) was hurt most of the season and didn't play a lot and Marvin (Austin) missed the entire season. We're not cavalier about any of our draft picks. We think all of our draft picks are important. Ahmad Bradshaw was 7B. We had two picks in the seventh round and he was 7B and now he's our starting tailback. So we always put a lot of thought into why we're picking guys and the reasons for why we're picking them. The draft is really important because we believe in developing players.
Q: Before kickoff tonight, there's going to be a pre-game Super Bowl celebration. When Tom Brady's long pass on the last play of Super Bowl XLVI was in the air, what was going through your head as you sat in the press box and watched the play?
Reese: "First of all, I thought Jason Pierre-Paul was going to knock the ball away. He was so close to knocking the ball out of Brady's hand right there. That's what I was hoping would happen. But the ball stayed up there for a long time and it was really hard to see what happened from the press box, because it was in the far end-zone from where I was sitting. I could see the officials do the incomplete sign and I knew we won the game. I couldn't tell what happened. I saw everybody jump and then I saw the official. That's the first sign I knew that we won the game, because I saw the official make the incomplete sign. That was great. It came down to the last play and it was exciting. You always have those kinds of memories in your mind. Even now when you watch in slow motion and you see how close (Rob) Gronkowski was to maybe catching that ball, it kind of sends some chills up your spine."
Q: When did you finally get to watch the Super Bowl tape and when you watched the last play, did you say, "Oh my gosh, he almost caught the ball?"
Reese: "Yes. You don't realize how close he was to that ball. We practiced that play. We practiced it on the day before the game. That's one of the plays that we practiced. How will we defend the last play? I thought we had it defended pretty good and how practiced it. But still, it was a little too close for comfort right there at the end."
Q: When did you get to watch the tape of the Super Bowl?
Reese: "It was a while before I got to watch it because we really had to go right into the (scouting) combine mode. We went right into the combine and then free agency started, so it was a quick transition for us. It was a while before I got to sit down and look at the tape from the game. I can't remember exactly when, but it was a while. But I enjoyed it when I did."