EAST RUTHERFORD, N.J. –** Talk about six degrees of separation.
Danny Langsdorf, the Giants' new quarterbacks coach, had never in his 41 years visited the New York/New Jersey metropolitan area before flying in last week to interview with Tom Coughlin and offensive coordinator Ben McAdoo. But he has an inspiring and unique connection to the franchise that links him to former offensive coordinator Kevin Gilbride, whose retirement early this month began a chain of events that brought Langsdorf here.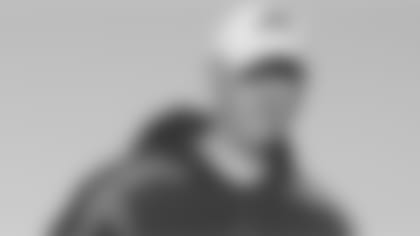 The short story is that seven years ago, Langsdorf donated a kidney to Laurie Cavanaugh, whose husband, Mike, is the offensive line coach at Oregon State – where Langsdorf was the offensive coordinator the last nine seasons. Laurie Cavanaugh is Gilbride's sister.
When Gilbride retired, the Giants replaced him with McAdoo, who had been the quarterbacks coach of the Green Bay Packers. Langsdorf and McAdoo worked together on the New Orleans' Saints coaching staff in 2004 and have remained friends. Langsdorf will now work alongside Kevin M. Gilbride, the tight ends coach who is the son of the former coordinator – and the nephew of Laurie Cavanaugh.
"That's definitely an ironic twist to the story," Langsdorf said. "That's still something that's close to me and close to my family. To get a chance to go there, it's pretty unique, and it's kind of a different twist that we never expected. We're both hanging in there and doing just fine. All is well on both ends."
Now the back story. The Gilbride family has long suffered from autosomal dominant polycystic kidney disease (ADPKD), an incurable hereditary condition. As children, Kevin Gilbride and his six younger siblings were taken to a Connecticut hospital, where they endured an intravenous pyeleogram, in which dye was injected into their arm and an X-ray taken of their kidneys. The tests revealed that three of the seven Gilbrides from North Haven suffered from (ADPKD). The disease claimed the life of their father, Bernard, in 1972 at the age of 45. It also took the life of Bernard's mother and sister and forced several other family members to undergo kidney transplants.
(Kevin Gilbride was not afflicted with the disease, but had different serious kidney issues. Gilbride was the offensive coordinator of the Houston Oilers in 1992 when he underwent a physical exam as part of the screening process prior to obtaining a life insurance policy. The exam revealed that Gilbride had cancer and his right kidney was removed.)
In late 2005, when Matt, the youngest sibling, needed a kidney transplant, his sister Kathy stepped up and donated one of hers. Laurie Cavanaugh, nee Gilbride, learned in the seventh grade that she had ADPKD. The news terrified her because she received it soon after her father died.
A year after her brother's transplant in 2005, Laurie's kidneys began to get progressively worse. She was down to about 10 percent kidney function. People go on dialysis at 15 percent. A normal kidney weighs about a half-pound. As she became sicker, Laurie's kidneys weighed 10 pounds each.
Laurie's predicament was particularly hard on the family, because she was so far away. No one knew if she would find a donor for a transplant.
That's when Langsdorf literally became Laurie's lifesaver. He and his wife, Michele, had become friendly with Mike and Laurie Cavanaugh. Langsdorf watched Laurie battle the disease, thoroughly researched ADPKD and living donors and one day told Mike Cavanaugh, "I could be a donor for Laurie." Then just 35 years old, Langsdorf said, "It was a no-brainer for me."
Before becoming a donor, Langsford endured a grueling regimen of dozens of tests over many months. He passed them all and on May 29, 2007, Laurie Cavanaugh received one of Danny Langsford's kidneys at Oregon Health & Science University Hospital. Langsford was on the operating table for four hours, Cavanaugh for six.
Several months after the surgery, Mike Cavanaugh said, "Danny is our hero. It's incredible what Danny did. You talk about a miracle gift – sacrificing to save someone's life. All the things we talk about in coaching about how we're a family – how much better a family can you get than that?"
Today, both Laurie and Danny are in excellent health. Danny said his life is the same with one kidney as it was with two.
"It is no different," he said. "I'm doing the same things that I've always done. I've probably paid a little bit more attention to my health because of it. I think just making sure that I'm trying to at least pretend to eat correctly and stay in some type of shape. But no, there is no difference from having one or having two. I just can't kick box anymore – which, believe me, I wouldn't have done, anyway."