What is with Eli? He threw two straight passes on 2nd and 3rd down from out near the 35-40 yard-line in the end zone into triple coverage?**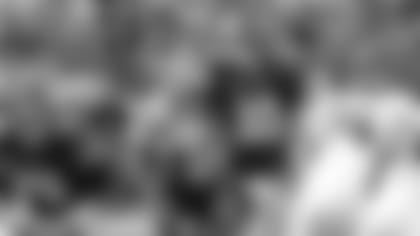 Read More From Eisen's Mailbag](http://www.giants.com/news-and-blogs/eisens-mailbag.html) Dear Keith:
I don't know exactly what plays you are referring to, but I'll say a couple of things. Eli has admitted he made a couple of bad decision in the game. No one is happy about it, especially Eli Manning. The Giants' rushing attack was unproductive and the Giants were behind the entire second half, so perhaps Eli tried a bit too hard to make a play. I'm not going to panic about Eli.
I'm actually fairly satisfied with what the defense has shown so far. They've given up some points and numbers, but have been left on the field an awful lot with the offense turning the ball over. In regards to their defensive approach, they seem to prefer trying to pressure the quarterback with minimal attackers. But this has seemed to prove difficult, especially with guys like JPP still working his way back to 100 percent. Obviously, a team can't blitz too often, but does it seem as though the defense may benefit from a little more aggressiveness in the play calling?
Dear Chris:
Against Denver the Giants seemed to focus more on coverage than on rushing Peyton Manning and to a degree it worked. For example, Wes Welker had only three catches and Demaryius Thomas had 53 receiving yards. On the other hand, Peyton Manning was not sacked. The proof is in the final score. The Giants didn't win, so their plan is open to review and criticism. Ideally, I supposed you'd like to see more blitzing, but you must have the players to do it.
I am a long-term Giants fan who regularly reads your column, but has never written. I understand the old school mentality (in particular in dealing with my sons), but if the Giants want to play the punitive game with the highly talented David Wilson and play a has-been (Brandon Jacobs) and a never-will-be (Da'Rel Scott) - why bother playing a running back at all? I find it hypocritical that from day one Eli Manning's gaffes have been tolerated (15 ints per year ) yet they have the highly talented Wilson on a ridiculously short leash. Your thoughts?
Dear Paul:
Is it okay if I give Brandon Jacobs your address? Just kidding. Eli has earned the benefit of the doubt. He'll be the first to say he's thrown too many interceptions and made some poor decisions, but he is a proven winner who has thrown for more than 3,000 yards and 20 touchdowns in eight consecutive seasons. If you're down on Eli, who exactly would you like him to be replaced with? Wilson is extremely talented. But he's not going to reach his potential nor help the team as much as he can without holding onto the football. He doesn't have Manning's track record. Wilson has to earn everyone's trust and I think that is absolutely the correct way to proceed.

ASK YOUR QUESTIONS TO EISEN'S MAILBAG