EAST RUTHERFORD - Like a wedding or a graduation, the NFL Draft is an unforgettable event for those players selected. Almost every veteran player can recite where he was, who he was with and who broke the news to him. As the Giants prepare for this year's draft, which is scheduled for April 22-24, several players this week looked back on the day they entered the NFL.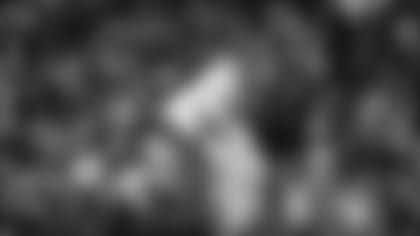 Ahmad Bradshaw, RB, Marshall, seventh round selection by the Giants in 2007 (250th overall pick)
Q: What do you recall about the day you were drafted?
Bradshaw: "Man, that was hectic day. Just being impatient and not knowing what was going to happen. Not knowing if I was going to get drafted or not. I was a seventh round draft pick, so it was a long, long two days."
Bradshaw: "I was actually back at home (in Bluefield, Va.) with my family. They threw a little draft party for me, so I was even more impatient. It was a drowsy day, you know. I didn't want to excite my family too much. When it happened in the seventh round, though, everybody was happy for me and everyone was very excited."
Q: Did you watch the entire two days of the draft?
Bradshaw: "No, we just scheduled the party for the second day. We just had a big dinner."
Q: How many people were there?
Bradshaw: "Probably about 50 people. I have a big family and it's a small town."
Q: Did you get a call before you saw your name on the television?
Bradshaw: "I got a call from different coaches. Actually, I think I missed the first call from the Giants. They called me right back and asked me if I was happy to be a Giant and if I was ready. I told them I was pumped and was ready to get to know their system and get it started."
Q: Did Coach Coughlin get on the phone with you?
Bradshaw: "Yes. I talked to Jerald Ingram at first, my running backs coach. He seemed like he was pumped to have me. Then, Coach Coughlin got on and asked if I was ready and excited. It was a very exciting day for me and I was glad to be a Giant."
Q: Were you actually watching when your name came up? Was there a cheer?
Bradshaw: "I was outside talking to a coach and then I heard a big roar inside. We had it in a room at a hotel, like a ballroom, and I heard a roar through the glass and figured it was that time. That's when I got the call. Everyone ran outside to talk to me while I was trying to talk to all the coaches."
Q: Since you were chosen late in the draft, did you ever think it might have been better to be a free agent?
Bradshaw: "No, I think it's anybody's dream to get drafted. If you don't, I guess you start looking into free agency and see where you'd like to go. The Giants showed interest in me during the combine. I felt during that time that it would be a good fit. With Tiki (Barber) retiring that year, I felt that I could come here and help them as much as I could."
Q: Was that one of the biggest days of your life?
Bradshaw: "Definitely, it was one of the biggest days in my life. That started a new era for me and I think it just motivated me even more to come out here and show everyone what I really had. I wanted to prove to everyone what I could do."