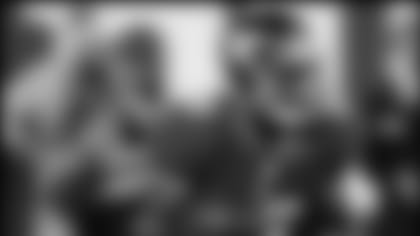 1) RB David Wilson** – "You know what they want to see now? You bounce back." Those were Hakeem Nicks' words to Wilson on the sideline after the first-round draft pick fumbled his second carry last Wednesday against Dallas. Along with Osi Umenyiora and running backs coach Jerald Ingram, Nicks was reiterating to Wilson to put it behind him. Wilson didn't see another carry after the turnover, but Tom Coughlin said this week that he's "a little out of the doghouse" heading into the game against Tampa Bay, which gave up just 10 rushing yards last week. Wilson hopes to work his way back into the gameplan, and in the meantime, he'll try to show his explosiveness and toughness returning kickoffs
[WATCH: GIANTS VS. COWBOYS SIGHTS AND SOUNDS >>
](http://www.giants.com/media-vault/videos/Sights--Sounds-2012-Opener-Ceremony/24c0cf68-d940-4396-a0fc-b0ed8df7a38e)2) CB Prince Amukamara/DT Marvin Austin – Could it be that the first two picks of the Giants' 2011 draft class will be on the field together come Sunday? "We've been waiting since … last year," Coughlin said on Friday. Amukamara (ankle) is listed as questionable and Austin (back) as probable on Friday's injury report.
However, both expect to play against Tampa, which would be the first time they play together.
3) WR Victor Cruz – Excused from Friday's practice to attend the funeral for his grandmother – the inspiration behind his touchdown celebration dance – Cruz will play Sunday with a heavy, but motivated, heart. Despite leading the Giants with six catches for 58 yards against Dallas, Cruz knew his night would be defined by his dropped passes. Like the rest of the team, he's had 10 days to mull over the game. Coughlin always says the best part of football is that you get to strap up the next week and define yourself again. While it's been a little longer given the schedule, Cruz can't wait for that opportunity.
4) Defensive Ends – The Giants did manage to sack Tony Romo twice on Wednesday night, but both came at the hands of defensive tackles. Meanwhile, the ends didn't record a quarterback hit, leaving Justin Tuck to admit that he didn't "think Romo was rattled at all." The Giants face another quarterback in Josh Freeman this weekend that is capable of frustrating pass rushers by keeping plays alive. On a line that prides itself that everyone eats, Tuck, Osi Umenyiora, and Jason Pierre-Paul are hungry.
5) LB Michael Boley – Making his debut last week as the starting weakside linebacker, Keith Rivers is listed as doubtful with a hamstring injury for Sunday. That means Boley would reclaim his usual role should Rivers be out, and he'll be looking to hold onto it.