Dwayne Harris was just 10 years old when he started collecting hats. It was at an Atlanta Braves game, his hometown baseball team.
"It was an original Braves hat with just the A on it, nothing else," Harris said. "It was a navy blue hat, red brim, with the white A on it. That was my first hat."
Eighteen years and hundreds of hats later, it's that original Braves snapback, safely tucked away at his mom's house, that's still among his favorites.
"If I had to choose just one, I'd probably go with my Braves hat," Harris said. "I'd definitely go with that one because the Braves are my baseball team and I love my home."
That home is Tucker, Georgia, where Harris was Class 4A All-State as a senior at Tucker High School, leading the Tigers to a 10-1 record as a quarterback and a Regional 6-AAAA championship in 2005.
Harris would go on to a standout football career at East Carolina University. He was a two-time All-Conference USA selection, and won the Conference USA MVP award in 2010. Harris finished his college career with school records for receptions (268) and receiving yards (3,001).
Now a five-year NFL veteran (four with Dallas, one with the Giants), Harris' football career has taken him to every corner of the country, playing the game he loves and, of course, adding to his collection.
You can get a hat in any city. When I travel to a different city, I try to get something that's exclusive for just that city and buy it so that nobody else in the city that I'm going to will have it.
Although he vividly remembers the moment he put on that first Braves hat, Harris is less certain as to why his passion took off the way it has.
"I just always used to wear hats, I don't know why," Harris admits. "Every day at school teachers would always tell me to take off my hat, and I always got it taken away and my mom would have to come to the school and get it."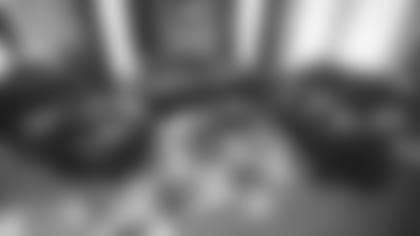 Harris has hundreds of hats in his collection.
A little more than halfway through his first season with the Giants, Harris has already set career highs in receptions, receiving yards and touchdowns. He's also shined as a return specialist – his 100-yard kickoff return against the Cowboys in Week 7 sealed a Big Blue victory against his old team, 27-20.
Despite his success and the added attention that comes with playing in New York, Harris remains a laid-back, down-to-earth guy, opting to blend in rather than stand out, even while playing a position known for its flash.
"I know for a lot of guys, it's hard to go out," Harris said. "For me, I just like to have a hat on so nobody can really notice me. I just want to blend into the crowd and have a good time and enjoy myself. So most of the time I have on glasses and a hat – I call it my Clark Kent look."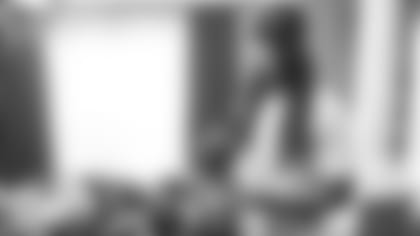 Harris shows off a rare vintage New Jersey Nets hat.
Harris' reserved demeanor hasn't stopped his reputation as a hat collector from taking on a life of its own.
"I had a kid one time give me his Blue Jays hat because he knew I collected them," Harris recalled. "So I told him if you give me your hat, I'll give you my hat. So we traded hats, and I told him to sign his name on it just so it would be special for him, for that one hat. I love that. That's probably one of my best hats that I have."
Like the Blue Jays hat, each one in Harris' collection has its own story. Even with an assemblage in the hundreds, Harris can retell the history behind each hat, which is all the more impressive when buying so many at once.
"At first I used to go to the store and pick out hats," Harris said. "Then it came to the point where I couldn't find the hats that I wanted so I go online now and buy them by the bundles. I don't buy just one. I buy at least 20 hats at a time."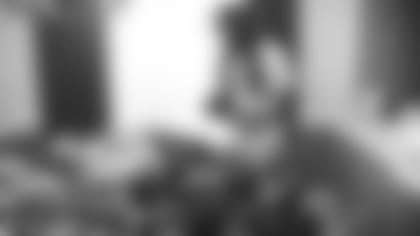 Harris buys hats in bulk, at least 20 at a time.
There is one drawback to Harris' collection, and it has more to do with another aspect of his signature look than anything else – his hair. The 28-year old has been growing out his dreadlocks since high school, which means fitted hats for him are basically out of the question. His hair even has its own hashtag - #dredthedreads – which he started a few years ago.
"I'm more of a snapback guy than a fitted guy," Harris said. "A lot of people like fitted, but not me personally. Now it's hard to find snapbacks because everybody loves fitted. So when I see a snapback that I like, I have to get it."
The "have to get it" mentality is more or less how Harris has built such a large collection. And it wouldn't be unfair to assume that at some point, the wide receiver has regretted some of his purchases. But hat after hat after hat after hat, buyer's remorse isn't something in Harris' vocabulary.
"I've really never come across a hat I did not like," Harris laughs. "It's rare."