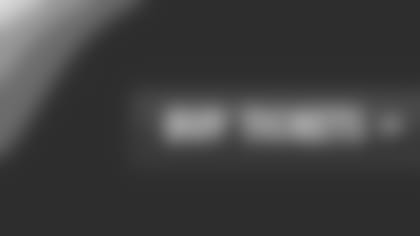 ](https://oss.ticketmaster.com/html/home.htmI?l=EN&team=nygiants) **
Well, the opening statement is that we are disappointed today. We put ourselves in a great position during the season. Everybody predicted the Super Bowl hangover and our players came out, our coaching staff came out very determined not to let that happen and put ourselves in great position and qualify for the tournament, but when you get into the tournament it is sudden death and last night we were on the death part of it.
* Where do you think it went wrong? Where did you guys fall short?*
We just didn't play well. It's the same football team basically from almost the middle of the season. We just didn't play well last night to win the game. We had some opportunities and we didn't come up with the plays at the right time and they did. They were the better team and they deserve to move on.
* There was a trend this season of kicking field goals and not scoring as many touchdowns as the year before. Third down wasn't very good against in the Eagles in the last two games. Was that a result of the loss of Plaxico? How do you address that?*
We just didn't execute. When the opportunities are there you have to make some plays. Somebody has to be covered, somebody has to make the right blocks, it's everybody involved, it's a whole team effort and we didn't get enough done on third down. We got in the red zone a few times and in the playoffs you have to score touchdowns and take care of the football.
* Do you feel there is no need for big changes and this team is as good as you thought it was?*
There are always changes during the offseason during this free agency time in this period of the National Football League. There are always going to be changes, so as a personnel person you're used to that. You know you're going to have to make some changes. There are always going to be some changes involved. We have a good nucleus of players coming back, just like we did two years ago. I don't think there are going to be some wholesale changes, but we will definitely make some changes. We are in the process of evaluating our players right now and the process begins for the new season.
* Comment on the Brandon Jacobs' contract situation…*
Well, we're evaluating everybody right now, so we're not finished with the process yet so it's not fair to say who is going to stay and who's going to go.
* Can you expand on your views of Plaxico? Will he be welcome back here? Does he have to fix his personal life?*
That's the number one (thing). He has some circumstances in his personal life that he needs to take care of and we'll evaluate that moving forward. He has some circumstances that he has to get cleaned up and if everything works out, you never say never.
* He has a court date March 31st. Do you have to wait until the legal process has played itself out before you do anything, whether you get rid of him or welcome him back?*
Well the legal process can veto everything, so it doesn't make a lot of sense to make a lot of decisions prior to the legal process running its course. That will be part of the decision making as we go forward. Plax is still a New York Giant right now.
* His court date is 20 something days into free agency. Do you get hamstrung not knowing whether your number one receiver is eligible?*
Well I don't think it would be very smart for any personnel person in a situation like that to put all your eggs in that basket. We'll try to address things in that situation through free agency, through the draft maybe, but the Plax thing will take care of itself. Everything is going to unfold right before our eyes in that situation, so we'll play that out day by day.
* Are you in a position where if it does work out you can bring him back or do you talk with ownership?*
We try to do things as an organization around here. We talk about it with ownership, we talk about it with our coaching staff, we talk about it with our personnel staff, but there are a lot of circumstances involved so it's really a long way from what's going to happen with that. We'll see as it unfolds.
* Is it a good year to get a wide receiver in the draft?*
I don't want to show my hand as far as the draft goes. You know I don't talk about the draft stuff, but there are always good players in the draft, so we'll see.
* Have you had any contact with the league and do you have any idea if they are going to take action regarding Plax?*
* What is the status of the grievance with the Players Association and the Giants?*
There is really not a lot I can say about that. It's a legal process going on. There's a situation with the league office, there's a situation with the PA, so there is really not a lot to talk about.
* Is there a meeting scheduled with the PA?*
* When the suspension was up you said you would talk with him at the appropriate time and figure everything out. Will that come sooner than later?*
I'm sure we'll talk soon.
* How difficult will it be to evaluate Amani Toomer's future with this team?*
We're in the evaluation process right now. We're evaluating everybody on the team. Everybody on this team we are evaluating. It's not fair to talk about anybody before the evaluation process is done.
* How about the thoughts of losing your defensive coordinator?*
Nobody wants to lose coaches. I think that has been a staple for us the past couple of seasons. We've had our coaching staff intact for two seasons. I like our staff, we have good teachers on the staff, but most coaches want to be head coaches, so if he gets an opportunity to be a head coach, then we wish him nothing but the best in that respect. But selfishly we'd love for him to continue to be here with the Giants. He has done a terrific job here for us. We'll see.
* Has Spags gotten a call for a second interview or does he have a request still out there right now?*
You guys are going to have to talk to Steve about that.
* Would you ever consider naming him a head coach in waiting?*
We consider everything here.
* Are you anticipating any surgeries for guys like Tuck or Jacobs?*
That's part of our process as well. Ronnie Barnes just put a long list on my desk of the medical issues that we have and there may be a few surgeries. Every year there are surgeries. We'll see moving forward. That's part of the process we are working on. We'll see.
* Do you have an understanding with Spags that no matter what offer he gets he will come back to the organization and talk to you guys about what you might want to offer him to entice him to stay?*
Steve respects this organization and he'll let us know ahead of time before he makes the decision on what he wants to do. He's not going to all of a sudden pop up and say I'm a head coach at UT-Martin and not let us know. I think he respects us more than that.
* Does last year's Super Bowl run put in perspective the kind of magic you had last year?*
Well last year was a great season. 12-5 is not a bad season. When you set the bar high like that and then all of sudden you get eliminated in the second round it stings. Overall we had a real good season. We have had a real good season. It's not where we want it to be but we said we wanted to be the organization that put our team in position to win the Super Bowl every year. For the last couple of years we have been able to put our team in position to do that. We fell short this time.
* How difficult will it be to bring both Jacobs and Ward back?*
It's always difficult with your free agents. That's part of the deal. Free agency comes and you're probably going to lose some players, especially if you're a team with a good record. Like last year, we lost good free agents. We expect to lose free agents every year but if we continue to keep our good players we'll try our best to do that.
* Because of the uncertainty with the CBA in 2010 could you franchise a guy like Jacobs and because there is no cap next year go and try to control him for the next four years?*
We'll see. I really don't know what's going on because the rules are changing. We'll try our best to keep the good players.
* Are you confident that the late season swoon was a blip and that this team can contend next year?*
I think so. We have a good nucleus of players coming back. We played a pretty tough schedule. How many teams in the playoffs have we played in the regular season? That tells you what kind of schedule we played. It was pretty grim on the back side of our schedule. We fought through it, went through a lot of adversity during the season, made a good showing to get ourselves in great position, had an off week, got our players some rest and got outplayed last night by a team that made more plays than us. My hat is off to them because they did what they needed to do to move on and we came up a little bit short.
* Does it sting knowing that out of the four teams remaining you beat every one of them?*
Sure, it stings, but again it's sudden death in the playoffs. You have to win or go home. We didn't get the job done, so the four best teams are still playing.
* You think you guys got worn down by the tough schedule?*
We had our bye in September and we played 13 weeks in a row, I think, and everybody is banged up. It's really no excuse; everybody is banged up at the end of a 17-week season, so I can't use that as an excuse. We just didn't get it done. That is basically what happened last night. We did not get it done.
* What kind of an effect did you think it had?*
That's over-exaggerated, too, when I say tough schedule. You play anybody in the league and it's a tough schedule, but it's not like you're playing any weak sisters. It's men against men in this league. You hear me say that all the time. There are no easy games. Any given Sunday, if you are not prepared to play, then you will get beat out there. If you don't take care of the ball, you will get beat.
I think it's a leg, kind of knee, kind of an ankle, I'm not sure which leg it is. Justin will be fine. I don't think it's any career threatening injury.
* Any thoughts on your quarterback and the theory of what happens when it is windy in this stadium?*
No, I don't have any theory on that. He has played well for four years or however long he has been here. He's played well. We all, as a team are not going to blame anybody. We win as a team and lose as a team. We didn't play well enough as a team last night to get it done.
* Are you going to give him an extension before his contract expires at the end of next season?*
We don't really talk about contracts. You guys know I don't really talk about contracts. We'll see as we move forward.
* Is it a coincidence that the swoon coincided with Plax?*
I've said this before guys, Plax has a presence out there and an uncommon skill set. You don't just replace that, you make adjustments. This league is about making adjustments. There are a lot of teams that don't have a Plaxico Burress presence that are still playing. We made some adjustments, but we just didn't play well enough last night. Obviously Plax gives you a presence out there. We didn't get it done.
* If he is not here, will you have to find that presence somewhere else?*
Well sure. Everybody would like a big Spiderman out there that you can throw balls up to and he can bring them down. Everybody would like to have that but sometimes it's not reality and you have to go with the hand you're dealt and make the adjustments to the personnel you have and manufacture and win games that way.
* Is that maybe the cheapest and quickest way to address this – if things work out for him then you can bring him back and fill those holes right away?*
Well, he's a New York Giant and right now he's under contract with us and that really makes sense if everything works out. But there are a lot of circumstances involved with that and who knows what's going to happen and we'll wait and see what happens.
* You don't feel that too much has happened?*
There are a lot of circumstances involved. We'll see what happens.
* What do you need to see from him?*
I want to see him be okay as a person more than anything else. I think if we can see that and if he's okay as a person and ready to turn over a new leaf in his life and do things to take care of himself first, then I think everything will take care of itself.
* Have you spoken to him?*
I have communicated with him.
* Has he given you an indication that things are changing?*
Everybody makes some bad decisions so I think he has thought about some of the bad decisions he has made and I think things will begin to change as far as making better decisions for himself.