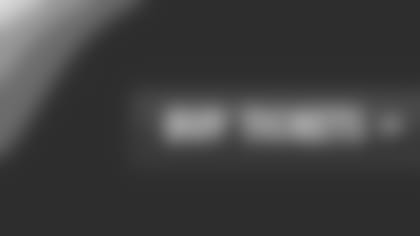 ](https://oss.ticketmaster.com/html/home.htmI?l=EN&team=nygiants) **
How intense and special is this rivalry?
I don't think anybody has to do anything to get up for this game.  I think it is already built up, everybody knows what is at stake.  I just think every team is going to be prepared and ready to go and they are going to be very excited and our guys are going to be up for the challenge this weekend.
Is it tougher facing a team for the third time?
You know, it is tough going in.  Both teams are very familiar with each other.  Similar styles of defense.  Everybody knows what each other does.  I think we have to be very disciplined in our assignments and go out there and know where their playmakers are at all times and understand what they like to do.  McNabb likes to move around and buy a little more time in the pocket and throw the ball downfield.  I think if everybody stays disciplined we will be okay and that will eliminate some of their big playmaking ability.
Does Westbrook put pressure on the cornerbacks as well?
Yeah, everybody has to be aware and very cognizant of where he is on the field at all times, as well as Jackson.  They move him around, do different things with him, motion him out of the backfield, line him out wide at wide receiver, so everybody has to know where they are at all times, all their playmakers.  Like I said, if we are disciplined in our assignments and techniques I think that will help us out along the way.  Guys can't play peek-a-boo, everybody has to do their job, you can't try to over-do anything.
What makes Westbrook so effective?
He is a special athlete.  He is fast, he is very agile, it is hard for even one person to cover him.  He is very shifty out of the backfield and he does a great job of knowing how to get to the open spot on the field and McNabb does a great job of getting him the ball and letting him run with it.
How much dislike is there for the Eagles in the locker room?
We want to go out there and dominate any team, but it is becoming a special rivalry between us and them.  I guess Coach Spags makes it a little different too with him being from down there and we know he is not going to let that get in the way of his goal and where we want to be as a team.  I think it is going to be a very challenging game, but we will be up for it.
Is this going to be a very physically intense game?
I think the playoffs are more physical than anything.  Everybody knows what is at stake.  You lose one game and you are going home so nobody wants to start their vacation early so everybody will be up for the challenge.  No letdowns or anything like that.
He has been a good quarterback for a long time now and I think he is playing at the top of his game right now.  He is getting the playmakers the ball.  We know what he is capable of doing and as long as we are aware of that and take away the things that he likes to do, move around in the pocket, so as long as we contain him and keep him in the pocket, I think we will be okay and have better coverage downfield.