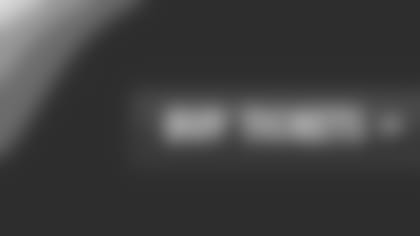 ](https://oss.ticketmaster.com/html/home.htmI?l=EN&team=nygiants) **
We are excited about the divisional playoff round. Isn't it interesting that it is two divisional foes? In studying and watching Philadelphia last weekend they did some outstanding things. As you know they are 5-1 since the Baltimore game, having lost only to Washington. Their game last week I thought was a great example of team play. They had a defensive touchdown. They had over 100 yards of punt returns. They got outstanding field position by virtue of the punt returns. They drove the ball off of their own end of the field twice inside the five, which could have been the determining factor in the game. But they were able to do that. McNabb did a really nice job of really getting the ball off of that end of the field. They didn't have a lot of success running the ball against the number one defense against the rush in football. But they did make the big play on the screen, which of course, Westbrook is well known for. But what that demonstrates to me also is the way in which their team is playing. And they got a great block downfield by both receivers. Cole made a great block out in front of the screen and enabled them to put the ball in the end zone. So we had just gone through Minnesota and know about the quality of their football team, which is very good. And in a playoff capacity Philadelphia was able to go in there and win. So we are very proud to have the divisional playoff round here at home for our fans. We do, as always, hope to encourage them to be actively involved in the game and support us as the 12th man and make this a very difficult scene for the opponent to come into and play.
Q:  How would you describe the personality of your offense with and without Brandon Jacobs?
A:  Of course you are missing a guy that – he is pretty darn excited today.  I had to remind him the game is Sunday.  He is a physical presence.  He is a guy that we count on to set the physical edge.  And we are looking forward to getting him back in the lineup, obviously.
Q:  What do you do to find new wrinkles in playing an opponent you are as familiar with as you are with Philadelphia?
A:  You study, as you do any other opponent.  You take all of the 16 games apart looking for something.  You study, obviously, the two games that we have played; the common opponents.  You take all of the statistical data you can and support whatever edge you are trying to create for yourself.  So you have to make sure that everything is done properly; all of the details are done.  As I told the players this morning, it is very, very important that we get a super effort in terms of our preparation.  This is all about excellence.  There is no room for any type of mediocrity.* * And that goes for all three phases of the game.  So you are looking and searching in all capacities to try to find something that you can capitalize on.
Q:  With McNabb, can a benching have an effect and raise a player's game?  Is he doing anything differently?
A: I don't see that he is doing anything differently. I think that it has been much stated about the balance in terms of run and pass. The way their defense is playing – obviously the defense is third in the League; their offense is ninth in the League. They have great contributions from special teams, as I mentioned. But I think he is playing within himself; obviously extremely accurate. They did come away with 350 yards last week without having run the ball all that well. And most of the yards – 283 yards – were in the air.
Q:  Can benching have an effect on a veteran player?
A: I would say right away that there is tremendous pride in the athlete. He didn't especially like the way the game was going in Baltimore either. He came out and their whole team played very, very well starting with that Arizona game.
Q:  Who is not expected to practice today?
A: DeOssie won't practice. His back is bothering him. And Tuck won't practice. Everybody else will work.
Q:  Are you optimistic about getting them back tomorrow?
A:  I'm getting more optimistic, yeah.
RE:  Trying to keep Westbrook in check for the whole game.
A:  That is always the question when you play this team. You just have to play every play, especially now in the playoffs, as if it is the last.  This guy is very, very good.  He is a guy that can disappear behind the line of scrimmage and then find a crack as we know from the last time we played here.  He hurts you on the screen.  That has been his big play over the years.  ……how many of them together on a reel.  So you have got to be aware of where he is all of the time and do a great job of studying – trying to figure out any type of tip that will help to take you to him.  They line him up in a lot of different spots to try to take full advantage of him.  So it is a challenge.
Q:  What was the most surprising thing about the December 7th game?
A:  The game was like two different games.  We had 400 yards in Philadelphia and 211 yards here; extremely disappointing in that regard.  We didn't rush the ball, we didn't pass the ball.  We didn't have many snaps.  Over in Philadelphia we had 70-some snaps and here we had 51.  They had the ball; they had time of possession.  In Philadelphia we had the ball for 39 minutes.  So it was a game where it was almost the opposite of the game that we played over there.  So it was disappointing from that standpoint.  We had a drive at the end of the game that put us a little bit closer.  But it didn't say much about the game.
Q:  Any difference in Eli Manning – do you see any tangible differences between this year and last year?
A:  Just the growth of a young player; the idea of coming through the playoffs and having great success, allowing that to launch him into the new season.  You look at what he has done and accomplished.  We asked him to, obviously, take better care of the ball.  He had 10 interceptions.  We had 13 turnovers for the season which, along with Miami, broke the NFL record for the least number of turnovers.  So just start right there.  His intelligence, his study of the game – he actually has run and pass; always has – many times having to get us in the right play.  So it is the ongoing development of a young player at the quarterback position in this League.  He continues to do the things that he has to do in order for us to have a chance to win.
Q:  Are you still considering two kickers?
A:  I'm considering everything that I possibly can consider.
Q:  Is Jacobs limited at all now?
A:  He feels a lot better and he is going to practice.  I don't know what else I can tell you.
Q:  Is it easier for him to not be rusty since he is a power running back?
A:  We are going to have three hard practices.  We are going to have three hard, full speed, as much speed as we can out of everybody – game-type conditions.  Whistle effort kind of things that we think that we have to do and I'm hoping that that puts him in good stead.
A:  I don't even know what that means anymore except that we always have a number of snaps that he takes; that Derrick takes, that Bradshaw takes.  Just in terms of that he will be listed as limited but as I said, he feels pretty good.
Q:  What is the biggest challenge after winning the Super Bowl?
A:  I think the thing that we did is that we attacked it in the spring – the notion that what you did yesterday does not necessarily have anything to do with what you did today.  It can if you apply the principles that we talk about; if you continue to realize that it is about team and it is about your contribution.  You can't let the other guys down.  And there can't be absolute no – I have never seen that in this team – any degree of satisfaction in what they did yesterday.  The good thing about this team, as I said over and over, is that even last year, really nobody wanted to talk about yesterday.  They were always focused on the next day.  And that was in the good and the bad.
Q:  From talking to other coaches about how to handle the season after a championship, what did you learn?
A:  This happened way last spring, it is nothing new.  But during that time, whether it was Joe Torre or John Wooden or whoever it might be, it was always the idea of how am I going to phrase this question?  I guess everybody knows what you want to ask, but how am I going to phrase the question?  The John Wooden philosophy about 'make this day a masterpiece' pretty much has summed up what he said.  And with Joe Torre it was, 'go do it again; go win another one.'