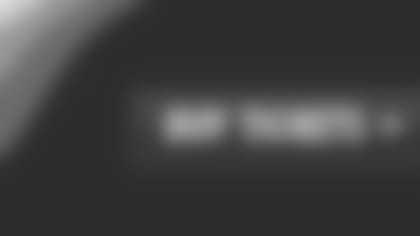 ](https://oss.ticketmaster.com/html/home.htmI?l=EN&team=nygiants) **
Do you expect this week's game to have a similar intensity to the Divisional game against the Cowboys last year?
Absolutely.  I think you can look at the first two games we played them in the regular season and there were a lot of hard hits, a lot of physical play, and again, it is a rivalry game where we know them and they know us.  You are not going to trick anybody about this.  They know our style of football and we know theirs so every play you go out there you are going to have it strapped up and ready to go.
You said in the past that you hate the Cowboys and the Cowboys hate you. Is the feeling similar with Philadelphia?
You know what?  I hate every opponent I go against.  That is just how it is.  If they aren't my teammates, I am out there trying to beat them so that is as simple as it gets.
Do you have a special feeling for Philadelphia because of the rivalry?
I think so.  I don't know if I can put it on the level with the Cowboys, but there isn't going to be any love lost when we kick it off on Sunday, I can tell you that.
You have had zero sacks against the Eagles this year…
Yeah.  They are pretty good at what they do.  I think this year after last year we had the 12-sack game against them and I don't know if it is just us or not, but they made a true emphasis on protecting their quarterback.  They are keeping a lot of guys in, but that is no excuse for it.  We just have to play better.  It is as simple as that.
Does being defending champs make you guys feel more calm or more prepared for this time of year?
I think, if anything, it is just the fact that we know what to expect like we have been here before, I guess.  I am sure they have people that have been there, too.  I don't know if that is an added bonus for us or anything. If anything I know it makes us that much more of a team that everybody wants to be like.  We have to beat everybody's best shot and we have gotten it all year.  I feel as though it really doesn't have any bearing now.  It is the playoffs, both teams are playing very well, and it is just going to come down to the team that doesn't make the mistakes and makes plays in big play situations, it is as simple as that.
What about the familiarity you have with playing this team?
We are just going to have to see who is the smarter team, I guess, because like I said I don't think anybody is going to be fooled by any of the schemes.  I don't think we are going to dial up any new defenses that they haven't seen or vice-versa with offenses that we haven't seen so it puts that much more emphasis on going out there and having a great day of practice.  Making sure you are taking care of the little things because this time of year the little things will get you beat.  For us it is just going down there and making sure we cross all our Ts and dot all our Is.
How do you approach the frustration you have with extra blockers and double teams?
It is part of the game.  Lucky for me I have a couple of guys I can go back and talk to about it.  Michael did it for 15 years here being kind of that focal guy getting all the extra attention.  I look at it as a good thing.  Obviously I am doing something right if they are going to pay that much attention to me and hopefully we can find ways around it and loosen up some of our other teammates.
What was the best advice Michael gave you?
The best advice is just to go out there and beat both of them.  It really isn't any hidden doctrine or new language as far as beating double teams.  These are people that did it all their careers so there is no reason to come up here and complain about it.
How big of a focus is Westbrook this week?
He is our number one focus.  I think everybody knows that.  He is the type of back that if you shut him down in the running game you saw in the Minnesota game he can get loose on screens or passes too.  For us personally we have to have 11 sets of eyes on him every play, knowing exactly where he lines up.  We have keys as far as when and where they want to give him the ball and we just have to be focused on that and not to the point where we lose track of everybody else, but like I said he is the number one person on that field that we have to definitely know where he is.
Do you see a change in McNabb since he was benched?
He looks more confident to me.  He is starting to make plays with his legs again.  He is getting back into his old form.  You can tell he is healthy again and he is definitely playing great football for them right now.  Again, if Westbrook is one, he is a close second so we definitely have to do a good job of keeping him in the pocket, making him throw passes under duress.  Even if we don't get sacks, we have to make sure he feels us and not let him get comfortable back there.
How well have Thomas and Runyan played this year?
Obviously they have played well.  They haven't given up any sacks against us.  That is rare for us, especially with the talent that we have on our d-line, so that is something that is kind of nipping at us a lot.  We are putting a huge focus on that.  We just have to continue to go out there and just pound the rock.  If you keep pounding the rock it will break.  You have to give those guys credit, they have played well against us this year.
It is experience with those two guys?
I think it is a combination of their experience and a combination of you know, you are getting helped.  Obviously it is easier to block somebody if you can tell he is not going to go outside because I have a tight end there.  Definitely those two guys are very quality tackles whoever they play.  It is a challenge for us, but we are looking forward to it though.