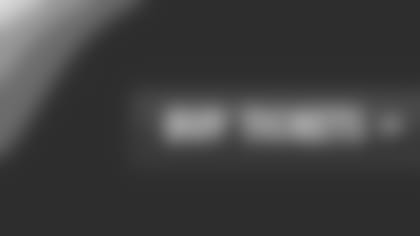 ](https://oss.ticketmaster.com/html/home.htmI?l=EN&team=nygiants) **
One stat that jumps out is that you haven't sacked McNabb this year. What has been the difference?
There have been a lot of differences. When you give up a ton of sacks like that you expect the team to adjust and I feel like they have. They changed their protection, McNabb has done a great job getting rid of the ball and it's a situation where we have to play better.
* What makes Westbrook so effective?*
His versatility, you never know where on the field he is going to line up. They are dedicated to getting the ball to him so that's half the battle. He just has all the tools. He's a guy who can catch the ball out of the backfield, runs with power and speed, and they have an offensive line that loves to block for him. You put that all together and he is a weapon.
* You spoke last year about wearing down. Do you feel better now at this point in the season?*
Absolutely, personally the bye week definitely helped. A lot of guys were talking about how we had the momentum last year and so on and so forth. But we sent our guys out there in the last game for the most part – the guys that were healthy and we took a different approach this year. We took time to get healthy and rested. This is one of the few times this year when almost everyone was on the practice field. That's good to see. We built enough confidence. We built confidence with the win against Carolina where we earned our number one seeding. We went out there and played hard against a Minnesota team that had everything on the line and we could've beaten them. We have a lot of confidence and if you need anything more than the Eagles coming to town in the playoffs, then you don't have a pulse.
* What does it do when you look around and you see everyone on the practice field?*
It's just fun. You feel like you're back at the OTA's and minicamp when everyone is young and there are no wrinkles on your face and everyone has fresh legs running around and having a good time. We had a chance to get away from it. Guys weren't flying around the country hanging out but at the same time just to be able to sit back and watch other teams and spend some time with your family and just be off the field for a couple of days helped everybody. It rejuvenates your legs but it also refreshes you. Guys are more excited and hungry to get out there and play football again.
* Does the fact that the Eagles have had success with screens to Westbrook make your job more difficult? Does it slow down the rush?*
That's what it's built to do. That's the objective of a screen. What you'd expect the offense to do as a d-line if you're a team that prides itself on getting to the quarterback then they are going to try and slow you down with the screen and with guys blocking like they did last week against Minnesota. With a back like Westbrook it's very dangerous. It takes a group effort. Guys have to put their foot in the ground and not be selfish and turn around and chase Westbrook rather than going for the sack. The guys on the backend have to make tackles. It's a tough aspect to deal with but you can't let it take you off your game but at the same time you have to respect it.
* Do you feel the last game you played against them might have been your worst?*
I really don't sit there and list the games like that. We're not happy with the way we played and most importantly we lost the game at home to a division rival so that hurts enough and we pride ourselves of stopping the run so when a back runs for 100 yards we take that personally. They were able to control the clock and we got a taste of our own medicine with what our offense does to other people and what we do to other teams. It's like they flipped the script on us. We take it personally and we have to rectify that by Sunday.
* You guys haven't sacked Donovan at all…….*
Yeah he's played well against us this year but he's been a little too comfortable. We have to do whatever it takes to make life more difficult for him. Our defensive backs have been playing well all year for us so we know they are going to cover for us so we have to do whatever it takes regardless of how many people they keep in for protection, regardless of how many backs shift and how many tight ends stay in to block we have to find a way to make life more difficult for McNabb.
* What word would you use to describe when you look at the stats and see zero and zero for the sacks?*
Angry, you get angry. You don't really sit back and think about why you didn't get the sacks. You think about getting the sacks the next time. You very rarely get an opportunity to play a team three times so if I had to choose to get sacks in any game it would be this one. So this is the game we are looking forward to and we know that if we're able to pressure McNabb then that will slow the whole offense.
* But they did max protect in the last game most of the time?*
I'm not going to say most of the time but they threw some different wrinkles at us. It's something they pride themselves in. The Eagles aren't a team that gives up a lot of sacks in general so I think that last year was an abnormality. We just happened to get on a wave and we almost broke the NFL record so that's not the norm. They are a team that the veteran quarterback gets rid of the ball and they have a west coast style of offense. It's a
rhythm offense so we don't really expect to get a ton of sacks but we just want to harass them and bat some balls and make his job harder.
* Are you surprised with their commitment to the run the last time around?*
They are not known for running the ball like that so I was a little bit shocked at their dedication to it and part of that falls on us. We didn't force them to do anything different and they played well on defense, they were comfortable and they gave us a taste of our own medicine. Our offense usually goes out there and controls the clock. Defensively we're free to do whatever we want. Our offense scores so many points that we put teams in passing situations so we got a taste of our own medicine. They were able to pound the ball throughout the whole fourth quarter and the stats showed at the end that they controlled the clock. It's a situation where if any team can run the ball they will and with a talented back like Westbrook and in the NFC East we know we have to stop the run first.
* Changing your approach being the number one seed this year?*
Absolutely not, you still prepare for every opponent. You still practice as hard as you can, you still study as much tape and the only different approach is that we don't have to put on a suit and get on a plane on Saturday. We still feel that a lot of people are picking the Eagles honestly. I think they are the hot team. They are the '08 version of the Giants, I don't know what happened, we're still here and we'd like to be the only Giants around. It's a situation where we still feel a little bit of a slight. We're the number one seed and at home but a lot of people have faith in the Eagles. They are a good team but we are still confident in our ability and we feel that if we can play our best then we should win the game.