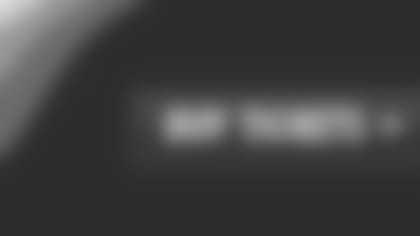 ](https://oss.ticketmaster.com/html/home.htmI?l=EN&team=nygiants) **
Could you talk about DeSean Jackson and his impact?
He has brought great energy to the team, that youthful energy, and plus he is a good football player.  He loves to play the game and is a smart football player.
Was benching Donovan McNabb in Baltimore one of the most difficult decisions you have ever been faced with?
It wasn't about the difficulty of it and it wasn't about Donovan not being the great player that he is.  It was just a matter of stepping back an inch to take a step forward and I really didn't want it to be such a big deal, that is not what that was about.  It was just a matter of what I thought was best at the time.  We are talking about one of the all-time great Eagles ever to put on this uniform, so nobody, nobody wants to win more than Donovan.  That is not what it was about.  It wasn't about any of that kind of stuff there.
Do you think it had a positive effect on him based on how he has played since then?
I think it has a positive effect on everybody, coaches and players.  I think everybody stepped their game up an inch, and I am putting myself in that hopper.  I was stinking it up.  Everybody picked their game up an inch and did a little bit better.
Was that your motivation in doing it, to send a message?
I am not going to get into all that.  I just thought it was the right thing to do at that time.
What are the challenges of preparing for such a familiar foe?
You know you have to put that aside.  I think the guys all know each other and everybody knows each other's number, jersey number, and all that bit, but every game is different and if you come in saying you know the New York Giants, I think you make a huge mistake in the process of getting ready to play them.  They are a football team that is a good football team and if you start getting rid of steps in preparation…
What has made you guys so efficient at stopping the Giants' pass rush this year?
Listen, they had 12 sacks against us and set an NFL record so that is enough for about five years all in one game.  They are great at the pass rush.  There is nothing wrong with their pass rush and our offensive line just has to play well against them and do a good job there.
Does it make it more of a challenge for each of you to come up with something new because you and Steve Spagnuolo worked together for years?
Every game there is a little something different and so Spags will have something different for us and we will have a little something different for him and (Kevin) Gilbride and Jim (Johnson), that whole deal.  There is always that extra little change that you put in so it makes every game different and that is why you have to go back and go through that process.  Right when you think you know them like the back of your hand…
Why is it that over the past several years these Giants-Eagles games tend to come down to the wire?
I don't know necessarily why, but I will tell you that is what makes it such an exciting rivalry.  Every game has been different and there have been a couple that have gotten away from us or the Giants, but for the most part they are knock-down, drag-out, NFC East battles and I would expect that to be the same way this weekend.
Is Donovan playing about as well as you have seen him right now?
He is playing great football, yes.  He has done a very nice job managing the game and throwing the football.
How much different is it preparing for this team with Domenik Hixon out there instead of Plaxico Burress?
Listen, they are both really good.  I am not going to get into comparisons, I never do that, but I will say this, I know since Plaxico has been out that Eli has had more opportunities to work with Hixon and I think he is a heck of a player and I think Eli has a lot of confidence in him.  Really that is all that matters in that situation.
Is some of the challenge of handling the Giants' running game that you are getting different backs with different styles?
That is one part of their game.  You also have an all-pro quarterback and good receivers and a good tight end and running backs that can catch the ball.  They can do it all.  It is not just… I know people look at the run game and say, 'hey they are the best run team in the National Football League,' well, they sure are.  They are a tremendous run team, but there is also another half of that you have to prepare for that makes it a difficult process to go through.  It makes them a very good team.
Has Donovan not been appreciated enough in Philadelphia from the fans?
I don't know that.  I don't really ask anybody, to be honest with you.  I look at it like I appreciate him and his teammates appreciate him and our owner and front office appreciate him, so that is all that really matters.  I haven't taken that survey with the other people.
Have Spagnuolo and Johnson's defensive schemes evolved enough that they aren't that similar anymore?
I think they do some of the same things.  I think what ends up happening is a coach takes and utilizes his players, within the system, the best way he knows how and can.  There are some similarities, but Spags knows the group of guys that he has and what they do best and then he works it out where he utilizes schemes to put them in the right position.  So I would say to answer your question I think it is like the West Coast offense.  Mine is a little bit different than Mike Holmgren's was and Mike's was a little bit different than Bill Walsh's was.  You kind of put your own little flare to it.
Of all the skills that Brian Westbrook has, which one impresses you the most?
With him you have to take his whole game.  How smart he is.  He is a brilliant kid and to be able to do all the things that we ask him to do that is where you really appreciate him.  He can carry the ball out of the backfield, you can flex him out as a wide receiver and he can catch the football, and he is a great blocker, and so on.  He does a lot of things very well.