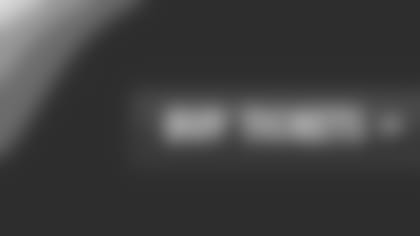 ](https://oss.ticketmaster.com/html/home.htmI?l=EN&team=nygiants) **
Playoff game for you is long overdue….
Five years in the league now and this is fourth time now in five years and my first time playing. I haven't played in a playoff game since high school so it's going to be exciting for me. It's pretty much a second season for us and it'll be fun and a good experience for me.
Since you have never played in a playoff game, do you expect it to be different?
Yeah, the speed of the game picks up even more than it does in the regular season. To be able to switch from regular season play to postseason play is something new for me, but I'll go out there. I can handle it and get it going.
* Where did you watch last year's playoffs?*
Back and forth, I was here for the Tampa game and the Dallas game and I was in California for the Green Bay game and also for the Super Bowl.
* What kind of feelings did you have while watching on TV?*
I was excited for my teammates, but I was disappointed because of the broken leg and all. But it was a good thing that I went through it because it taught me to be humble and anything can be taken away from you at any time. I was able to get through that and have a good season this year.
* Do you appreciate this more because of what you went through last year?*
Oh most definitely, I have to appreciate it more. Like I said, I've been here for five years, four years we've been to the playoffs and this is my first year in the playoffs so it's going to exciting for me. I don't know about anybody else, but for me and especially Kiwanuka – we'll be out there revved up and excited to play the game.
* These guys have been there done but you two haven't…*
Yeah we haven't been there and done that. That'll be extra motivation for us to play well on Sunday.
* Did you see what playoff football is like?*
I always hear about the speed of the game changes from regular season to postseason so I'm ready to make that change with the rest of the guys.
* Is it hard to look at your Super Bowl ring or do you want one where you played all the way through?*
I look at it every day. But it's every football player's dream to go to the Super Bowl and win a Super Bowl ring. We were fortunate enough to win the Super Bowl last year. We're close this year so we're going to take it one game at a time, play our game and hopefully come out with a victory on Sunday.
* Do you notice anything different with your little brother (Brandon Jacobs) today?*
He's excited, man. He hasn't practiced in two, three weeks leaving me and Ahmad out there by ourselves, but it's good to have him back energized and ready to go.
* Can you tell he is more excited than normal?*
You really can't. He's always like that, but we can tell. In the meetings he can't even sit still, he's ready to go, so we had a nice practice today and we'll continue to work on that for the rest of the week and be ready for the Eagles.
* Does he look good? We haven't seen him run around at full strength for awhile.*
Yeah, he looks good. He's ready to go. I don't know if he got a little winded or not being out for two weeks, but he'll be alright for Sunday.
* If he gets winded he has somebody else who can carry the ball…*
He has two others, three other people who can carry the ball so we'll be alright.
* Earth, Winded and Fire….*
Go to wind, fire and then Danny is water now.