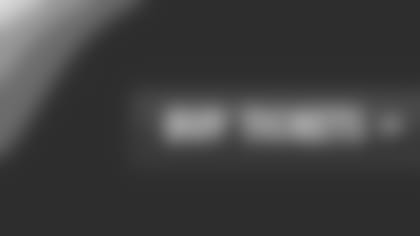 ](https://oss.ticketmaster.com/html/home.htmI?l=EN&team=nygiants) **
How much more confident is Eli this year?
I think he is definitely more confident. Just knowing the fact that he went through last year and he had a lot of success just lets you know that he can do it and I am pretty sure he is really confident.
How does facing a division rival add to the intensity of this playoff game?
It definitely makes it a lot more personal, I think, when you play a team in your division.  It is a different thing when you play against another team.  We are very familiar with them.  There is nothing that we can hide, there is nothing that they can really hide that they are doing to do, and I just think it is going to be a really physical game and probably will be a real fun game to watch.
Can you talk about the balance of having Eli as a calming influence on the offense and having Brandon Jacobs as a guy who gets more fired-up?
You definitely want your quarterback to be one of the calmer guys on the team, no question.  I know Brandon definitely brings a lot of energy, but there are a lot of guys on our team with a lot of energy.  I don't really know how to answer that question.
Do you think the bye week really helped the team mentally and physically?
I think so.  I think a lot of guys are surprised with how good they feel having all that extra time off.  I think the way the schedule was handled everybody was pretty happy with that.  We are ready just to go in and see what we can do this weekend.
Do you feel like you have more energy after the bye?
I definitely feel good.  I have been feeling good the last couple of weeks though so I don't know, I am ready to go.
Is it hard not to think about your future while you are in the middle of the playoffs and this could be your final game with the Giants?
You think about that, but there have been three or four years that I went through the same thought process in my head so it is not something I am not used to.  If you play in this league long enough, you are going to have to kind of get used to that feeling.
Can you talk about how Domenik Hixon has developed over the year?
I think he has come in and done a great job.  I think he has been really consistent and has opened a lot of people's eyes with his ability.
I always thought he was pretty good so it doesn't really surprise me with what he has done.
How has the Burress situation affected the receivers?
I think we have more than just one game-breaking receiver, so I think that he was definitely a loss, but I think that there are a lot of guys in our room that can do some of the things that were done before.