East Rutherford , NJ - The Giants hosted the Giants NFL Pepsi Punt, Pass, & Kick Team Championship at Giants stadium during halftime of the Giants vs Falcons game on November 21, 2004 .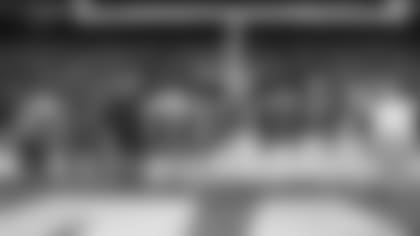 This year's category winners of the Pepsi Punt, Pass & Kick Championships.
The NFL Pepsi PUNT, PASS & KICK program is a national skills competition for boys and girls between the ages of 8 -15 to compete separately against their peers. Established in 1961, the PP&K program is the oldest NFL Youth Football program. Girls and boys in four separate age divisions (8-9, 10-11, 12-13, and 14-15) compete against each other in punting, passing and place kicking in a fun and engaging forum.
40 boys and girls from the tri-state area competed for eight finalist spots and showed their skills to the thrill of the crowd. Here are the category winners from the competition:
8/9 Year old winners
Allyson Burns
Daniel Reed
10/11 year old winners
Emily Werner
Austin Angelo
12/13 year old winners
Emily Pepe
Cody Hickok
14/15 year old winners
Amanda Malkin
Richard Nagy
For the first time, this year the Giants introduced a new Special Olympics division of the Punt, Pass and Kick event. Last month the Giants and the Kurt Warner First Things First Foundation hosted a special Punt, Pass and Kick clinic with athletes from the Special Olympics of New Jersey. The three PPK winners from this competition were recognized on the field as well. These winners were:
Tommy Fresco, Maplewood , NJ - age 23
Renee Ports , Newark , NJ - age 14
Kirk Barrington, Bloomfield , NJ - age 19