*Five things you need to know about Giants head coach candidate Pat Shurmur: *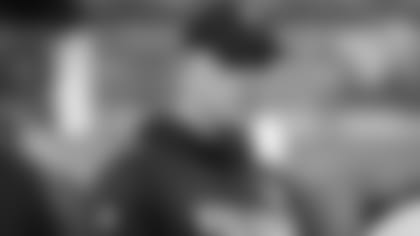 Pat Shurmur is in his 19th season of NFL coaching. He took over as offensive coordinator of the Vikings after handling the job for the final nine games of 2016 on an interim basis. During his NFL coaching career, Shurmur has been a part of teams that have qualified for the playoffs nine times, won seven division crowns and, while with Philadelphia, played in Super Bowl XXXIX vs. New England to cap the 2004 season.

2. Under Shurmur, Case Keenum posted a quarterback rating of 98.3 in 2017, which was the seventh-best in the NFL. Keenum took over for Sam Bradford (knee) early in the season, going 11-3 as a starter while the Vikings locked up the NFC North and a first-round bye in the playoffs. Minnesota finished the season ranked 11th overall with 5,710 total yards of offqense (356.9 yards per game). The Vikings were 28th overall in 2016 with 5,041 total yards (315.1 yards per game).
Prior to his arrival in Minnesota, Shurmur spent the previous three seasons as the offensive coordinator of the Philadelphia Eagles, his second stint with the club. He arrived in 2013 when he was hired by then first-year head coach Chip Kelly. In their first season together, they orchestrated one of the most efficient offenses in the NFL, setting team records in points (442), total net yards (6,676), touchdowns (53), passing yards (4,406) and fewest turnovers (19) en route to an NFC East title. The Eagles also set an NFL record with 99 plays of 20+ yards.
Shurmur's NFL coaching career also began in Philadelphia (1999-2008), where he spent 10 seasons with the club. He served as the team's quarterbacks coach from 2002-08 and helped guide Donovan McNabb to three Pro Bowl berths during his tenure. In 2004, Shurmur mentored McNabb to the most productive season of his career, as he set franchise records at the time in passer rating (104.7) and completion percentage (64.0). McNabb also became the first QB in NFL history with at least 30 touchdowns and fewer than 10 interceptions in a single season.
Shurmur served as the head coach of the Cleveland Browns from 2011-12, posting a record of 9-23. Shurmur's opportunity in Cleveland resulted after a successful two-year stint as the offensive coordinator of the St. Louis Rams (2009-10). The top pick in the 2010 NFL Draft, Bradford set NFL rookie records for completions (354) and attempts (590), while his 3,512 passing yards were the second-most by a rookie in league history at the time en route to NFL Offensive Rookie of the Year honors. Prior to a successful season through the air in 2010, Shurmur helped Steven Jackson capture the NFL rushing title in 2009.
Widely respected around the league for his craft in developing young QBs, Shurmur guided Nick Foles to a breakout season in 2013, throwing for 27 touchdowns and only two interceptions while posting the third-best rating (119.2) and third-lowest interception percentage (0.63) in NFL history. Foles also became just the seventh player in league history to throw for seven touchdowns during a game against Oakland.
A native of Dearborn Heights, Michigan, Shurmur comes from a football family. His uncle, the late Fritz Shurmur, coached in the NFL for 24 years and served as the Green Bay defensive coordinator from 1994-98, helping that club win two NFC titles and Super Bowl XXXI. Shurmur and his wife, Jennifer, have four children - daughters Allyson, Erica and Claire, and a son, Kyle, who is a QB at Vanderbilt.
Photos of new Giants head coach Pat Shurmur's coaching career, most recently the offensive coordinator of the Minnesota Vikings