EAST RUTHERFORD, NJ - Notes and statistics from the Giants' 29-10 loss to the Tennessee Titans.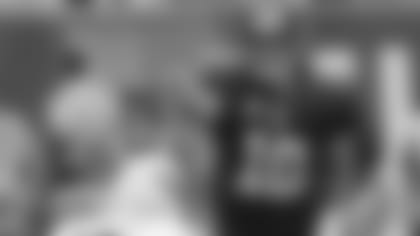 *The Giants fell to 1-2 and lost for the first time in New Meadowlands Stadium.
*The Giants were shutout in the second half, the first time that's happened since Oct. 13, 2008 in a 35-14 loss at Cleveland. It was the first time they did not score a second-half touchdown since last Nov. 26 at Denver, when they scored on two field goals in a 26-6 loss.
*The Giants' offense gained 471 yards, its highest total since a 512-yard outing in a 45-38 loss to Philadelphia on Dec. 13, 2009. Their 364 passing yards were the most they've had since they finished with 379 in that game against the Eagles.
*The Giants had 26 first downs, their highest total since they had 27 on Dec. 13, 2009 vs. Philadelphia.
*The Giants did not punt, the first time that's happened since Sept. 29, 1991 in a 26-21 loss to the Cowboys in Dallas.
*The Giants had no takeaways, the first time that's happened since Jan. 3, 2010 at Minnesota.
*The Giants had a turnover on each of their first two possessions, the first time they've lost the ball that early twice in a game since Dec. 12, 2004 at Baltimore, where they fumbled away the opening kickoff, then fumbled on their first possession. The Giants have turned the ball over on Eli Manning interceptions on the opening possession in each of their two home games.
*Tennessee had 110 net passing yards, the lowest total by a Giants opponent since Oakland threw for 64 yards on Oct. 11, 2009.
*The Giants' 11 penalties were their highest total since they had 13 in the 2009 season finale at Minnesota.
*The teams were tied at halftime, 10-10. It was the Giants' first halftime tie since Nov. 8, 2009, when the Giants and San Diego Chargers were knotted, 7-7.
*The Titans scored on a safety when Ahmad Bradshaw was penalized for a chop block in the end zone in the third quarter. It was the second time in as many home games an opponent scored on a safety. In the season opener, Carolina scored two points when Greg Hardy blocked Matt Dodge's punt out of the end zone.
*Manning set a career high with 34 completions (on 48 passes). His previous best was 31 completions at Philadelphia on Sept. 17, 2006.
*Manning threw for 386 yards, the second-highest total of his career. He passed for 391 yards vs. Philadelphia on Dec. 13, 2009.
*It was Manning's 11th career 300-yard passing game. The first eight were on the road. The last three were at home. The Giants are 6-5 when Manning throws for at least 300 yards.
*Manning threw interceptions on the Giants' first two possessions (both balls were tipped). He threw the second one left-handed in an attempt to get the ball to Kevin Boss in the end zone. It was the second pass Manning has thrown with his left hand. On Sept. 14, 2008 at St. Louis, he completed a two-yard left-handed throw to Brandon Jacobs while being wrapped up by defensive end James Hall.
*Steve Smith caught nine passes for 103 yards. It was the Smith's fourth career 100-yard game. He is the first Giants receiver to hit the century mark since Hakeem Nicks had 110 yards vs. Philadelphia on Dec. 13, 2009.
*Ahmad Bradshaw rushed for 88 yards on 15 carries and scored the Giants' only touchdown on a 10-yard run. Bradshaw increased his career total to 1,576 yards.
*The Giants' series with the Oilers/Titans franchise is tied at 5-5. The Giants won the first five and have lost the last five.
*Boss' 54-yard catch-and-run in the first quarter was the longest reception of his career. His previous long catch was a 35-yarder at Washington last Dec. 21.
*First-round draft choice Jason Pierre-Paul made the first solo defensive tackle of his career a big one when he stopped Chris Johnson for a two-yard loss on third down in the second quarter.
*Lawrence Tynes' 50-yard field goal in the second quarter was the second-longest of his four-year Giants tenure. Tynes kicked a 52-yarder at Denver last Thanksgiving. Earlier in the same quarter, Tynes was wide left on a 53-yard attempt, his longest as a Giant. Tynes' career long field goal was a 53-yarder when he was with Kansas City in 2006.
*Tennessee's Chris Johnson rushed for 125 yards on 32 carries. The Giants fell to 9-16 under Tom Coughlin when an opposing back rushes for at least 100 yards.
*Coughlin is now 7-11 in regular season games against Jeff Fisher in the most-frequently contested rivalry between active NFL head coaches.
*The Giants' inactive players were center Shaun O'Hara (ankle/Achilles), wide receivers Ramses Barden and Duke Calhoun, linebackers Chase Blackburn (knee) and Phillip Dillard (hamstring), defensive tackle Linval Joseph and tackle Will Beatty (foot surgery).
O'Hara missed a regular season game for the first time since Dec. 17, 2006 vs. Philadelphia, when he sat out with ankle injury. He had played 52 consecutive regular season games. O'Hara missed the 2007 NFC Divisional Playoff Game at Tampa Bay with a knee injury.
Adam Koets made the first start of his four-year career at center in O'Hara's place. Koets started last week as the Giants' second tight end.
Blackburn did not play in Indianapolis and has missed two games in a season for the first time in his six-year career. He had played in 65 consecutive regular season games prior to last week.
*The Giants' game captains were Chris Snee and Corey Webster.