EAST RUTHERFORD, NJ - Whitey Walsh had been a Giants employee for one week when he was assigned to work the 1973 NFL Draft.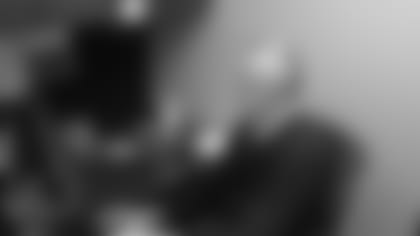 "I got elected to be the one on the other end of the telephone at the Hotel Roosevelt," said Walsh, who was told what names to submit to the league by the organization's decision-makers working in the club's offices in Columbus Circle. "That's what I did the first year."
This week, Walsh will work his 39th and final draft. One of the Giants' longest-tenured employees and most respected scouts, Walsh is retiring on June 1.
"I still enjoy the draft," said Walsh, 69. "It really is exciting when it's your turn to pick and you have three or four names to talk about. Then someone ahead of you takes one and you have two or three names left and you have to talk about them real quick when your turn comes up, because you only get a few minutes. That part I like."
Walsh has had a reduced workload since 2005, but after almost four decades traveling to schools, evaluating players and writing reports, he is eager to begin a new chapter in his life.
"The last couple of years, there's been a sameness to it," Walsh said. "You saw that movie, Groundhog Day? It gets to be old, except watching the tapes. I really do like watching the tapes."
Raymond Walsh, Jr. is truly a Giants lifer. His father was hired to work in the Giants' front office in 1947 and stayed for 46 years.
"When he first got hired he was kind of an assistant to the publicity director, whose name was Bill Abbott," Walsh said. "Then he became the traveling secretary and went to all the away games. Then he became what was called general manager, but it was managing the office – I guess that was in the middle '50s.
"The offices were in the building right across from the New York Public Library – 11 West 42nd Street. I would go in sometimes on the weekends with my dad, because he would have to do all kinds of things getting ready for the game the next day. There were nine people that worked for the Giants in the office in 1949, 1950. The coaches and the players were all up at the Polo Grounds, so nobody ever saw them. They would come in once in a while to talk to Well (Wellington Mara)."
Many of Walsh's greatest memories stem from his visits to Giants training camp, beginning in 1949. Seven years later, he was old enough to become a ballboy, which gave him an opportunity to get close to the players. That's also when he was first called "Whitey," because his hair changed color at a young age.
"That was like a dream come true, because I had been a Giants fan since I was little," Walsh said. "These guys were all famous players, bigger than life. They were my favorite players and I got to spend the whole summer with them. I thought that was great. I became really close with several of them. And up in Winooski (Vermont), nobody had a car in those days – maybe (Frank) Gifford had a car. But everybody was kind of confined to the dormitories.
"Sid Moret and Whitey Horai picked up guys at the airport in Burlington. We had five guys come from the Chicago All Star Game in '56 – there was (Sam) Huff and (Don) Chandler, (Jim) Katcavage and two guys that really didn't stick around long, Hank Burnine and Henry Moore, who was the number one pick that year.  Those were the first five guys I got to know really well. I went out with Sid to the airport and that was really neat to get to meet these five guys for the first time. They were brand new and so was I."
Walsh caught balls during drills and helped his player friends in ways that were both obvious and invisible to the coaches.
"There was water on the field, but nobody could drink it – it was used to soak towels," Walsh said. "If somebody was feeling woozy, you'd throw a towel in his face. They weren't allowed to drink water. That's the way it was in the old days. Every once in a while, Chandler would say, 'Get me a piece of ice from an ice bag.' I'd go over and unscrew an ice bag and while they were in the huddle I'd slip him a piece of ice. He thought that was neat."
Walsh had similarly surreptitious duties during Giants home games, first in the Polo Grounds and then at Yankee Stadium. In that less sophisticated era, Mara often took Polaroids of the opposing team's formations from the press box. As soon as the photos developed, he wanted them delivered to the bench so the coaches and players could study them. That responsibility became Walsh's, and it was more difficult than it sounds.
"Well took the pictures and he'd wrap them in a sock and I would have to go down and throw them over the rail," Walsh said. "The press box at the Polo Grounds hung off the upper deck. To get there, you had to walk all the way to the back of the upper deck, up a metal staircase onto the roof, which had a walkway with handrails and then you would turn down and go down into the press box on another staircase. It had to be a firetrap – there was only one way in or out. I'd have to go up the stairs, cross the crosswalk, go down the stairs to the back and get to the edge of the upper deck and yell down to whoever was on the sideline, because he was watching the plays. Then it would calm down and I would yell, 'Dave' and throw the sock down and he would catch it and bring it around over to the Giants side. (Well was taking photos) of the other team's defenses mostly. If this guy (on the sideline) didn't answer, I was right in front of box seats. They'd say, 'Hey c'mon, move.' I was waiting for this guy to turn around and I was in people's way. I did it two or three times a game in the Polo Grounds.
"In Yankee Stadium, the press box was over the bench – you could almost hit the bench from the press box. It was kind of low, too."
Walsh didn't see much future in tossing sock-encased photos from stadium grandstands, so he enrolled in Fordham University, where he majored in Inter-American relations, Spanish and Latin American history.
"I thought maybe I can be an interpreter at the U.N., which is kind of naïve, because there must have been a million people who could have spoken both Spanish and English better than me," Walsh said.
After a post-graduation stint in the U.S. Army, Walsh took a job in the United Airlines passenger service department at Kennedy Airport.
"Part of my job was dealing with angry fliers," Walsh said. "Sometimes their flight would come in late or they couldn't get the right seat or a flight got canceled. I was a supervisor and you had to be very polite – 'Oh yes, sir, I understand, my goodness, we'll do the best we can for you.' And they'd just keep yelling. Pretty soon you get immune to it."
Walsh had been sparring with passengers for eight years when, in 1973, Jim Lee Howell, the former head coach who was then the Giants' director of scouting, needed an assistant. So the Giants reached out to their former ballboy.
"They didn't have to ask twice – that's what I really wanted to do," Walsh said. "I guess you could say I knew somebody. I just didn't know what I could do if I was there. So finally, I got a chance.
"I joined the Giants in April 1973, one week before the draft. At that time we belonged to National Scouting. Stuff would come in from the scouting service. I would organize the paperwork and keep track of the real good players and the not so good players – whatever Jim Lee needed – a list of this, a list of that. That's what I did the first year."
More accurately, it was about six months. The following October the team's northeast scout, Joe Sulaitis, suffered a heart attack. The Giants quickly needed someone to evaluate players in the area. So they again turned to Walsh, more because of his office skills than his football acumen. Walsh became the accidental scout.
"They said, 'Well listen, we have to finish the season up there and do all these different schools. It's the middle of October, do you think you could finish the area?'" Walsh said. "I said, 'Jeez, I never scouted before.' They said, 'You know football, you've been around football all your life. And besides, you're the only one who knows how to fill the forms out. It will take us forever to find somebody who can fill out the forms.' I said, 'I'll give it a try.' And I've been doing it ever since."
For the first few years, Howell kept Walsh on a short leash. The young scout spent the early part of many weeks completing paperwork. "I would come to the office each week and Jim Lee would say, 'Okay, this week, go here, go here, go here,'" Walsh said.
In August 1978, Walsh was given his own region to scout, the Midwest. He made his initial journey to the area on Labor Day Weekend. For the record, the first school he visited was North Dakota State. He spent that season and many others scouting college players throughout the Midwest.
"I thought, 'Gee whiz, I made the big time, I finally got my own area,'" Walsh said. "Nobody bothered you, nobody checked – you just got it done. We did it then as we do it now. You'd get 11 days on the road and then you'd get to come home for three days.
"Basically, when I started it was, 'Go to what-you-call-it's school and watch these three guys and write down what you see. Go to practice.' You wrote a report, but it didn't have to be as comprehensive or in as much detail as it is these days. You'd go to a game on Saturday."
In a typical year, Walsh would write between 200-250 reports. His routine seldom varied. He would spend a day at a school, watching players and talking to coaches, then pack up and travel to his next destination.
"A lot of scouts like to go back to the hotel, wake up and drive early in the morning," Walsh said. "I always liked to wake up where I was supposed to be that day, so I would drive at night. You would drive as long as you had to, though I'd try to get the schools as close together as I could."
When he traveled in those days, Walsh lugged a vital piece of equipment that is now an anachronism.
"We used to have our own 16 millimeter film projector," Walsh said. "Besides your suitcase you had your own projector, and boy, were they heavy. I hated to have to check it (on a flight), because if they dropped it or if it fell off the conveyer belt you're liable to break something. So I got the point where I would take it on the plane. The stewardess would say, 'I don't know if you can carry that on board.' I would say, 'Well, it's got an infra-red lens that's very delicate, would you mind if I take it on?' I don't know what an infra-red lens is, but they would say, 'Oh well, alright, put it in the closet.'
"I had a nice big lens. The other scouts would shut their projector off and come over and watch with me, because I had the whole wall taken up. That was pretty good."
Many longtime scouts who have spent years traveling the same roads and visiting the same schools have favorite watering holes, pizza parlors or rib joints where they stop each time they're in town. Not Walsh.
"I hate ribs," he said. "I like those chain places – Ryan's, Golden Corral. It's an easy in and an easy out and there are no waiters and waitresses. They're buffets – you can get in and get out in 20 minutes or a half hour. I just like meat and potatoes and out I go. I'm not a gourmet."
But he is a terrific scout. In 1979, Tim Mara, who was Wellington's nephew and a 50 percent owner, bestowed the title Director of Research & Development on Walsh.
"Nothing really came with it; it was just a nice title," Walsh said. "It made me stand out in the press guide."
While Walsh has beaten the bushes to scout thousands of players, he has also found the Giants valuable players sitting in his office. He routinely scours small-college all-conference teams and press releases, which is how he discovered Dave Jennings, whose 931 punts are 405 more than anyone else in franchise history.
"Jennings was at St. Lawrence, which wasn't scouted because it was a Division III school," Walsh said. "There was no point in going there. But they used to send us their press releases each week. I would read it and they would say they beat Rensselaer or something like that and they would always mention the punter. One day they said, 'Dave Jennings had a 45-yard average and the 6-foot-4 punter from...' and I said, 'That's a pretty good sized punter, I wonder how he is.' I asked them to send us some film so we could have a look at the guy. I said, 'He would be worth a look in our camp.' That was when you could bring as many people into camp as you wanted and we had about 130 guys. But none of them could punt the way he could. He almost never got a bad kick off in practice."
Among the current Giants, Walsh wrote favorable reports on Chris Snee, Justin Tuck and Barry Cofield, among many others. He was also instrumental in bringing running backs Brandon Jacobs and Ahmad Bradshaw to the Giants.
"When Jacobs was at Southern Illinois he had such great power and he was an extremely aggressive runner," Walsh said. "Whatever he was doing, you thought he would get better (with NFL coaching). He would just run people over. If there was a way to avoid somebody, he wouldn't. He'd pound his way down the field.
"Nobody reported on Bradshaw, because he was a junior and didn't decide he was going to come out until the season was over. So I had the only report on him. He was the same way you see him now. He had that big finish on his runs with the second effort. He didn't want to go down and he had those quick feet. He never had great speed, but he was so elusive and tough. You figured, 'Gee, this guy would be great to take a chance on.' I think I gave him a second round grade and we picked him in the seventh round. Each round I was telling Jerry Reese – I was the only one that saw him. Sometimes, you're a voice in the wilderness if nobody else goes to that school or sees your player. They say, 'There must be something wrong with this guy.' But fortunately we were able to get Bradshaw."
Walsh's most famous evaluation – at least among the scouts – was for a player who didn't join the Giants. Like all teams, the Giants had an opportunity to draft Tom Brady before he went to the New England with the 199th pick in 2000. When Brady began winning Super Bowls for the Patriots, then-general manager Ernie Accorsi reviewed the reports on the quarterback. The only scout who strongly touted him was Walsh.
"People accuse me of that, but he was right there on the field," Walsh said. "I don't know how everybody could miss him. That year he was just supposed to be a bench guy, because the starter was supposed to be Drew Henson. But Henson left to go to the Yankees in July or August and they had no starter. The next senior was this big skinny guy named Brady. When you went to the school his name wasn't on the list. You had these other six or eight guys (you were supposed to scout). But he was a starter. How could you miss him?
"Afterward people said, 'How did you find Brady?' I said, 'I didn't find him, he was there.' Other guys should have been able to see him. He was the starter at Michigan. How can you miss a starter at Michigan?"
Walsh gradually cut his workload in recent years. Last season, he still watched tape, but only attended games at schools within a short drive, such as Boston College and Delaware. Instead of reading stacks of press releases that arrive via the U.S. Mail, Walsh has checked on dozens of college websites in his ceaseless search for talent.
"It's like a hobby," he said. "It's the part I like, watching the tapes and going to practices. I just hate traveling. I can do the scouting stuff in my sleep, but I'd think, 'I don't want to hit the road again.' That was the opposite of when I started."
Naturally, one of his first ventures in retirement will be a long trip – Walsh and his wife, Judith, will visit Scotland late next month. The couple has three children: David, 38, works in New York as a magazine publisher for a scientific society; Susan, 36, is an executive at Coach; and Tim, 22, is a student at Montclair State University.
Once he settles downs, Walsh will find time to indulge in his other passion, motion pictures from the 1930s and '40s.
"They say every day is Saturday when you retire," said Walsh said. "I'd like to go to the different film festivals all over the country – they're in California, North Carolina, Chicago. Once a month I would go to a film festival and watch movies. A lot of them are silent. I like that kind of stuff.
"I've been thinking about a small theater somewhere in Bergen County. There aren't any places that show old movies. You have to go into the city if you want to see them. Humphrey Bogart, James Cagney type stuff. I have a pretty good collection at home. I have ones you don't ordinarily come across. I must have a couple of hundred. I watch two or three a week."
Before settling into his easy chair, Walsh will be present for his 39th consecutive draft.
"For me," he said, "it's the last roundup."