Three tackles were enough. Adrian Peterson got the idea.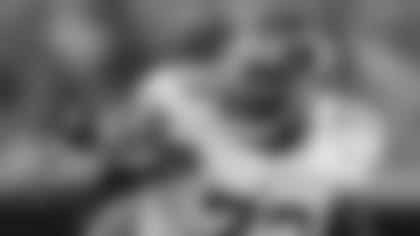 VIEW UPDATED DEPTH CHART](http://www.giants.com/team/depth-chart.html) Peterson prompted it by first replying "no one really got a good shot on me this year" – no argument there – before singling out Rogers, who faced him and the Minnesota Vikings with his former teams of Detroit, Cleveland, and New Orleans.
"I appreciate the comment," Rogers said before Wednesday's practice. "We're just out here doing our job. If that's one of the results, then that's one of the results. I haven't had a chance to sit down and talk to AP about that, but, I mean, that kind of statement, I appreciate it."
Rogers has taken down Peterson three times – twice in 2009 with the Browns and once in 2011 with the Saints – for gains no longer than four yards. But that's only counting tackles and not the amount of times the 6-foot-1, 217-pound back had to block the 6-foot-4, 350-pound defensive tackle.
The two Texas natives have yet to meet while Rogers has been a Giant but will have the opportunity on "Monday Night Football" when the Vikings visit MetLife Stadium in Week 7.
Rogers also recently drew praise from his head coach, Tom Coughlin, for his effort in the second preseason game against the Colts. Rogers recorded three solo tackles as the Giants limited Indianapolis to 2.7 yards per rush on 33 attempts. The numbers were even more in the Giants' favor in the first half when the starters were still in the game.
"He kind of got going in there, showed some quickness, penetrated, knocked the arc of the line back in our favor, provided opportunities for us to push them back," Coughlin said yesterday after practice. "They had seven runs of minus yardage, so the interior guys were a big part of that and Shaun was a big part of that."
Rogers, who missed all of 2012 due to a blood clot in his leg, is back healthy with the Giants and started the preseason opener. Rogers is part of a beefed-up line that the Giants hope will improve their run defense.
"I think it's a combination of all things," Rogers said. "You've got to have the right personnel. You've got to have the right scheme and the right mentality to play the run. I think we're doing those things, and coaches are putting guys in position to do so. At the end of the day, we're going to strive for the best results."