Last week Adrien Robinson did a good Antonio Gates impersonation.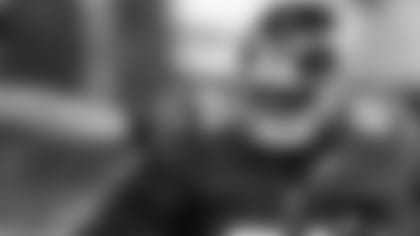 In the practices leading up to the Chargers game, Robinson mimicked San Diego's perennial Pro Bowl tight end on the scout team for the Giants' defense. But that was the extent of his contribution.
Big Blue's fourth-round draft pick of 2012 was a healthy scratch for the 37-14 loss in San Diego that eliminated them from the postseason race. Robinson has been a scratch all season, but not always a healthy one. Dating back to the preseason, a foot injury caused him to miss the first three months of the year, and Robinson hasn't suited up for a game since Week 5 of last season.
"The injury obviously was a setback because I missed so much time," Robinson said. "But once I've been healthy, I've been here, coming to practice, and getting better every day. So whenever my opportunity comes, I'll be ready.
"I kind of just need to keep earning the coaches' trust. I feel like they know what I can do physically or athletically, so at this point, it's just earning the trust of putting me out there I think. That would be the biggest thing."
That trust may or may not come in 2013.
The Giants, who won't play past December, have three weeks left in the season to win as many games as possible with the roster that they have. If that includes Robinson, then so be it.
"He was hurt for a long time," Giants coach Tom Coughlin said of Robinson, who has two career games under his belt. "He's practiced for a few weeks now. He did a nice job of being a scout squad tight end for Gates a week ago. He's improved from what I can tell on special teams and if he can continue to improve, perhaps that opportunity will come."
That approach applies to the entire team. Coughlin was asked today whether the remaining games will be used to take a look at certain players.
"Our number one objective is we have a three-game schedule," Coughlin said. "We want to play as best as we possibly can. Over the course of these x-amount of weeks, people have established themselves in their positions, rightfully so, fairly so. I'm not commenting on the degree of where we are in regard to that, I'm just saying those people who are playing have earned their right to play."
Robinson's position coach Mike Pope sees it the same. In order to earn the right, it's all in the details that will help the team win.
"He just tells me to focus on all the little things – technique, the smallest, smallest details, the things that if you don't think about every single play, you won't do it," Robinson said of Pope. "So that's been his biggest coaching point for me."