EAST RUTHERFORD, NJ - Amani Toomer has spent his athletic life competing in short bursts. As a football player, he worked in the few seconds between the snap of the ball that starts a football play to the whistle that ends it. Toomer was sensationally productive in that condensed time frame, catching so many passes for so many yards and so many touchdowns that there is no dispute that he is the best receiver in the Giants' 86-year history. Last month, Toomer was one of 30 inductees of the inaugural class of the Giants' Ring of Honor.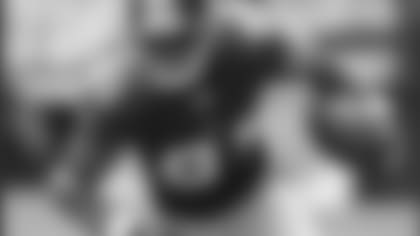 Toomer, 36, now works in a different athletic endeavor, one with a far different timing pattern. Instead of running past a secondary with four, five or six defensive backs, he is trying to pass one of the largest athletic fields in the world. And as always, he has a goal.
"I want to finish in less than four hours," Toomer said this week.
Clearly, the man is no longer playing football. He has joined Team Timex for the 2010 ING New York City Marathon, which will be run Sunday through the five boroughs of New York City. Timex and Toomer are working together in support of New York Road Runner's Youth Program, which currently serves more than 100,000 children in hundreds of schools and community centers to promote children's health and fitness, character development, and personal achievement in underserved communities. Toomer will start dead last among the race's approximately 43,000 participants. For each runner he passes, Timex will donate $1 to New York Road Runner's Youth Programs.
"I think I can probably pass about 20,000 runners," Toomer said. "The youth program is really why I'm running the marathon. It's kind of something that I've always been a part of, and I really enjoy the fact that I have a chance to give back to the community a little bit, especially the New York community that's done so much for me and my family. So I'm trying to do the little things I can to give back."
Timex is sponsoring a contest so fans can see if they can make a more accurate prediction than Toomer – and win great prizes in the process.
The contest will be hosted on TimexIronman.com/Amani and offers participants the chance to win a VIP prize package that includes two tickets to the Giants' home game vs. Washington on Dec. 5, a private tour of the Timex Performance Center, where the Giants train, Amani Toomer autographed memorabilia, and the new Timex® Ironman® Global Trainer™  GPS watch.
Fans can enter the contest by visiting the Timex booth at the New York City Marathon Expo this Thursday through Saturday. Entries must be completed by Saturday at 11:59 p.m. EDT. All contest entrants must be a U.S. resident.
Toomer was looking for ways to maintain his athletic drive after retiring from football last year. He was first bitten by the running bug when he participated in a Giants Draft Day 5K run around the Meadowlands Sports Complex. When he heard that Timex was looking for someone to run the marathon for charity this year, he immediately signed up.
Fans can follow his training efforts and the progress Toomer has made in transitioning from the NFL to the New York City Marathon on Facebook.com/TimexSports.
Toomer has been vigorously training with Timex's new GPS product – the Timex Ironman Global Trainer, which is making him fitter and faster than he has ever been. Since he began training for the marathon, Toomer has lost approximately 30 pounds and now weighs 205, which was about what he weighed during his final season with the Giants in 2008. He has lowered his heart rate through his training.
"As a football player, I learned the value of physical fitness early in life," Toomer said. "By partnering with Timex, and using the top-of-the-line training instrument, I am confident I will raise significant money for NYRR's youth programs and encourage thousands of children across the country to participate in physical activity and create their own personal fitness goals."
Toomer said the Timex Ironman Global Trainer has enabled him to train more effectively for the marathon. He often runs near his New Jersey home, which offers scenic views of the Hudson River and Manhattan. Toomer has run 20 miles on three separate occasions.
The GPS-equipped watch enables Toomer to monitor his foot speed and heart rate.
"If the GPS shows me I'm running too fast, I'll slow down," Toomer said. "If I'm too slow and my heart rate's too low, I can speed it up a little bit and I know I can get a little bit more. If it's too high, then I know that I need to slow down a little bit. It's been really helpful. Plus, I know exactly where I am. I know how far I'm running, what my time is. It clicks off every mile I run.  I look down and I know how fast I ran that last mile. I can speed up or slow down accordingly."
Toomer will wear the Global Trainer during the race on Sunday. It will help him track whether he's on pace to meet his four-hour goal.
"It's something I think I can do," said Toomer, who picked that time because, "for most marathoners, less than four hours is a respectable time."
Toomer said he used to get butterflies during a football game and he expects to have similar feelings of anxiety prior to the marathon.
"I haven't done a marathon before, so I'm unsure exactly how it's going to be," he said. "I know it's going to hurt toward the end, but I want to know. It's another test to see how I'm going to react in that type of situation."
The nervousness never hurt him on the football field.
Toomer joined the Giants in 1996 as a second-round draft choice from Michigan. His entire 13-year career was spent with the team (save for a brief stint in the Kansas City Chiefs' training camp in 2009). Few players have left as large an imprint in the team's record book as Toomer.
He played in 190 regular season games, the fourth-highest total in Giants history. Toomer played in 127 consecutive games before a hamstring injury kept him out of the 2004 season finale vs. Dallas. He has also played in 11 postseason games, scoring two touchdowns in the Giants' victory over the Cowboys in a 2007 NFC Divisional Playoff Game and finishing with a team-high six receptions in the Super Bowl XLII triumph over New England.
Toomer holds franchise records for catches (668), receiving yards (9,497), touchdown catches (54) and 100-yard receiving games (22). He finished his career with 82 more receptions than runner-up Tiki Barber (586) and 4,063 more yards than former record-holder Frank Gifford (5,434). Toomer caught at least one pass in a Giants-record 98 consecutive games before the streak ended in the 2005 season opener vs. Arizona.
He holds the Giants' single-season record with 1,343 receiving yards in 2002. Toomer had the three highest single-season receptions totals in team history until Steve Smith shattered his former mark of 82 with 107 catches last year.
Toomer also holds the Giants postseason records for reception (44), yards (608) and touchdowns (seven).  No one else in Giants playoff history has more than three postseason touchdown catches.
In addition, Toomer is second in Giants history with 10,924 total yards (Barber is first with 17,359). His total includes 1,060 yards on punt returns, 257 yards on kickoff returns and 110 yards rushing.
When he was uniform, Toomer frequently said he didn't think about the marks, because he was focused on preparing for and playing the games. Now that he's retired, Toomer is proud to be cited numerous times in the record book.
"Once you get done playing you try to figure out where you lie and where you stack up against the rest of the people you played against in that organization," Toomer said. "For me to be on top when I left, it really meant a lot to me. The fact that Steve broke my record really didn't mean that much to me, because the only thing I can do is break the records that are in front of me."
One of the reasons for Toomer's success was his commitment to physical fitness. The opportunity to train for the marathon enabled him to expand his conditioning in a competitive environment. He has learned that preparing for a football season and training for a marathon are two vastly different endeavors.
"When you're getting in shape for a marathon, you don't have to worry about contact in terms of strengthening your neck muscles and things like that," Toomer said. "It's just running, so it's a lot easier in that aspect. But in another respect, it's a lot harder because you have to use more of your body in terms of your endurance, so you have to change your diet a little bit more than a football player might have to. It's a lot easier. I don't have to cut or anything like that, so it changes the whole dynamic of what you're training for. It's easier in some aspects and it's harder because it takes more dedication in terms of your diet.
"Also, endurance and sprint workouts are totally different. It's definitely going to be different for me, but I'm looking forward to the challenge and I'm going to have a good time. Whatever time I end up finishing in is going to be good enough, and I have my own little goal that I want to get to."