Q: What kind of feeling do you leave here with today?
A: Definitely a bittersweet feeling. Bitter because obviously our ultimate goal here is to play for the full season and let the wind take its course but and unfortunately we're not able to fulfill that dream. At the same time I'm extremely proud of the way this team has bounced back and faced adversity. Even when people said we had nothing to play for, we had nothing to prove, we came out fighting. We came out fighting even harder and I think this team showed a lot of pride, a lot of fight and more importantly the love that we have for one another in this locker room throughout the remaining course of this season.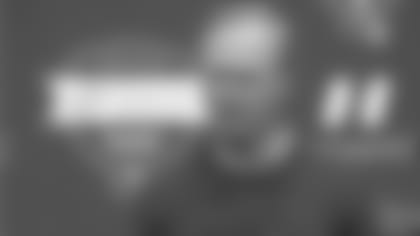 Read Quotes from Monday's Interviews](http://www.giants.com/news-and-blogs/transcripts.html) Q: Why did it go the way it did in your mind? Why did you not make the playoffs?
A: Obviously starting 0-6, that's not a position that you want to be in and we made it extremely hard for ourselves at the beginning of the season. Winning seven out of the last 10 games is ideal for an organization and had we won a little bit more in the beginning, the situation would obviously be different at this time.
Q: Do you need big changes here?
A: To be honest with you, that's not my call to make. I think obviously we've shown that we can win games and play to our potential with the later part of the season taking its place. We just weren't in sync, we weren't in sync those first six games, we couldn't find a way to close out those victories and obviously it put us in a real tough situation.
Q: Would you be surprised if they did decide to make changes? Obviously you're not the one making the decisions, but would it surprise you at all?
A: Changes happen every year with each and every team within this league. Changes are what's to be expected at this point.
Q: I'm talking more about staff changes. Would that surprise you? You've had the same staff for the most part for a while here.
A: Like I said, that's not my place to make any kind of decision or comments about coaching changes. I'm a defensive player and I speak only and entirely for the defense. Are there any changes that need to be made on that side? Absolutely not. I think we've shown that. Starting, at one point in time in the season, as the 28th ranked defense and to end the season at eight, I think that speaks volumes for us.
Q; You guys talk, obviously you wanted to be a top 10 or top five defense. Through it all, to finish eight, does it surprise you; what did that mean?
A: It doesn't surprise us. We worked our butts off to get to that point, especially at one point in time being ranked the 28th defense within this league. We work together. Coaches, players, we all came together, we worked together and we made this happen. It wasn't by luck, we just didn't fall at number eight. We know we worked our butts off to get to that point.
Q: You talked about bittersweet, if you guys had another game to play do you think this defense could be a defense that could hold up throughout a playoff run?
A: Absolutely, that's a no-brainer for us. I think we've shown that throughout the course of the season. Offense, people in this league, everyone gets paid. We're all professionals, we're all athletes, so the offense is going to make their plays. But as a defense, I felt like we did an exceptional job, especially through the latter part of the season. After that 0-6 start just going out there and playing and flying around and making plays and creating turnovers and giving our offense more opportunities to put the ball in the end zone.
Q: Any message to the fans?
A: I pretty much said what I needed to say. For the fans, we obviously thank them for sticking with us through the bad and the good times. Obviously the season didn't go as planned for them but we're definitely looking forward to 2014. I think we've found an identity here, I think we understand what areas need to be cleaned up and how to get it cleaned up and just move forward at this point. We'll be back come in 2014.
Q: What's the feeling like knowing that you have to clean out your locker entirely?
A: That's never a good feeling. I think Jon Beason hated it more than anyone. He's been talking about it for the last few days consistently. It's not a good feeling, it's not a good feeling at all. We play this game obviously for one reason, which is to win a Super Bowl and like I said, because of our play, we haven't allowed ourselves to be in contention for that.