EAST RUTHERFORD - The Giants today took their first formal steps toward the 2010 season when the players reported to the Timex Performance Center for the beginning of the team's offseason conditioning program.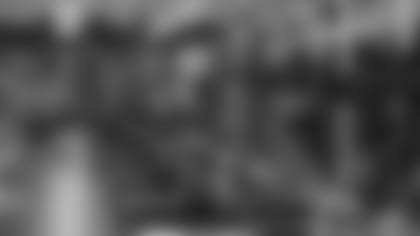 "It's like the first day of school again," tight end Kevin Boss said. "It's been a while since I've seen a lot of guys. I'm excited to see everyone."
"It is a fun day, it's something you look forward to," quarterback Eli Manning said. "The last couple of weeks (I was) kind of itching to get back and see all the coaches and your teammates and getting back to work and getting ready for this upcoming season. We have a lot of work to do and we're excited about getting back to it and seeing how we can improve.
"Some guys you've seen over the last couple of months. Some guys you've talked to. And then there are other guys you haven't seen or talked to as often. It's good to see everybody and see what everybody's been doing and how their little break's been. You see the energy and enthusiasm in all the players."
While the reunions were fun for everyone, the Giants reported to work with a steely determination. It was just 10 weeks ago that they lost to the Vikings in Minnesota, 44-7, to end the 2009 season with a disappointing 8-8 record. The Giants began the season with five consecutive victories and, to a man, they believe that more accurately reflects their talent and attitude than the 3-8 finish.
But the players know they have to back up that faith with their performance on the field. And the six-month trip to opening day began today in the weight room.
"I think guys understand after the season we that had - which was a disappointment – that we have to work that much harder in order to make this season a success," defensive tackle Chris Canty said. "It's definitely exciting, seeing all the guys again, getting everybody back in the building and getting everybody working toward our common goal this year, which is winning a championship."
Canty said the Giants "absolutely" have a chip on their collective shoulder.
"It's reflective of how many guys we have here on the first day," Canty said. "There are guys that have been here for a couple of months now. Guys understand what's at stake and how hard we have to work."
"It's nice to get back with everyone and get back in the weight room together and try to make up for the disappointing season," Boss said. "I think we're all excited to get back to work. We're all frustrated with the way the season ended up and it's going to be a good offseason. I think guys are excited to work hard."
Manning said they can still learn much by studying the 2009 season.
"We'll go back and review things and see where we need to improve and see what we did well," he said. "You'll look back at it. But the season as a whole, you kind of forget about it. You look at some individual pieces of it to analyze and to improve on. We're excited about this upcoming season."
Strength and conditioning coaches Jerry Palmieri and Marcus Paul instructed the players to completely rest for a month after the season ended. The players then began individual workouts that got progressively more intense as the beginning of the conditioning program approached. Some players worked out at the Giants headquarters.
"They tell us to take a month off and after that slowly get back into it and get your fitness and your weightlifting work in, so when you come in here you're ready to go and you're not starting from scratch," Manning said. "You have a little momentum to build on. That's good. You can see guys have been working and they're ready to get going."
Manning finished the season with 317 completions in 509 attempts (62.3 percent) for 4,021 yards, 27 touchdowns, 14 interceptions and a passer rating of 93.1. The completions, percentage, yards, touchdowns and rating were all career highs. He has not yet thrown a football, nor is he certain when he will. That decision will be made in consultation with Mike Sullivan, who is the new quarterbacks coach after serving for six seasons as the wide receivers coach.
"I have to meet with Coach Sullivan and go over our schedule and plan out these next few months – decide when we're going to start meeting and when we're going to start throwing," Manning said. "I'm sure he has an idea and we know what we've done in the past. But I'd say probably in April we'll start throwing a little bit."
Sullivan is not the only new face in the quarterbacks meeting room. Jim Sorgi, who spent the previous six seasons as backup to Manning's brother, Peyton, with the Indianapolis Colts, was signed last week to compete with Rhett Bomar for the No. 2 quarterback job. Sorgi replaces David Carr, who is now with the San Francisco 49ers after spending two seasons with the Giants.
"I know Jim," Manning said. "We've been around each other a few times over the past few years. I've never worked with him, but Peyton speaks highly of him. I'm excited about having him here. He knows football and he's been in the league for a number of years. I'm excited about working with him and seeing how we can improve.
"Jim's a smart guy and a guy who studies and prepares and does everything he has to do, not only to get himself ready, but he helped get Peyton ready, also. He watched film and offered his ideas, so I'm looking forward to working with him to see what we can do to help out the team."
Sorgi was just as excited as the returnees to be here.
"It's different, seeing some of the faces and not knowing the names – and not knowing the exact way things go and how things are done here," Sorgi said. "I caught on pretty quickly.
"I talked to Eli a few times and I saw him today for about 10 minutes. We're going to get this thing rolling quickly, as soon as possible, and try to get on the same page and build a cohesive unit so we can get this thing rolling."