EAST RUTHERFORD, NJ - No one on the Giants has had a more unpredictable or wilder journey this season than Bear Pascoe.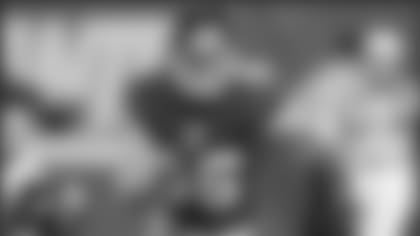 In training camp, he was arguably the most-frequently praised player by Tom Coughlin, a designation he earned during an extended period in which he was the only one of the team's five tight ends who was healthy enough to practice.
Pascoe thought he had earned a roster spot, but when the final cuts were announced on Sept. 4 his name was on the list. "I was shocked," Pascoe said.
He was signed to practice squad and then back to the active roster after Kevin Boss suffered a concussion on opening day. He played 2½ games as a reserve tight end and on special teams before Madison Hedgecock sustained a hamstring injury. Pascoe moved from the line of scrimmage to the backfield and has started the last two games at fullback. With Pascoe as one of the primary blockers for Ahmad Bradshaw and Brandon Jacobs, the Giants' rushing attack has not skipped a beat. The team ran for 117 and 167 yards in victories over Houston and Detroit.
"That's kind of what life is," Pascoe said of his descent and subsequent rise. "It's all about the ride. When things sort of get thrown at you like that, you've got to take it in stride and roll with it. I was lucky to come back and to be a part of the practice squad, and things worked out. So you can't ever get your chin down. You've got to keep pressing forward and stay the course."
Pascoe has impressed everyone not only with his perseverance, but with his high level of play. 
"He does a nice job as a lead blocker," Coach Tom Coughlin said. "He certainly had a good game (last week), and everyone was aware of that. I'm happy for him. The guy gives you everything he's got. He's there every day, works his tail off, plays multiple positions, runs scout squad, and does all those things. Come game day, he was able to take the practice field into play and really do a nice job for us."
"Bear Pascoe has been doing a tremendous job for us," Jacobs said. "He stepped in there when his number was called and he went in there and has been doing the best he can. The best that he can do is always what we need him to do. He goes in there and lays it on the line, and gives us all he has. Bear has been doing that, and Bear has been a tremendous asset for us in the ring. He's been doing very well."
Pascoe is thrilled to be contributing to the 4-2 Giants, who will put their three-game winning streak on the line Monday night in Dallas. And the former high school quarterback is also having a blast playing fullback.
"I'm enjoying the heck out of it, you bet," Pascoe said. "It's fun. Evidently I've still got a lot to learn as far as being an all around football player, but it's coming fast and I'm picking it up. I don't think our run game has missed a beat."
Pascoe's proficiency on the block was all over the Giants' 28-20 victory over Detroit. He led Jacobs into the end zone on a four-yard run that was the Giants' first touchdown. In the fourth quarter, his block sprung Bradshaw on a game-long 45-yard run that set up Jacobs' second touchdown.
"Bear made a great block and sprung me forward," Bradshaw said. "I just wanted to hit it as hard as I could, and I was able to catch the edge of the safety and get rolling."
Fullback is a position that has little glory attached to it, but that suits the self-effacing Pascoe.
"Anything I can do to make Brandon and Ahmad's decision quicker - just give a clear read for them to make cuts - it's a good day," Pascoe said.
Pascoe, who played tight end at Fresno State, was a sixth-round draft choice in 2009 by the San Francisco 49ers, who waived him at the end of training camp. The Giants signed him to their practice squad on Sept. 15 and to the active roster on Dec. 4. He played in four games with one start and caught one pass last season.
When training camp opened, Pascoe was thought to be competing with Scott Chandler (now with Dallas) for the No. 3 tight end job behind Boss and Travis Beckum. But before the Giants' second preseason game, against Pittsburgh on Aug. 21, then-backup fullback Jerome Johnson suffered a shoulder injury. The coaches needed someone to play the position in the second half, so they approached Pascoe.
"Jerome was hurt so (tight ends) coach (Mike) Pope told me early in the week to get ready," Pascoe said. "He said Jerome wasn't going to go in the second half, so I would be the number two fullback. That was about the first time they kind of really started bouncing the idea around."
Although he was unfamiliar with the position, Pascoe was gung-ho to play there.
"I kind of looked at it like, 'Whatever you need me to do, coach,'" he said. "Whatever makes me more valuable."
But it wasn't enough for him to avoid getting bad news on cutdown day. Pascoe thought he had done enough to earn a roster spot. But when Coughlin and his coaches crunched the numbers, they had no room for Pascoe.
"It wasn't something I was really expecting," Pascoe said. "But hey, I felt that I did everything I possibly could to make this team and I was proud of myself. It's just the way things go, and like I said, I was lucky enough to stay and be on the practice squad and get to keep working with it. 
"I didn't want to go somewhere else and be on somebody else's practice squad. And those were kind of all the offers I got. I wanted to stay here where I knew the offense and I knew the coaches, knew the guys, where I could keep growing as a player."
When the team splits into position groups, Pascoe still spends most of his time in the tight end meetings. But he also gets tutored by running backs coach Jerald Ingram.
"I go in and I'll go over (pass) protections with Eli (Manning) and coach Ingram and all the running backs on Wednesday," Pascoe said. "So I am meeting with both coaches and if I ever have a question on anything, I go to coach Ingram."
Whether he's playing tight end or fullback, Pascoe's primary duty is to block. He said it was an easy transition moving from the line of scrimmage to the backfield.
"You've got a little more room for a guy to put a move on you or something like that," Pascoe said. "You have a little more time to size him up, but once you get used to that, it's not much difference. When you make contact, it's not much difference than if you were at the end of the line."
"The positions are similar in the way they line up," Hedgecock said. "They are the same positions really. Go line up with your hand on the ground, line up in the backfield."
Pascoe will gladly do either. Hedgecock is not ready to return, so Pascoe is likely to stay at fullback for at least another week. And unlike training camp, this time it seems he really has earned a long-term roster spot.
"I'm stepping in for Madison," Pascoe said. "I've got that attitude that if this is what they ask for me to do my whole career, I'll do it. I mean I can do it. I know I can get the job done, and it's something that I'm good at. I have the talent to do it. So we'll do it for the rest of the year if it keeps working."
*The entire football world was saddened by the news last week that Rutgers defensive tackle Eric LeGrand was paralyzed below the neck. But the news struck a personal chord with center Shaun O'Hara, a Rutgers alumnus who knows LeGrand.
"When I first heard about it, obviously I was sick to my stomach but I didn't know who the player was," O'Hara said. "I heard that a Rutgers player was hurt and then when I found that it was Eric LeGrand, it hits you even more. I had a chance to meet Eric on a number of occasions, actually through him being at Rutgers, but also I helped out with a high school all-star game - (the) New Jersey vs. New York All-Star Classic. And he was one of those players. I just remember him being a hard worker. He's a great teammate, and I know that he took that with him to Rutgers. So it's tough. It's tough to see any player go through that. It's tough to see a team to go through that, and I know coach (Greg) Schiano has been strong for his team and I know all those guys are going through a tough time right now."
O'Hara said Rutgers alumni will come together to help LeGrand in any way they can.
"I've gotten numerous messages about people that are doing things - fundraisers, doing grants, doing things," O'Hara said. "There are going to be some things done for him on his behalf, and the one thing I know is that Rutgers is going to take care of him. I think the one thing right now everybody is trying to do is take care of his family, because I know that it's the toughest on them right now. I know a lot of people want to go see him and want to go visit him. I think everybody is trying to be respectful of his family and what they're going through." 
*Offensive lineman Kevin Boothe practiced today for the first time this season and the Giants have 21 days to decide whether to activate him.
Boothe, a five-year veteran, has been on the reserve/physically unable to perform (PUP) list since Aug. 31. Prior to that, he was on the active/PUP list, where he was placed when training camp opened. Boothe underwent surgery in the spring to repair a torn pectoral muscle suffered while he was lifting weights. He was eligible to begin practice as of Tuesday of this week.
Boothe said he "bounced around" at several positions on the line on the scout team during today's practice.
"I felt fine," he said. "I was kind of like the new kid in school and it was after winter break and everybody has been around for a month. So I had to find my away around the practice field a little bit, but once practice got going, it felt normal again."
Coughlin hasn't said how he'll use Boothe or when he will be activated. But Boothe isn't obsessing.
"I'm just focusing on trying to get back into the swing of things and I think all that stuff will smooth itself out," he said. "Right now, I'm just wherever I'm needed. You can tell me to play any position, and I'll give it a shot." 
Boothe is not yet on the active roster and is thus currently ineligible to play in a game.
*Three Giants did not practice today, two of them defensive ends: Osi Umenyiora and Mathias Kiwanuka. Umenyiora has been taking off the first day of the work week to rest his sore knee. Kiwanuka is out indefinitely with a bulging cervical disk.
Earlier this week, Kiwanuka was in Los Angeles to be examined by spine specialist Dr. Robert Watkins. Kiwanuka said he believes he will play again this season. What did he learn on his trip to Los Angeles?
"That patience is a virtue," he said. "That I'm going to have to find or learn how to progress somehow, because it's a frustrating injury. There are no signs. There are not a whole lot of things you can do aside from get rest and just wait. That's not something that we're taught to do growing up. It's something you're very unaccustomed to. So the only thing I can do to help this team right now is to be patient and not try to rush things." 
Coughlin said he had no update on defensive end Mathias Kiwanuka, who missed the last three games.
"It is difficult for everyone, the player as well, because the player naturally starts to feel better," Coughlin said. "He feels better, the symptoms aren't there. (He wonders) 'Why can't I go, what's the issue?' Any player under those circumstances (thinks) maybe he can practice, maybe he can play. The frustration, of course, is that it's not something you see with the naked eye."
Coughlin indicated he's willing to wait for a favorable decision.
"If it takes a little more time to get the answer you want to hear, then so be it."
*Hedgecock and kicker Lawrence Tynes (ankle) were limited in practice. Linebacker Keith Bulluck (toe), running back D.J. Ware (groin) and defensive back Brian Jackson (neck) practiced fully.
Tynes did not play last week after spraining his ankle in practice on Friday. Shayne Graham kicked four extra points in the victory over Detroit and was released on Tuesday.
"It definitely feels better than it did Friday and Saturday," Tynes said. "I told Tom Monday I felt pretty good. I had this before in the summer. So I feel like I'm going to be able to kick on Monday. We have the extra day and then most of that day and through the night."
If you'd like to submit a question or comment to Michael, click here.