EAST RUTHERFORD, NJ - The Giants today drafted Marvin Austin, a defensive tackle with impressive talent who missed the entire 2010 season for violating team rules. He was investigated by the NCAA for improper contact with agents, suspended by Coach Butch Davis in September and dismissed from the team in October.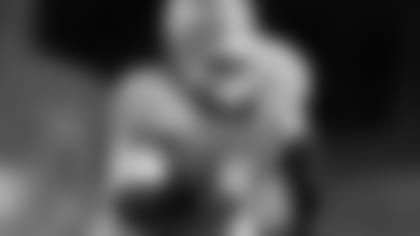 That's heavy baggage, even for someone who could become a stud in the middle of the defensive line. But Austin insists it is not indicative of his character.
"I'm a good guy who made a bad decision and I'm ready to move on," he said. "I am ready to become a Giant."
General Manager Jerry Reese and Coach Tom Coughlin are confident they can get Austin to toe a straight line and get him to realize his vast potential on the field.
"We did a lot of work on him," Reese said of Austin, who was chosen with the 20th pick of the second round, the 52nd overall selection. "He was very highly rated on our board. The value was tremendous at that point. Again, we did a lot of homework on him. We couldn't pass him up.
"This guy is going to come in here with a chip on his shoulder with something to prove. I hope he will take it out on the opponent. But obviously, when he gets here we will keep a close eye on him like some other players we have had in the past."
Coughlin has an extremely low tolerance for players who do not follow his program and he is hopeful Austin will be problem-free.
"We took a very talented defensive lineman that has had some issues – without a doubt," Coughlin said. "We did a lot of studying on this guy. There were probably seven or eight of our people at the workout at North Carolina. There were some private interviews. We had a private interview with him at the combine. I spent quite a few minutes on the phone with him prior to telling him that we would be drafting him in the second round and that there were some very, very high expectations for him if he was to come here and be a New York Giant. I think he understood that, so we will get off on the right foot."
Coughlin was asked if he considers Austin a risk.
"I think anybody's a risk," Coach said. "Until they come in and prove exactly what they can do, there's risk involved for anybody. But we're in a high-risk business."
Austin insists Coughlin need not worry.
"I don't think I am a big risk," Austin said. "As I said, the things that happened are in the past.  Now I am ready to be a professional and I think coming up to this point I showed that I can be in shape given that I was out of football for five months I can be (a) professional. Because I had to become a professional way before a lot of other guys because they were still in college. So I think I am ready and I don't think I'm a big risk at all."
Austin is the second outstanding player to join the defense in this draft. With the 19th pick in the first round, the Giants selected Nebraska cornerback Prince Amukamara.
No one questions Austin's talent. Marc Ross, the Giants' Director of College Scouting said of Austin, "If he's clean, he's a top 15 pick, I believe."
Austin established himself as an elite NFL prospect in his first three years with the Tar Heels (2007-09). He played in 38 games with 25 starts, including 22 games in his final two seasons. His career totals included 106 tackles (59 solo), 13.5 tackles for losses, 9.0 sacks, 14 pressures, an interception, a forced fumble and a fumble recovery. In 2009, he was named second-team All-ACC.
But his only action in the 2010 season was in the East-West Shrine Game on Jan. 22. He scored a touchdown by recovering a fumble by quarterback Jerrod Johnson and taking it three yards into the end zone.
"It was tough to sit back and watch and not be able to play, not to be able to go out and compete with my teammates," Austin said. "I learned that every decision that you make is an important decision and you have to think everything out. And also not being able to play football – it makes you grateful for the game. It makes you appreciate the game." 
Reese and the scouting staff were put in the unusual though not unprecedented position of evaluating a player that missed the entire previous season.
"All you can do is look at his season before," Reese said. "He played in the all-star game; was really into individual stuff.  He was dominant in those drills.  You see that he hadn't played all year long because I think he fatigued a little bit in the game because he wasn't in football shape.  It is hard to get into football shape if you are not playing football.  But you go back and look at his tape as a junior and you see a really good football player. Again, we had him very highly rated.  This guy is going to be a tremendous player for us."
Reese invoked the name of Keith Hamilton when speaking about Austin. Hamilton was a ruthless defensive tackle who played for the Giants from 1992-2003.
"He is explosive, he is an explosive three-technique (tackle), a gap-charger," Reese said. "This guy can get off the ball with tremendous speed. He has got a nasty motor, (a) mean demeanor about him. He is going to bring that nasty attitude. Somebody described him as Keith Hamilton – not the body type but that nasty demeanor that Keith Hamilton used to play with when we had him here. So I like to have some big nasty guys in your front. I kind of like that."
The Giants believe Austin will arrive here as a highly motivated player after spending the 2010 season as a spectator.
"I think he was very remorseful," Reese said. "I think he was disappointed that he didn't get to play. He really wanted to play. He made a bad decision. He really wanted to play. We were disappointed that he let his teammates down and his school down that he wasn't there to help them play and win more games. So we sat down with him and we interviewed him; we talked with him. The coaches talked with him."
"(He is) a talented football player (who) certainly has an opportunity now to show the world what he can do and to, hopefully, package all of the energy and disappointment and motivation based on the fact that he did not play this past year," Coughlin said. "Hopefully he'll wrap all that up and come here and be the football player that we think he can be. Let me say this to you, his grade - strictly looking at his football ability - is very high."
Austin concurred that he has plenty of incentive to prove his doubters wrong.
"It is extremely motivating," he said. "I feel like I am one of the best athletes that was in the draft and I feel like I'm just ready to go and perform and get a chance to play the game that I love so much."
The Giants have benefitted from taking a chance on players with off-the-field issues in their past in recent years. Both running back Ahmad Bradshaw (seventh round in 2007) and wide receiver Mario Manningham (third round in 2008) had a pre-draft portfolio with question marks. But they have been productive, trouble-free players with the Giants.
"Certain people, you take a chance on if they aren't habitual problems," Ross said. "For instance, we took a chance on Mario. We thought his were isolated incidents where he made bad mistakes. We thought he was a good kid. We did a lot of work on him. He loved football and he was a good kid who made bad decisions. Whereas other people, you don't look at it the same way. With Marvin, we think this kid loves football. He loves to compete. He's genuinely remorseful about what happened. I think he wants to prove to everybody – himself, his teammates, his new team – that he learned from that and that he's going to go on from there.
"You have to know your coaches, you have to know the support system you have.  And I think we have a strong foundation with dealing with that.  But again, we don't want to go too far off and just bring in this guy we have just seen who is a bad, bad person.  So we will never do that.  The guys that we have taken, we don't think they are bad people." 
This is the second consecutive year the Giants have used their second-round choice on a defensive tackle. Last year, they took Linval Joseph, who played in six games as a rookie.
"You just have to get as many good football players as you can, because injuries can happen," Reese said. "We try to get as many good football players as we can. And this guy is a very good football player. No knock on Linval Joseph – we think he is going to be a tremendous player."
Austin's selection also raises questions about the Giants future of Barry Cofield, a durable and productive tackle who missed only one game in his first five seasons. Cofield is a potential unrestricted free agent, depending on what the eligibility requirement will be when the league year begins.
"Barry is a free agent," Reese said. "All of that will take care of itself.  So I'm not going to make any comments on Barry Cofield's future."