EAST RUTHERFORD, N.J. – When a few of their players were given an unfamiliar game plan last week, the Giants called in a specialist to help accelerate the learning process: Bill Murray.
Yes, that Bill Murray. The famed comedic actor – who starred in films such as "Caddyshack," "Groundhog Day" and "Ghostbusters" – spent more than six hours in the Giants' offices last week. He was there not to review Xs and Os, but to help running backs James Sims and Robert Douglas and offensive lineman Matt Tarullo improve their acting skills.
Top row: OL Matt Tarullo, Bill Murray, RB Robert Douglas, Dir. of Player Development Charles Way and RB James Sims. Bottom row: Giants staff Jen Conley, Joann Lamneck and Emily Ryan.
To understand why three players needed tips on timing and voice projection requires a little background. The Giants, through Director of Player Development and former fullback Charles Way, have a mentoring program called Giants Steps to Success. Way, along with individual -- or groups of -- players, visit area middle schools and high schools to talk to the students about issues such as avoiding drugs and alcohol, staying in school, resisting gangs and responding to peer pressure. But Way began to believe the message was not getting through to the students.

"We were going to the same schools over and over again," Way said. "Most of the kids have gone to the assembly before and I got a feeling when I was talking to them that they were starting to become disinterested. I thought we needed to do something different to keep these kids involved and entertained so they can get something out of it."

Way's idea was to have the players present their points in a skit; rather than stand in front of a large group of students, they could convey their lessons by acting them out. In August, Way approached Joann Lamneck, a longtime Giants employee who is now the team's special projects coordinator. Lamneck has an extensive theater background. She gave a list of topics that Way wanted to cover to a playwright friend of hers, Richard Knipe, who wrote a series of short scripts.

Lamneck has been friends for many years with Murray, a Chicago native and fervent Bears fan for whom she helped procure tickets to the 1990 NFC Divisional Playoff game between the Giants and their ancient rivals. Murray expressed an interest in helping the players when Lamneck told him about the skits at the Giants-Bears game last Nov. 12 in Giants Stadium.

"I sent him what the program was and all the scripts and I told him exactly what we wanted to do," Lamneck said. "He called me back at the end of February and said he thought the best way to go would be improvisation. I asked him, 'Would you be willing to come in here and coach or teach them for a couple of days.' He said yes, but he also said he had a better idea."

Murray – like John Belushi, Mike Myers and Gilda Radner – got his start at The Second City, the famed Chicago improvisational comedy troupe. Murray's instructor at Second City was Josephine Forsberg, a pioneer in improvisational theater. He said he would ask Forsberg to accompany him to Giants Stadium.

Forsberg arrived in New Jersey on Sunday, March 18. The next day, Forsberg, Knipe and director Kevin Cannon worked on improvisations. Last Wednesday, Murray arrived at the stadium at 9:30 a.m. and did not leave until almost 4:30. He spent virtually the entire time working with Way, Lamneck, the three players and community relations coordinator Jen Conley, who is also in the cast.

"Everybody loved it," Lamneck said. "He was funny. I was supposed to do the part of this woman, and I said to him, 'I don't think I really fit into this.' So he fired me and he wrote me into another scene.'"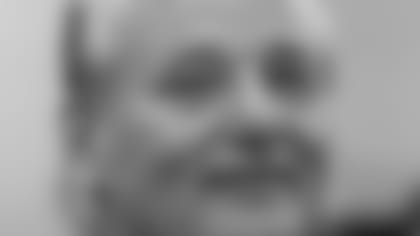 Murray, pictured here at the 58th Annual Cannes Film Festival in 2005, helped Giants players improve their acting skills with improvisation.
"We were a little hesitant at first," Way said. "We're amateurs and he's used to working with a bunch of professionals. We think we're comedians and he is a comedian. But it was great. Watching him interact with the players and doing different improv skits with our players - it was great. Some of the suggestions he had and some of the directions he wanted us to take were excellent observations and choices. He's coming back and we're looking forward to the chance to work with him again. It's a great opportunity for everybody. Hopefully, we'll get more players interested next year."

The ones who benefited from Murray's tutelage last week were thrilled to have the opportunity to work with a real movie star.

"He's got a lot of energy," Sims said. "When we started out with some of these exercises, he was just amazing. With some of these things, he can just take it one way and all of a sudden bring it back. He's just really quick on his feet. He told us to keep it simple out there, be yourself and relax. Hopefully one day I can go out there and do some sketch comedy, so I was talking to him about that. The whole experience for me, the whole community thing - the outreach program we're about to do. It was a lot of fun.  It was definitely an experience."

"It's been a great time working with (Murray)," Tarullo said. "He is a smart, smart man. He really helped us with the improvisation. He knows what he's talking about."

The skit was unveiled publicly for the first time yesterday when several high school and middle school counselors and teachers visited the stadium. Douglas played Brandon, a high school student who joins a gang, deals drugs and is generally a bad dude. His supportive sidekick is Tarullo. Sims and Way (stage name: Dino) are good kids who make bad decisions after some prodding by the dastardly duo. Several themes that youngsters can easily relate to are discussed during the sketch.

All the players were convincing in their roles, but the school representatives cited Douglas for his portayal of Brandon.

"I just put my personality into whatever skit we're doing," Douglas said. "How I would respond if I was that guy - my demeanor, how I talk. I didn't try to change it too much, just have fun with it and crack jokes when I can. It's been fun."

When the skit ended, Way asked the counselors and teachers to offer their comments and suggestions (in schools, the players and Way will hold a Q&A with students in attendance). All of them gave a favorable review. Some urged for a greater female presence, so Conley's small part will likely expand when they take the skit to the schools.

The school officials credited Way with finding a better means to deliver a message to kids than simply standing in front of them and talking.

"This is much better," said Laura Neuscheler, a counselor at Manchester Regional High School in Haledon. "A talking head in front of a group of adolescents doesn't hold their attention very long. And I think if you have someone get up and speak to them like that they feel like they are being spoken to, and they are not part of the process. The other thing you have to bear in mind is that you have a generation with a very short attention span. They're used to being entertained and hit with a lot of visuals. To do something in a play format and still delivering the same kind of message is going to keep them entertained. The interactive part at the end will keep them involved, which I think is great."

"I think it's a wonderful idea," said Wanda Cleaves, a teacher and counselor at School 13, a middle school in Paterson. "The can make an impact upon the youngsters because while they're viewing the scenario, they can also identify with what's going on. They can judge the characters by the lives that they live.

"Some characters, like Brandon, will make an impact on certain youngsters. The boys will respond because they are athletes. In my school, the girls will respond because they are guys."

The players are participating in the offseason strength and conditioning program and are preparing to try to make the team in training camp. But they are committed to the team's Steps to Success program.

"I'm having a great time," Tarullo said. "When I was Dallas they did a life skills presentation. They brought in a team of actors. They got the whole team of actors, presented a situation, and interjected one of the players halfway through. When they told me about this I was pumped. You get to talk to suburban kids and inner city kids. To be able to get even a small percentage of them to listen and get them out of the box for a few minutes, that's what is going to be really effective. And I believe it can make a difference."