CANTON, OHIO**- Bill Parcells was blunt, inspirational, funny, reflective and thankful during his 19 years as an NFL head coach, so it made perfect sense that his Pro Football Hall of Fame induction speech Saturday night would be all that and more.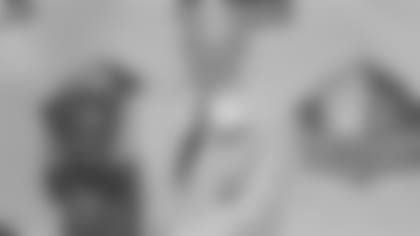 Parcells, who began his journey to the Hall with an eight-year stint coaching the Giants, didn't talk about memorable games or statistical milestones or even leading the Giants to victories in Super Bowls XXI and XXV. He instead thanked a long list of people in a 20-minute address, many by name, others more generically. Parcells also coached the New England Patriots, the Jets and the Dallas Cowboys and later worked in the Miami Dolphins' front office.
"Every organization that I worked for supported me to the fullest," Parcells said. "I'm grateful to the ownership of those places because that's what allows you, and the players, to succeed and go forward and become champions and, without that, you've got no shot. But I was lucky enough to have it all the time."
Parcells was the 22nd coach enshrined in the Hall of Fame and the 19thHall of Famer who spent all or a significant portion of his career with the Giants.
Parcells was 172-139-1 (.569) in the regular season and 11-8 (.579) in the postseason. His overall record was 183-138-1 (.570). Parcells is ranked 10th in NFL history in both regular season and total victories.
In addition to his two Super Bowl victories with the Giants, Parcells led the Patriots to Super Bowl XXXI, where they lost to Green Bay. He is one of 13 head coaches with more than one Super Bowl victory, one of five coaches to lead two different franchises to the Super Bowl and the only head coach in NFL history to take four different franchises to the postseason.
Parcells was presented by George Martin, a defensive end and team leader on his first six Giants teams.
"Bill Parcells looked at every individual differently and he was able to understand what it was that really was able to push him over the top, to get him to see more and deliver more of himself," Martin said in his pre-taped introduction. "Bill was an in-your-face coach and he was a perfectionist. When you look at the swath of success that Bill has had over so many franchises, you can only come to one conclusion – that the man is a definitive winner."
Parcells began his speech with a joke directed at Lawrence Taylor, the best player he ever coached, a fellow Hall of Famer and a man who has liked to live by his own rules.
"The only thing I would ask them to do is," Parcells said, "when they put my bust in the Hall tomorrow, I'd like to be somewhere near Lawrence Taylor so I can keep an eye on that sucker."
Parcells soon began saying thank you. The first went to Martin, whose support was critical early in his career. He said how proud he was to be a part of the Class of 2013, which includes Jonathan Ogden, Dave Robinson, Larry Allen, Curly Culp, Cris Carter and Warren Sapp.
In rapid order, Parcells lauded the owners of each team he worked for, including the Mara family, and NFL mentors like Al Davis, Tom Landry, Chuck Knox, Chuck Noll, Bucko Kilroy, the late Mike Holovak, Gil Brant and Ron Wolf. He thanked his ex-wife, Judy, and their three daughters and mentioned two important figures from much earlier in his life who were in attendance – Mickey Corcoran, his basketball coach at River Dell High School who is still going strong at age 92, and Dean Pryor, who, as head coach at Hastings College in Nebraska, gave Parcells his first coaching job in 1964.
"He taught me one vital, vital piece of information that I took with me and preached to every organization, to every university, my coaching staff, to my individual coaches and I remind myself every day," Parcells said of Pryor. "And that vital piece of information was, 'Bill, the players deserve a chance to win and you, as an organization or a university coaching staff, and an individual coach and a head coach, have an obligatory responsibility to give it to them.' And I thank Dean for that piece of advice because I carried it with me and preached it all of my life."
Parcells also thanked his agents and secretaries and Ray Perkins, the head coach who brought him to the Giants as defensive coordinator in 1981. Curiously, he did not mention George Young, the general manager who hired him as head coach and the man with whom he worked for eight years.
The Giants sent a contingent to the ceremony that included Ann Mara, the team's matriarch and Wellington Mara's widow; John Mara, the president and chief executive officer; his brothers Chris and Frank and sister, Susan McDonnell; head coach Tom Coughlin and his wife, Judy; senior vice president of medical services Ronnie Barnes; and tight ends coach Michael Pope, who was on Parcells' Giants and Patriots staffs.
"Bill Parcells has always had a great ability to analyze a situation, address exactly what is called for and do it in such a way to make it understandable that everyone can appreciate what the message was," Coughlin said. "I think what he did tonight was exactly the same way. I think he had humor, he called upon the many people he needed to thank in his life."
Coughlin missed post-practice meetings on Saturday, perhaps a unique absence, but he did not want to miss the enshrinement of a friend and a mentor.
"I'm so grateful to him for what he did for me and my family just by giving me a job," said Coughlin, who was hired as the Giants' wide receivers coach in 1988. "If I don't have the opportunity to go to work for the Giants, I'm not standing here right now.
"I'm not much of a caller. I don't call people and they don't call me. But once, twice, maybe three times a year if there was something that was important to me that I needed to at least let my own thoughts bounce off somebody I really trusted, he's the guy that I called upon. To listen to him speak tonight, and the way that he did it, it was almost like he was saying to me, or somebody who worked for him, 'Hey, let's go for a walk and talk.' You can't help but be extremely proud and extremely happy for Bill. To see him rewarded in this way makes me very, very happy."
Coughlin was one of three former Parcells assistant coaches in attendance who went on to win Super Bowls as head coaches. The others were New England's Bill Belichick and New Orleans' Sean Payton. Parcells didn't mention them by name, but, as Coughlin said, "he never acted like he was very proud of us, but he was."
"I was lucky to have some of the top names currently as head coaches in pro football," Parcells said. "I want them to know that I'm grateful for their supporting me, very, very grateful. I know I couldn't do it, that's the nuts and bolts of football operations, your assistant coaches. I just want to say, I take pride in their individual accomplishments and I'm looking for a couple more championships out of some of them, so let's go."
Coughlin has won two Super Bowls with the Giants and might someday be enshrined in the Hall. But Parcells' support is still important to him.
"Whenever you have someone you've learned from and they become a mentor for you, it means a great deal to be recognized by them," Coughlin said. "I'm sure he's talked to Belichick. He's talked to me and Sean. He's embraced a lot of people along the way."
A huge contingent of those people traveled to Canton to share in his big moment. Among his former Giants players who attended the ceremony and a party afterward hosted by Parcells included Hall of Famers Harry Carson and Taylor, Martin, Phil Simms, Jim Burt, Don Hasselbeck, Brad Benson, Bart Oates, Karl Nelson, Maurice Carthon, Jerome Sally, Sean Landeta, Raul Allegre, Matt Bahr and Gary Reasons.
In addition to Coughlin and Pope, former assistants who came to support Parcells included Romeo Crennel, Al Groh, Fred Hoaglin and Pat Hodgson. Former Jets running back Curtis Martin, who Parcells presented last year at the Hall, was there, as were several of his former Patriots players. So were friends of Parcells like former major league manager Tony LaRussa and Shug McGaughey, the Hall of Fame thoroughbred horse trainer.
They came to honor the man and congratulate him on his memorable speech, which Parcells concluded with a poignant story about Wellington Mara, the beloved Giants owner who is also a Hall of Famer.
"About 10 minutes after I was named head coach of the Giants and my first press conference was over, the patriarch owner of the New York Giants, the late Wellington Mara, was at my office door and he said, 'Bill, let's take a walk,'" Parcells said. "He took me down the stairs … in the old Giants Stadium. The Giant players will remember, as you walked through the players entrance, there was a little room to the left and it had a couple chairs in it. Wellington took me over to the wall in the back of that place and on the wall was a little plaque. And it had an inscription on it and, coincidentally, that inscription was attributed to the first black player ever inducted into this Hall of Fame. His name was Emlen Tunnell, who was inducted in the class of 1967. And that inscription said, 'Losers assemble in little groups and complain about the coaches and players in other little groups. But winners assemble as a team.' Well, tonight, ladies and gentlemen, I get to do just that. I'm honored, I'm grateful and I'm thankful to every single one of you out there that had something to do with this."