EAST RUTHERFORD, NJ -  A quarter century has not dulled Bill Parcells' memories or enjoyment of the Giants' victory over Denver in Super Bowl XXI.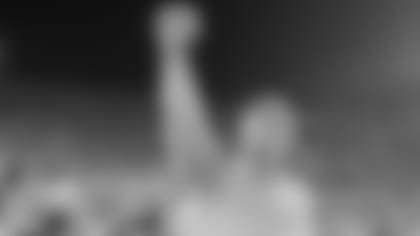 "That recollection of that afternoon is still very vivid with me, and it probably always will be," Parcells said today. "I can think through the hours of that day and recall them pretty vividly. And certainly that was one of the great days of my life and in the lives of some of the players and coaches and also the fans."
Parcells made his remarks on a conference call with Giants season ticket holders. After the two-time Super Bowl-winning coach fielded questions for 30 minutes, captain and Hall of Fame linebacker Harry Carson followed him. Parcells and Carson will be among the headliners on Sunday, when a celebration will bring together the vast majority of the players and coaches from the Giants 1986 championship team at the Meadowlands Exposition Center in Secaucus, N.J., beginning at 8 a.m. Fans can attend the festivities, where 51 former players and all but three of the team's coaches are scheduled to appear.
The '86 Giants were one of the great teams in the long history of the franchise, if not in the NFL. They won their last nine regular season games and blew out playoff opponents San Francisco and Washington by a combined 66-3 before defeating the Broncos in the Super Bowl, 39-20. Phil Simms completed 22 of 25 passes and was an easy choice as the game's MVP.
The Giants had lost second-round playoff games the previous two seasons, including a 21-0 shutout in Chicago to the 1985 Chicago Bears, who lost only one game on their way to winning Super Bowl XX. When the Giants gathered for training camp the following summer, Parcells thought he had a special team.
"I thought we had improved, certainly in '84 and '85," Parcells said. "Both of those teams were better than the previous one. We started out the season in '86 with a very difficult loss in Dallas right in the last minute. We recovered quickly and kind of got back on track. We got upset in Seattle (the team's last loss, on Oct. 19) – we miss a touchdown pass – so we were sitting at 5-2. And then we won 12 straight.
"The team was a very smart in this respect – it understood, on both sides of the ball, how we had to play to be successful. We were kind of a good, strong running team with not a lot of variety in the running game. Of course, we featured Joe Morris. But we had blockers everywhere. The five interior linemen could block. The tight end (Mark Bavaro) was a great blocker. The fullback (Maurice Carthon) was a great blocker. So we could run with some power. We had a good play-action scheme. Our receivers were, I would say, not big-name receivers, but they all had quickness and could separate a little bit. And our quarterback was very accurate. Our defense was strong, very strong against the run. We had a good punter (Sean Landeta).
"We had a lot of things in place and we kind of came together. We got better and better and better. We were really pretty good by the end of the season."
Yes, that's how he phrased it.
Carson also has very deep feelings for the 1986 title team. He worked tirelessly to plan and organize the reunion, stressing to the players and coaches that this would be the last time they would be together as a group. The team will gather for a private dinner Saturday night before meeting the fans on Sunday.
Carson, a 2006 Hall of Fame inductee, is particularly proud that he was the lone captain of that great team. The fact that so many of his teammates answered his call to join the reunion indicates he remains the captain.
"It was an extreme honor for me to lead those guys and be part of that group," Carson said. "I played 13 years with the Giants, I played in college and high school. But I always say that the group from '86 was the absolute best group of guys to be a part of, because they were just so unselfish. We all worked together, we worked with the coaches. Whatever differences we had, we put them aside. I always (say) that we checked our egos at the door and we did what was best for the team.
"There was absolutely no doubt that year that we were going to go to and win the Super Bowl. For me, it was a thrill being the captain that year, representing all of those guys I went to battle with week in and week out."
The 1986 season included so many plays that have become a part of Giants lore. They included George Martin intercepting a John Elway pass and returning it 78 yards for a touchdown in the teams' regular season meeting on Nov. 23, Bavaro gaining 31 yards while carrying five or six 49ers after catching a Simms' pass in a comeback Monday night victory in San Francisco, and Jim Burt knocking Joe Montana out of the game with a vicious hit in the NFC Divisional Playoff Game.
But the most unforgettable play of the year was Simms' 22-yard pass to Bobby Johnson on a fourth-and-17 with 1:06 remaining in the fourth quarter at Minnesota. Four plays later, Raul Allegre kicked a 33-yard field goal to give the Giants an improbable 22-20 victory over the Vikings.
Several members of that team have said Johnson's catch was the one play that caused them to think the Giants were a team of destiny. Parcells said after the Minnesota game is when he had a firm conviction that he was coaching a Super Bowl team.
"We both had good records and we converted a fourth-and-17, a pretty famous play in Giant history," Parcells said. "After we won that game, I kind of thought that we could maybe do it. I think the players felt that way, too. It was a great impetus win for us. And I think all of them would remember that day pretty clearly."
Another popular play was a 44-yard pass from Simms to Phil McConkey in the third quarter of the Super Bowl. McConkey was tackled at the one-yard line, but Morris scored on the next play to give the Giants a 28-10 lead.
"It created a lot of offensive momentum," Parcells said of the Giants' longest play in the game. "It was a play that we had used earlier in the season, but – if you really want to know the truth, we thought Phil should have thrown the ball deep to Bobby Johnson and he didn't. He came across to (McConkey), because that's the way it had unfolded in practice. Sometimes those plays unfold a certain way in practice for you and then the quarterback has that in his mind and even when it unfolds just a little differently during the game, he's still on what happened in practice. And that's really what happened in the game. Of course, it was a big momentum play for us.
"I told the players that we had everything in our arsenal available to us. In the game, we pulled a couple of trick plays where we faked a punt and we ran the flea-flicker. I told the players, 'You better be ready to go, because we may use some of this stuff that we haven't used frequently, so let's practice it and rehearse it. And when we do it, be on point, because some of this stuff is coming if we feel like it will give us an impetus.' And that's really what happened in the game, a couple of those plays created a lot of impetus for us. Our team really executed them well and they were really prepared mentally for that aspect, because we had told them, 'Listen, we're not leaving anything in the bag. We're trying everything we have today to try to win it.'"
The Giants defense also made numerous big plays in the game, most notably on three consecutive Denver possessions in the second quarter. The Broncos had a first-and-goal at the Giants' one, but Lawrence Taylor, Carson and Carl Banks stuffed Denver ballcarriers, and Rich Karlis was wide right on a 23-yard field goal attempt. On the next Denver series, Martin sacked Elway in the end zone for a safety, pulling the Giants to within 10-9. On the Broncos' last possession of the half, they had a first down at the Giants' 21. They advanced five yards – on an offside penalty – and Karlis pushed another attempt to the right, that one from 34 yards.
"The safety was one (turning point)," Parcells said. "I thought the other was the goal line stand right at the end of the first half and then Denver missing the field goal. Because they could have had a 17-7 lead pretty easily. We got some really good plays from Lawrence Taylor and Carl Banks, particularly, on those series and then they missed the field goal and we were able to get the safety."
The Giants trailed at halftime by a point but had no concern that their season would end with a miserable defeat.
"We hadn't played real well in the first half of that ballgame and I remember telling the team, 'Let's not give this game away,'" Parcells said. "I said, 'It looks like that's what we've been trying to do.' I said, 'Let's just settle down to our business and I think we can take these guys,' and that's what they did. It was pretty one-sided the second half."
Simms had a big hand – or, more accurately, arm – in that. In the last two quarters, he completed all 10 of his passes for 165 of his 268 yards and two of his three touchdowns. Parcells and Simms sometimes clashed, but the quarterback is clearly one of the coach's favorites.
"I love Phil Simms," he said. "He was the perfect quarterback for a Bill Parcells-type coach. He was a fiery competitor. We both had similar personalities. I don't think either one of us was overly sensitive. And both of us were able to move on past disagreements once in a while. But I can tell you I always had the utmost confidence in Phil and his judgment as well. Many times I tried to encourage him to be more aggressive than he really wanted to be sometimes. We did have a couple of little pretty famous disputes. But they were over quickly and as I said, I love Phil Simms."
Parcells loved his eight-year tenure with the Giants. He later coached the Patriots, Jets and Cowboys, but those jobs didn't elicit the same emotions he had coaching the team he rooted for growing up in New Jersey.
"I love my experience with the Giants," Parcells said. "It was great."
For the 1986 reunion ticket information, fans are invited to call 212-big-blue or go to www.bigbluetravel.com.