Bill Papa's playground was Yankee Stadium.
As a kid in the Bronx, he and his neighborhood friends played stickball in the lot where players parked their cars every day. Nearby was the Concourse Plaza Hotel, the social epicenter of an era that spanned from Babe Ruth to Mickey Mantle and Frank Gifford.
His uncle Bobby got a job on the grounds crew and would let Bill come onto the field for games. That's how he ended up standing by the goal posts in the snowstorm when Pat Summerall kicked his 49-yard game-winning field goal in the 1958 regular season finale, propelling the Giants to a 13-10 victory over the Cleveland Browns and eventually to "The Greatest Game Ever Played." During that time, he married Dorothy, a girl from his block, and in 1964 they had a son.
"The Giants have been a fabric of the family forever," Bob Papa said leading up to Monday night's game against the Bengals. "My mom to this day can recite – and she was only a teenager at the time – the entire starting lineup of the 1956 championship New York Giants defense. To this day. She can name all the starters for you."
The Voice of the Giants since 1995, Papa has been the play-by-play man for 192 victories, 17 postseason games, three Super Bowls, and two world championships. That's a long way from the times he would visit his grandfather on his mother's side who was one of the head maintenance workers at the Bronx County Courthouse. From the roof, they could peek into Yankee Stadium before it was remodeled in 1976.
"I grew up in an era when there was black and white television," Papa said. "Walking into the stadium for the first time, and I'll never forget, I was by the first base dugout and actually seeing the Yankees in color and seeing the green of the field and everything, it was overwhelming."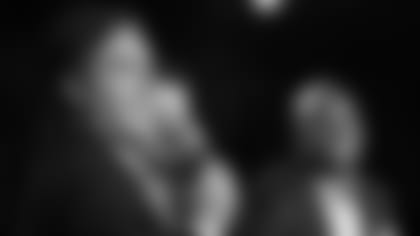 Bob Papa hosts a fantasy football show for NFL Network (John Minchillo/AP Images for NFL)
With the seed planted and his genetic predisposition, Papa's life in sports began.
He points to the 1973 Knicks championship team as when it really dawned on him. The franchise had just won its second NBA title in four seasons, and Walt Frazier was the man. Because he wore the same No. 10 jersey, Giants linebacker Brad Van Pelt became another one of Papa's favorites. The same went for Yankees shortstop Phil Rizzuto, but not just because he also wore No. 10. "He was a family favorite because he was Italian," Papa said.
How that passion then evolved into broadcasting was because of a blunt realization.
"I kind of got an inkling at an early age that I was not going to grow up to be a 6-foot-4, 225-pound replica of Walt Frazier," Papa said. "So in an era pre-cable, radio was a staple of our lives."
So Papa spent his youth listening to games. Sundays were for the New York Giants. The Knicks were home on Tuesday nights. The Rangers were home on Wednesdays. The Knicks were on the road Friday nights. The Rangers were on the road Saturday nights while the Knicks were home.
You're really trying to paint a picture for your audience that can't see the game.
"The chant of defense in Madison Square Garden kind of started with the '56 Giants because they were known for their defense more than anything else," Papa said. "So Giants football was always a fabric of our family, and I always heard all these stories about the great teams of the '50s. And meanwhile, I grew up in a wasteland. I was born in '64. I didn't think it was a reality. But just listening to the games on the radio and listening to the artistry of it, it was something that touched me as a kid and I knew I wanted to do that."
Like the Voice of (insert your pick of New York-New Jersey sports team here), Papa attended Fordham University in the Bronx. Through athletic director Frank McLaughlin, Papa met Marty Glickman, one of the most revered and influential sportscasters in history who pioneered many of the techniques, phrases and programming innovations that are commonplace today.
Every week Papa would be invited to Glickman's apartment in Manhattan, where they would go over his play-by-play tapes from basketball and football games. From there, Glickman hired Papa to be the backup on Seton Hall games, which led him to the pregame show with the Giants, which got him to the postgame, which allowed him to be Jim Gordon's backup, which led him to the full-time gig.
"Marty was very instrumental, critiquing my play-by-play, pointing little things out. Like when you read an ad, he said to make it sound like you're reading a newspaper. Don't read the ad and go right into the play-by-play. Pause as if you were turning the page," Papa said in the dining hall at the Quest Diagnostics Training Center, licking his thumb and going through the motion with his notes for the upcoming game. "When a guy goes in motion, does he jog in motion? Does he sprint in motion? Little descriptive things like that, just one word here or there makes all the difference in the world."
From Glickman, from Jim Karvellas, and from Bob Wolff, who called the 1958 NFL Championship, Papa was taken under the wings of broadcasting legends and learned the dos and don'ts of play-by-play.
RULE NO. 1: Time & Score. "You can't assume that when you're doing a game on radio – and this is radio specific – you can't assume that everybody who's listening jumped in at the beginning of the game. And being cognizant of the fact that, look, the Giants play on Sunday. People are at soccer games, lacrosse games, travel baseball, youth football, they're visiting grandma, they're at their aunt's and uncle's house, they're constantly getting in and out of the car. You've got to assume every couple of minutes that there are thousands of new listeners. So you've got to be really diligent with time and score."
RULE NO. 2: Description. "When you think that you've described it enough, maybe a little bit more. Because you're really trying to paint a picture for your audience that can't see the game. If they watch the games on TV, they know what MetLife Stadium looks like, they know what the team colors look like, but you've got to re-paint that picture for them. So make them feel like they're in the stadium."
RULE NO. 3: Accuracy. "Be accurate, try to be right on the call and be as accurate as possible."
Those three elements added up to Papa's favorite call: "The Catch" by Odell Beckham Jr.
"If you listen to my call, you listen to the national radio call and even listen to the TV call of the Odell catch, that's one I'm really proud of because I nailed it," he said. "I nailed the catch, I nailed the touchdown, in real time. So that's one I'm really proud of because I just hit every element. I had the ball in the air, I had the catch, one-handed catch and the touchdown, everything. Sometimes you get a little lucky."
But it wasn't luck. Like Tom Coughlin says, success starts with superior preparation, something Papa has made an art form.
For every game, he writes out both team's depth charts on the front and back of a manila file folder and has another for statistics that he takes to an "anal" level with his color coding. Black is for height, weight and age. Uniform numbers and superlatives (longest catch, Pro Bowl honors, etc.) are in red. Purple is used for league rankings. Green means opponent. Blue is for the Giants. Aqua blue and pink are for other superlatives.
If he uses 50 percent of what's on each side during the course of the game, it's a lot.
"I love to cook," Papa said. "I really can't draw. I really don't like to paint and all that other stuff. But to me, it's a level of some sort of artistry.
"I've always had sort of a photographic memory, which is why I think I was good at history. For me, the art of writing each number, writing each name and height and weight and everything else, burns it into my memory. When the game comes, I don't even need to look at the depth charts."
Watching coaches tape is something that also helps in that department and isn't necessarily a requirement for play-by-play broadcasters. That paid off over a decade ago during a big play from Amani Toomer in a game against the Redskins, resulting in another one of Papa's favorite calls.
"As I started working more with Carl [Banks], I started getting more into film study," Papa said. "And Carl showed me how to look at coaches tape a little bit. And even though I don't know all the calls, I started studying the coverages. I'll never forget it. It was after watching the Redskins' defensive coverages, I started familiarizing myself with plays that could work against it. I'll never forget, they went into this coverage, Amani Toomer was lined up wide right, and before the play even happened, I said, 'The Redskins are in this coverage. Eli [Manning] has a shot to hit the deep post here.' And sure enough, Eli drops back, Toomer runs a deep post. That's one of those times I felt my preparation was worth it because I saw it before it happened."
However, all the preparation in the world doesn't ease the butterflies before calling a game.
"Always, I still get nervous," Papa said.  "If you don't have a healthy sense of nervousness – not anxiety – then I think you've lost your passion for it. I think you always, whether the red light's coming on or the countdown from John Schmeelk in the radio booth – 'You're on.' You're flying without a net. There's no take two. It's all live, and it's raw. When I really start to get that good, nervous energy is when 'Hells Bells' plays and the ball's on the tee and whoever is kicking off, it's like whoosh, we're underway. Away we go.
"So I like the fact that I still get nervous because it means that it's important. And I know how important it is to the fans to give an honest, fair assessment of what's going on and give them a good picture and hopefully entertain them."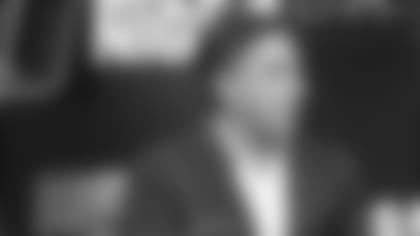 Bob Papa hosts the Giants' Draft Night Live special.
Of course, Papa's place in the organization goes beyond game day.
"Bob has been the voice of the Giants for years. He does everything for us, including TV, radio, sponsor and charity events," Giants president and chief executive officer John Mara said. "And he always represents our organization with professionalism and class. He is a terrific broadcaster and team representative, and we are very lucky to have him."
And while he's not standing on the field for games like his father was in 1958, Papa has been perched up in the booth since 1995 trying to make you feel like you were.
"I'll never forget my first game because it was the height of the Dallas Cowboys of the '90s," Papa said. "It was when Jerry Jones was bringing these new marketing principles to the NFL because I'll never forget him walking on the field with Phil Knight of Nike. I was in the old press box at Giants Stadium, the beautiful mezzanine level, 48-yard line, spacious booth, which was right next to Mr. [Wellington] Mara, where they would sit. I brought my dad with me because I knew it was very emotional for him. Then the Giants proceeded to lose 35-nothing.
"But it was a surreal experience having listened to all these games, listening to Jim Gordon as a kid, throwing stuff at the radio after another heartbreaking loss, and now to be in that position, it's something I really cherish. Mr. Mara was right around the glass on the other side. He was a fellow Fordham alum who I had met when I was a student. He'd come to the basketball games in the Rose Hill Gym. Sometimes we'd have him on as a halftime guest. I had to pinch myself."