The growth from year to year in the NFL isn't an exact measure, but along the way players hit benchmarks. Big or small and often mental, the breakthrough comes on a play that automatically registers in their heads as one they would not have made previously.
That happened to Jayron Hosley this week.
The second-year cornerback, playing the nickel as a fifth defensive back, didn't take the bait and intercepted a pass from Curtis Painter during the third practice of training camp.

Aaron Ross![](/team/roster/aaron-ross/21dd1c94-ac4d-4195-b1e5-ebbfa6b9b5d1/ "Aaron Ross") making impact in return
CB Aaron Ross is making an immediate impact at camp practice...
[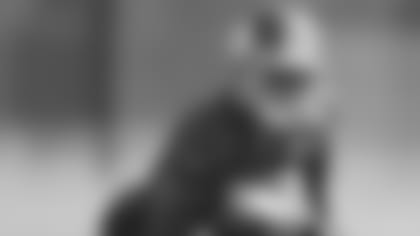 WATCH: HOSLEY ON TOP 5 PLAYS
](http://www.giants.com/news-and-blogs/Training-Camp-Highlights/article-1/Watch-Top-Five-Plays-From-Practice/adf3d970-bbb1-48a2-a8e4-60d7c217efbd ) "Basically, it was a play last year that I always couldn't get as a nickel – there's a guy in front of me and a guy behind me," Hosley explained before Wednesday's players day off. "I would always take the bait and jump on the guy in front of me instead of playing the guy behind me. This year, I kind of saw it coming and I was so used to it last year that I just kind of faked like I was going to take the bait and got back into my drop and he threw it right to me. It was kind of one of those things I was anticipating and more prepared for this year knowing what to expect."
That's the price of rookie growing pains.
Hosley, who played in 12 games and made six starts, registered 40 tackles and broke up five passes in 2012. In addition to grabbing his first and only interception in Week 3 against Carolina, Hosley recovered a late fumble that sealed the Giants' home victory over Washington four weeks later.
But Hosley was a part of a bigger picture as the Giants collectively finished 28th against the pass last season. Now he, his teammates, and even former Giant Sam Madison are here to right the ship this season, which is underway at training camp. Madison, a member of the Super Bowl XLII team, is spending three weeks at training camp as a secondary coach.
"He's definitely the real deal," said Hosley, a Florida native who grew up a Dolphins fan and remembers watching Madison play for them before he became a Giant. "He's definitely a great person. As a coach, he wants you to be professional, be the best you can be, and he cares and really wants to teach you and show you things that helped him. I look at him as a teacher, so as a student, I want to soak it all up and take anything I can from him and apply it to my game."
Hosley's game at camp also includes being part of the rotation at punt returner. On the same day he made the interception, Hosley had a mini-breakthrough in that facet as well, drawing praise from coaches and punter Steve Weatherford himself.
"That's something that I've been working on in OTAs and right now at the start of camp," Hosley said. "It's going pretty good. I'm just working on catching the punts right now, and then progressively, they put in different schemes. I think I got a lot better just knowing what the coaches want and just being able to get that done."