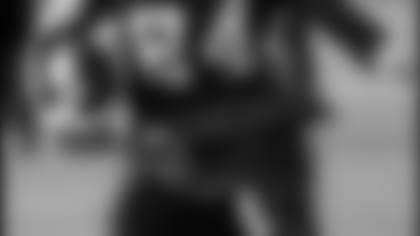 EAST RUTHERFORD, NJ -Cornerback Terrell Thomas, who missed the last two seasons after twice tearing his right ACL, is not yet participating in team activities.
"Last year, I was killing myself," Thomas said. "It worked out. When I went back, I was in great shape and I came here I was in great shape. But it didn't transfer over to the field. This year, I'm just being a little more cautious. It's a different procedure. It's a little bit slower by nature. That's just my nature as an athlete. I'm going to attack anything. So my rehab, I'm going 100 percent and if they tell me to slow down, I will.
"There's no hurry. There's no rush. There wasn't one last year. I was just ahead of schedule last year. This year, we're kind of just taking it a little bit slower as far as rehab, building the foundation. I'm doing everything already. It's just doing it a little bit more slower and not in a rush to get out there for OTAs or minicamp."
**Fullback Henry Hynoski went down on the second play of the team period with a leg injury of undetermined severity. He was quickly attended to by the team's athletic trainers and did not return.
"I didn't see it," Manning said. "I handed the ball off and just saw him on the ground after. I don't know exactly what happened. I haven't seen the film yet. I don't know how severe the injury is, so hopefully it's not too bad and he can be back either for the spring or at least for training camp. I don't know the results yet."
"He kind of got (his leg rolled up on) and so we are taking a look at that," Coughlin said. "I said a few prayers and I'll continue until I hear what it is."
**Center David Baas and right guard Chris Snee are rehabilitating after recent surgeries and their places were taken by Jim Cordle and James Brewer, respectively.
Guard Eric Herman, the first of the Giants' two seventh-round draft choices, signed his contract today. The Giants have signed five of their seven 2013 draft choices. The exceptions are tackle Justin Pugh, the first-round selection, and quarterback Ryan Nassib, the fourth-round pick.MORE FROM GIANTS.COM**