EAST RUTHERFORD, NJ - A day after their disappointing season ended, Giants players today still couldn't put a finger on exactly what happened.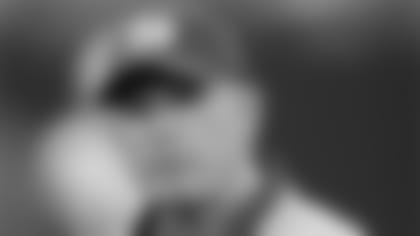 They were searching for reasons and explanations as to how they could play so poorly in their final two games – a 41-9 loss to Carolina and the season-ending 44-7 defeat yesterday in Minnesota – how the defense could allow 427 points, the running game and offense as a whole could stall, and most importantly, how a 5-0 start could dissolve into an 8-8 finish.
"You try to reflect back and look and see where things might have gone wrong or if I had done this or if we would have done this or this decision cost us or whatever it might be," defensive end Justin Tuck said. "The fact of the matter is we just didn't get the job done the last 11 weeks. We have the whole offseason to look back and reflect back and think about what we could have done differently."
"I just think we didn't go out there playing tough enough," said wide receiver Steve Smith, who set a franchise record with 107 catches. "We lost some toughness. We just weren't motivated in some games it seemed like. We had great weeks of practice but we didn't show it on game day."
The Giants lost five games by at least 20 points, the first time that's happened since 1966, when the Giants dropped six such games. By comparison, the 1985 Giants lost six games by a total of 19 points. In 2008, the Giants suffered four losses by a totalof 40 points. The 2009 Giants were a team that did not come back well, going 1-7 in games in which the opposing team scored first. The Giants' turnover differential of minus-seven was the second-worst of the six-year Tom Coughlin era (they won the Super Bowl despite being minus-nine in 2007).
"This year was just different, for whatever reason," quarterback Eli Manning said. "We had a couple games that we were never in the game. It got out of control too early, these last two games, at Philly, Denver. We just had games where we got down early and couldn't get back in the game. I think offensively we had turnovers and mistakes and that's something you can't afford to do in this league. We have to fix this problem and that is me and everybody making sure that protecting the ball is the number one priority.
"Obviously, we knew this past week that we weren't going to the playoffs. It is not something that we are used to and we don't want this feeling, we don't like it. I think everybody has the mindset of we've got to come back and have a great offseason, a great spring and work hard like we always have. Make sure we fix some of these problems and this doesn't happen again."
For many Giants, this is a new experience. They had reached the playoffs for four consecutive seasons, a franchise record and the longest active streak in the NFC. When they started the season 5-0, it appeared they would participate in more postseason action. Now they've been reduced to spectators like so many millions of others.
"It's very disheartening," center Shaun O'Hara said. "Every year you start out with a goal and your number one goal is to make the playoffs and then from there you want to go on and win the Super Bowl. Sometimes you don't always get what you want. I think as players we have really no one to blame but ourselves for the way that we played and certainly the last two weeks are something that we are not really proud of. I know that the group in this locker room will find a way to get better and the New York Giants of next season will be much better than this year."
"This is the first time in four years, it's kind of weird," punter Jeff Feagles said. "I am sure I can speak for a lot of guys; you are going to be watching T.V. this weekend thinking we could have been there and done it differently. But it just didn't happen. It's tough, it's the nature of our business, you have to be able to play consistently and get into the playoffs. You never know like in '07 - you can get hot and go (to the Super Bowl), but we don't have that chance this year."
This season's Giants gathered for the final time this morning. Coughlin suggested the players clip a negative story from a newspaper or the internet and put it where they will frequently see it to remind them of their dismal finish and to provide further incentive for improving in 2010.
"I hope that on their shaving mirror or however they do it that they post up some type of a reference to the way in which our season ended and the disappointment and the feelings that you have, the misery of finishing the season the way we did and that it becomes a motivating factor for us going forward," Coughlin said. "I think we do have the nucleus, the ingredients here."
"I think the one thing we as players and the coaches are perplexed by is why the poor play and why the poor execution in the last two games, and really the whole season," O'Hara said. "I think the one thing that you can probably say about this team is that when we were playing well we were probably one of the best teams in the league, but when we weren't playing well we played like one of the worst. That is something that is a little bit hard to understand, because with the talent in this locker room and the way that we prepare, we should be in every game. It would be one thing to lose eight games by one or two points, but to lose them in the fashion that we did, I think that is the most disheartening thing. That is pretty much what I think we are going to be remembered for this season."
The players are already looking ahead to reversing their fortunes in 2010. They also know that when they reconvene for the offseason conditioning program, the roster could look markedly different.
"I am sure for outsiders there is definitely uncertainty," O'Hara said. "As a player on this team, knowing my teammates, knowing this coaching staff, we will get better and that is a fact. There is no way that I see this team doing anything but improving and it will start in March when we start training.
"The only way to fix things is to come back in the offseason program and work harder, train harder, study harder. I know one thing about our coaching staff, I know they are going to push us and find ways to make us better. As players, we are going to find ways to be better. That's what you do as a pro and that's how you get better in this league - you come back and remember the way things ended this year and turn that into motivation for next year."
"We've just got to realize that's not us," Manning said of the end to the Giants' season. "That can't be us. We can't let ourselves think that is the way we play football. We know we can perform better. You've got to forget about it and erase that from your memory. This whole season, there are a lot of things we can learn and a lot of things we need to improve on. We have to do those things so you don't forget about those things where you need to make improvement. We also made strides in some areas and you've got to think about some of the good things we did. We just have to have a great offseason. We've got a lot of young guys on this team who are going to get back healthy. When it comes to March, April, start on the basics with these guys and make sure by the time spring hits we are kind of back where we need to be and we are making strides to go forward and not just getting back to where we were this year."
*Feagles has played in all 252 games in his 22-year career, but doesn't know if he will play one more to tie Gary Anderson for second place on the NFL's all-time list. Feagles is uncertain if he will play in 2010 and the Giants must decide if they want to bring him back.
"Physically, I am fine," Feagles said. "I came out of this season feeling really good with no injuries and my knee held up this year. I just have to sit back and reflect on what the future looks like, talk to my family, talk to the team and go from there."
In addition to most consecutive games played, Feagles owns the NFL records for punts (1,713), yards (71,211) and punts down inside the 20 (554).
*Several Giants are scheduled to undergo surgery within the next week. The group includes running backs Brandon Jacobs (knee) and Ahmad Bradshaw (both feet, ankle), defensive end Justin Tuck (shoulder), wide receiver Hakeem Nicks (wrist) and fullback Madison Hedgecock (shoulder).
"We don't think there is anything catastrophic where we could lose a guy for the upcoming season," general manager Jerry Reese said. "So we are expecting to have everybody back in the summer, by summer camp, training camp. Hopefully, we will have guys back in the spring, but we don't think there are going to be catastrophic surgeries. There are some significant surgeries, but not season-ending for the next season."
*The Giants will have the 15th choice in the first round of the NFL Draft. If they stay there, it will be their highest selection since they chose Philip Rivers with the fourth pick in 2004. Rivers was soon sent to San Diego in the deal that brought Manning to the Giants.
*The Giants signed eight players to reserve/futures contracts for the 2010 season. Five of them finished the season on their practice squad: offensive linemen Jacob Bender and Rueben Riley, defensive tackle Dwayne Hendricks, defensive back Londen Fryar and linebacker Kenny Ingram. Defensive tackle Anthony Bryant (knee) and safety Vince Anderson (wrist) were on the practice squad/injured list. Defensive end Tommie Hill was with the Giants in training camp and scored the winning touchdown in the preseason opener vs. Carolina on an 18-yard fumble return. He was waived on Sept. 5 and spent the season out of football.
If you'd like to submit a question or comment to Michael, click here.