EAST RUTHERFORD, N.J. –** After a review of the game tape, Tom Coughlin is a believer – that the officials made the correct call on the Dallas Cowboys' first touchdown yesterday.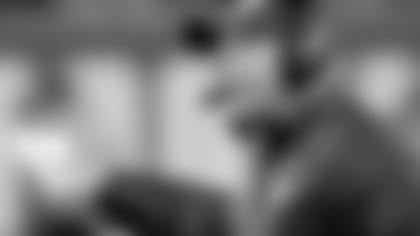 View Gameday Photo Timeline](http://www.giants.com/photos/photos/Photo-Timeline-Giants-vs-Cowboys/05d4f7df-0c0b-4bcf-8980-aa2a8f49d9e3) Rookie Jeff Heath scored the touchdown on a 50-yard fumble return after Orlando Scandrick stripped the ball from Victor Cruz, who had just caught a five-yard pass from Eli Manning.
"When I looked at the tape today," said Coughlin at his Monday press conference to re-cap the Giants' 24-21 loss to Dallas, "the forward progress is not stopped, so that was not even an issue when you looked at the tape and that's exactly what the official told me. Forward progress had not been stopped. We all would have loved to have had the whistle blow in that case, but it didn't and Victor was driving as hard as he could to get more yardage, and there were three or four Dallas defenders that were flying to the ball there and in one desperate effort, I think, to get further up the field, the ball gets ripped out and right into someone's hands and he takes it and runs it into the end zone. So no, there wasn't anything to discuss there after watching the tape."
The Giants defensive players were still frustrated today by their inability to get Dallas' offense off the field in the game's final 4:45. The Giants tied the score at 21-21 on Louis Murphy's touchdown reception and Andre Brown's two-point conversion. A defensive stop would have given Eli Manning and the offense a chance to win the game. But the Cowboys converted three third down opportunities and bled the clock until Dan Bailey kicked the game-winning 35-yard field goal as time expired.
"We gave ourselves every opportunity and we came up a little short," cornerback Terrell Thomas said. "Dallas was 1-8 on third down up until the last drive; we were killing them. We had them in favorable positions, but they made plays and we didn't. At the end of the game, as a defense, we lost that, plain and simple. There's no blame, but me being a leader on this team and looking back it at, two-minute drill, we go over that situation all the time. We win those times. We had them in third and long a couple times and we just came up a little short. When you watch the film it's just little techniques here and there from the coverage and pass rush that are the reasons that they were able to be successful."
In the two games before meeting Dallas, the Giants had four accepted penalties – one vs. Oakland and three against Green Bay. Yesterday, they had 11, which was a major source of displeasure for Coughlin.
"The one area that I'm most concerned and disappointed with were the penalties," Coughlin said. "Quite frankly, we had one penalty and three penalties in the two previous games and somewhat out of character, had 12 penalties last night, 11 being accepted and in the first game (against Dallas) it was the (six) turnovers and this game it was penalties. I just feel like you're not going to win a tight football game against two teams competing and playing very hard when you have that kind of actual disregard for the rules. So I was upset with that and we talked about that in our meeting today. You've got to have poise. You've got to be able to control your emotions when things go against you. You're not going to change that, and you've got to be able to deal with it and move on to the next play, control your emotions, let your feelings erupt when the ball is snapped, otherwise refrain from anything which would cause the nature of the three personal fouls that we had and any number of other type fouls. So I was very disappointed in that and hopefully we'll get that under control."
Coughlin said wide receiver Hakeem Nicks was not close to playing on Sunday. Nicks did not practice last week because of an abdominal strain.
"He thought it might have been a hernia," Coughlin said. "So he went through all the tests and then did not practice, was not able to practice. You asked me the question late in the week and I answered, 'What would be the issue?' Speed. He probably can't be full speed."
Asked about Nicks' availability going forward, Coughlin said, "I really don't have any other information to give you. He's being treated and hopefully we'll be able to see where he's at come Wednesday."
Jason Pierre-Paul had one tackle yesterday and Coughlin said of the defensive end's injured shoulder, "there's no doubt it's a factor, no doubt. He's been injured and he's been playing injured, he's been playing with it."
In the second quarter, the Giants twice had first downs inside Dallas' 10-yard line and settled for Josh Brown field goals each time.
"It's the second week in a row, I think, we're one for three (scoring touchdowns) in the green zone," Coughlin said. "As you are on the sideline, you're holding your breath hoping that doesn't come back to haunt you. But obviously it did and it does, and when you get down there you've got to put the ball in the end zone. You've got to score. Even when you get into that close area like that, you've got to put the ball in the end zone. We had one drive in which the first running play was minus-six yards and it's very difficult to make up, another drive where we got one yard on a run and a couple of passes that were incomplete. So back to the drawing board."
The NFL today ruled that a five-yard reception in the fourth quarter by Dallas' Dez Bryant was actually a catch for minus-11 yards, because Bryant fumbled the ball backwards and it was first touched after hitting the ground 11 yards behind the line of scrimmage.
The changes means Tony Romo's passing yardage was 234 and the team had 204 net passing yards. Bryant had 86 receiving yards (instead of the 102 he was originally credited with) and the Cowboys had 311 total yards, not 327.