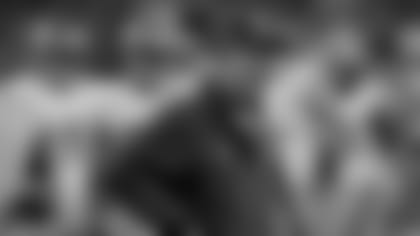 A: Good afternoon, I'm disappointed, as to be expected, in the loss. We took a long hard look at the tape and the players took a look at the tape as well. There is not enough execution. There is not enough good things going on. You look at the offense and an 85-yard drive that was very good but why aren't there more of those? Why isn't there more consistency? You look at our third down, one out of 10, and that's keeping us from having the ball and keeping the other people on the sidelines and without having them have opportunities to score. You look at our special teams and we average 13.5 on punt returns, which is a good thing, but we have a field goal blocked. The ball doesn't rise higher than about six or six and a half feet. There was penetration but that would not have been a factor if the ball would have been elevated the way it should be. Defensively, we hold them to 2.8 yards per rush but yet we give up five big plays and way too much passing yardage. We have the penalty when we have them stopped. You are talking about a 21-14 game and you have the ball fourth and one, third and one, which really aren't executed and aren't blocked like they should be blocked, in particular the fourth and one. I went back and checked just to make sure and we did guess what the look was going to be, we just didn't execute. We didn't get it down. We have a ways to go with the process, with the execution. Offensively it has to happen and I think it will happen with a better week of practice. I think we had a very good practice last week Wednesday and they were ok Thursday and Friday. We need to do a better job of preparing ourselves, and practicing well and putting ourselves in game speed. I think, now that we have seen this tape, there can be some development and some drastic improvement. When you look at the penalties, we had gone down there and played the last five times and only had 16 penalties; last night we had eight. When you want to blame it on the rookies, there was only one rookie that had a penalty. We have guys that have played the game and been in the league and are reliable, dependable football players that all of a sudden were penalized yesterday. There isn't any doubt that we all felt the emotions of the day and we were all very excited about playing. Our ability to do some mixing and matching and to play the run well from a standpoint of defense, I think that is a positive thing we can grow on. The special teams aspect in regards to the punt return was a plus. We have a lot of young guys playing on special teams and hopefully this experience will settle those young guys down. Disappointed to put ourselves in position to win and not win, that is extremely frustrating to me and everyone else in the building, players included. There is a constant reminder, I am constantly reminding the players about having the ability to recognize the opportunity that is presented in the game to give you a chance to win and taking advantage of it. We just didn't do that. 
Q: Is it safe to say these are growing pains with the offensive line?
A: I don't know. We didn't play as well as we can play. You can say it anyway you want. There is no excuse for it. We didn't play as well as we can and sometimes the very quick adjustments are not being made exactly the way they should be made. Of course, Victor drops the first third and eight and who knows what just keeping the ball right there may have done for us. That is not to make an excuse for later on when we had a third and three and didn't make it and a third and one and didn't make it. We definitely have some work to do to get where we want offensively. I won't take anything away from the Redskins, they played hard and they did the things they had to do to win the game but I am disappointed in our ability to not take full advantage of what we had.  
Q: What happened on the fourth down play?
A: We didn't go back after Cofield went away. The center had a chance to get up. If he would've taken the outside backer, there was a little crease to go there.
Q: Was there any pattern of reason for the third and longs?
A: I didn't see any patterns. I saw the run game make yardage on some occasions and not on others. There definitely were some third and longs but some of them were created by penalties and that's what set us back.
Q: Why does going East-West instead of North-South on short make more sense?
A: It doesn't. You are trying to get North-South. The way the play starts out, for example the second one, the third and one, was an absolute toss and the ball was supposed to go outside. The fourth and one had a chance to by virtue of the course, go in any one of a multitude because of the crease and where the seal took place. We just described it, it didn't.
Q: Do players have the opportunity to say they want the ball?
A: Most of them take that position but they may not verbalize it a lot. They do want the ball.
A: The decisions are made as you develop a game plan and you have an idea of how many times you want the ball in someone's hands.
Re: playing more zone defense in second half
A: In the second half probably although we did play some man.
Q: Is that a product of personnel?
A: No. We had both coming in and we didn't play a lot of man in the first half but in order to incorporate some of the pressures you do want, you pretty much have to play some.
Q: Did you see a lack of urgency or too much cushion on defense?
A: I'm not sure about that. I do know on the fourth and five we were off a little more than what we would have coached it and we weren't even able to get up there and keep it at five.
Q: Do you anticipate getting more carries for Brandon Jackobs?
A: I think if we run the ball more, we will have more of a balance.
Q: Why wasn't Brandon in on the short yardage plays?
A: Some of the runs have Brandon highlighted and some have Ahmad. You just happened to see some that had Ahmad.
Q: Why are you not using Mario Manningham more in the slot?
A: You can maneuver that around. He does end up in there sometimes but if you just go out there in a base look, we have tried to teach Domenik, Victor and we have done some with Jerrell. We have concentrated more with those people in there to be able to take advantage of Mario's speed on top.  
Q: Is it a matter of reps and experience?
A: Some of that certainly and opportunities and time, which we don't have.
Q: What happened on Eli's interception?
A: You have to find the throwing lane but I'm sure in that particular situation, we were trying to get the hands down and we didn't. We weren't able to get them down and his hands came up just as quickly as the ball was to be released. That was a very athletic play by an outside linebacker but part of the success of the play is that you have to get the hands down and maneuver to have a throwing lane.
Q: What did you think about Eli's performance?
A: There is no question about what he was able to do with the long connection to Hakeem. That was a great play. He made other good plays throughout the course of the game, I just think that in the second half we needed more plays. We needed to come back in the second half and repeat the 14 points, if nothing more. I was hoping that once we got the ball at the 27 after the turnover, that was going to be the time for us to really make something happen. We did have two pretty good plays. Henry catches the ball in the flat and he just can't quite get turned up enough to get the first and it turns into a third and one, which we should have picked up anyway.
Q: When an offense is struggling and you are still looking for your tight end and third receiver, is it Eli's job to overcome that and make things happen?
A: They all have to. There are 11 of them out there and you are not going to have success with anything on offense without all 11 making a strong contribution. Eli is the quarterback so that is where everything wants to be centered but it takes everybody and all you have to do is look at the ball being handed off or tossed and realize that once the job is completed by him in that regard, I don't know what he has to do in that part of it. He directs traffic and gets us in the right place. The way he maneuvers in the pocket and stepped up and made the play to Hakeem, the plays to Ballard. We got the ball on the nine and he makes the play and hits Ballard and you are there again. Let's go. That is the frustration.  
Q: Do you think special teams could have helped more?
A: 13.5 with a long of 18, I thought that was improvement on our punt returns for sure. The way the game is going and the way people are driving the ball, your kickoff return, I don't know what you are going to count on. You may get a fortunate one and bring it out although Banks didn't. They had a 25-yard punt return but the ball gets absolutely smashed out of the end zone a couple times with no return and a start at the 20.
Q: Do you look at Green Bay last year with its injuries and point that out to your team?
A: We have looked at that and we definitely pointed it out to our team. That is a lot to overcome but their circumstances a year ago aren't to far from ours in 07. We have some experience along those lines but we just have to get going. We just have to start playing. The mistakes from the preseason, it is not preseason. Nothing else matters except getting it right.
Q: How long does it take for an offense to gel?
Q: Does it fall on the quarterback to create the identity of the offense?
A: I don't know if that is the quarterback. He is certainly going to take the pieces to the puzzle that he is presented with and carry out and execute the offense the way it is designed. The exact identity of how it is going to be is not the quarterback.
A: He is being evaluated right now. We know that he does have an injury but we don't know to what extent.
Q: Is there going to be a point when you can rely on the special teams?
A: I thought the punt returns were pretty good. I didn't see any problems with that. We did have some fair catches but we did have a good return average as well. Let's get over there and handle the ball when it is on the sideline or whatever that mortar type kick was. That was scary to even think we would not come up with the ball. We didn't have a lot of success bringing it out of the end zone. I'm not sure exactly how this is going to go. We haven't seen that many real games for me to tell you that the kickoff returns are one out of four or two out of four. The 20-yard line appears to be quite a ways away. 
A: I don't know the answer to that. They are checking that out now.
Q: When your team comes out of a game and feels like it should have won, do you feel like you have to rally the troops at this point?
A: Everybody feels like there were opportunities left out on the field, opportunities to win the game and we went out there to win the game. It didn't happen and there are reasons why it didn't happen. You have to point that out because you have to make progress and go forward. It is not a fun day, you are not trying to beat anybody down. I'm the one to blame but there is no finger pointing. There are three groups and we all have to pull together in order to make this thing work. It doesn't happen if it is just one or two or occasionally one or two contributes a little bit. You are looking at just the consistency of lack of point production offensively and it has to improve. It is a group that accounted for an awful lot of yards a year ago and a substantial point per game average too.
A: We will see. The plan is to progress. If the doctor gives him the okay, then he goes and practices. I would like to see him practice.
A: That again has to be something that comes from the medical people.
A: Nothing that I can account for right now.
Q: Is Hakeem's injury worse than originally thought?
A: Just the fact that it was swollen.
Q: Is Beckum going to practice?
A: I would hope so but I don't have the answer for that. I didn't have the answer for that Friday afternoon either.