EAST RUTHRFORD, N.J. – The historic meeting between Eli and Peyton Manning was little more than a footnote this morning in Tom Coughlin's news conference, which was dominated by inquiries about David Wilson, so many that the coach became impatient with the line of questioning.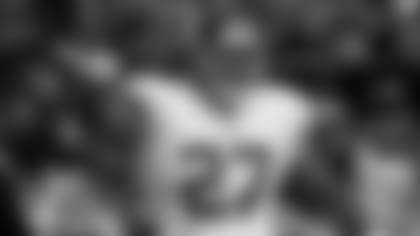 Full Coverage of Brandon Jacobs](http://www.giants.com/news-and-blogs/brandon-jacobs.html) The second-year running back fumbled twice in the Giants' season-opening loss in Dallas Sunday night. His trouble holding onto the football, and his uncertain status as the Giants prepare to host the powerful Denver Broncos, replaced the Mannings as the lead story at the Quest Diagnostics Training Center.
"He's following the technique that he's been taught, and we'll see under pressure if he can continue to do that," Coughlin said. "The problems occur when you try to make a move and the ball leaves your side or the pocket that you've established for it. You have trouble and when there's no place to go and other people are surrounding you, you have no choice but to cover it up with both hands and get in position where you're taking care of the football. That's not that difficult a thing for David Wilson, because of his body style and because of the height of his running position. He can do a good job of covering the ball up, and he was careless and it cost us dearly, but I'm confident he's going to learn from it."
Later, in response to another Wilson question, Coughlin said, "He fumbles the football, he fumbled the ball twice. He's got to straighten that out. We're not going to have a guy on the field who's fumbling the ball. He wants to play, he wants to do it, he wants to improve, he wants to be a part of this team, he wants to help this team win. That is something that he must overcome. And the interesting thing is we didn't see it in training camp, we didn't see it in any of the preseason games, but it showed up then."
Amid all the queries and analysis about Wilson, Coughlin would not say if the young back will start vs. the Broncos.
"We'll see," Coughlin said. "As I've said many times, we need him. He's necessary. He's going to have to overcome this issue. He's a marked man. So he's really going to have to overcome it.">>QUICK HITS
Coughlin is happy to welcome back Brandon Jacobs, who signed with the Giants yesterday.
"Brandon comes in at a time when the veteran running back with size is someone that can help us," Coughlin said. "He has been out of football for a while and is very anxious to have another opportunity and is willing to do whatever we ask him to do in order to help our team. I'm happy for Brandon and his family, and let's get to work."
Jacobs has played only two games – for San Francisco - since helping the Giants win Super Bowl XLVI. But Coughlin is confident he can contribute quickly.
"I think he's in pretty good shape," Coughlin said. "We worked him out and he's looked forward to the opportunity that would come, whether it be here or someplace else, and I think he's going to go practice and we're going to try to deal with him just like we would any player right now because, quite frankly, we need him to get ready to play. He wouldn't be here if that wasn't the case."
Coughlin said cornerback Prince Amukamara will not practice today. Amukamara suffered a concussion in the game Sunday night.
"He does feel pretty good, but he's got to follow the (concussion) protocol," Coughlin said.
The Giants signed linebacker Emmanuel Acho to their practice squad.
Acho, 6-1 and 234 pounds, entered the NFL as a sixth-round draft choice from the University of Texas by the Cleveland Browns in 2012. He spent all of last season on injured reserve with a leg injury.
On April 11 of this year, Acho was traded from Cleveland to Philadelphia for running back Dion Lewis. He was waived by the Eagles on Sept. 2. Acho played in all four of Philadelphia's preseason games last month. He had 22 tackles, a sack, a forced fumble and a special teams tackle.
To create room for Acho, the Giants terminated the practice squad contract of wide receiver Marcus Harris.