IndianapolisColts Head Coach Jim Caldwell
Q: How much did you get out of what the Giants defense did last week, particularly with regard to substitutions?
A: Well, obviously they gave you a number of different looks. They are a very, very talented team and so they run a lot of different packages at you so they have that potential to create the matchups that they think are favorable, but overall you could see that they functioned well, they ran around well and they've got good talent, speed, and power.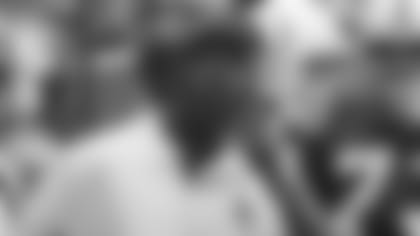 Q: Is that something you think that they can still do when you're running the no huddle?
A: Well, obviously I just think that people have ways of adjusting their system accordingly. I'm not real certain what they'll do. You'll have to ask them that question, but we're probably going to run things like we always do, but I think those technical questions about what they'll do have to be left up to them.
Q: Would you guess that you've seen most of what they will do or do you think they'll still have some surprises for you?
A: I'm sure. Every week everybody in this league puts in something a little bit different. They never show it all. We anticipate something coming our way that may be something we haven't seen.
Q: Did you take anything away from the preseason game against the Ravens that the Giants played when they struggled against the no huddle?
A: No. You know, they're a good football team. Preseason, you can't tell much of anything about teams during that time of the year because you just have so many people and your objectives are sometimes a little bit different just in terms of analyzing things. We don't gain a whole lot from preseason games.
Q: The loss of Bob Sanders – what does that do to your defense?
A: Well, it's one of those things that still remains to be seen exactly what the situation is overall. He's down in Alabama getting a second opinion, I think as you well know at this point. If we have to play without him, we've made some adjustments before – we did last year, Melvin Bullitt stepped in and did a nice job. We have this little slogan around our place, it's called, "next man up," and whoever is required to go in or has the opportunity to go in I should say, we expect him to still uphold the same standards and be an effective player at that position.
Q: Do you expect the hype surrounding the Manning Bowl aspect of the game to influence your quarterback?
A: Nah, I don't think it's going to impact either one of them. It's not anything new, they've done it before, they're two professionals, they're guys that have great focus and good attention to detail. I don't think you'll see any effect on either side of the ball?
Q: When you're studying Eli, what things do you see in him that you also notice in Peyton?
A: Well, they're both extremely accurate. Obviously they are intelligent students of the game. Very few things catch them by surprise. They can put the ball in a position where the receivers and only the receivers can catch it. They can throw people open, as the old saying goes, but they have a good sense of how their offenses operate and they can generate points. They're both very cerebral.
Q: Is your run defense really struggling or do you just chalk it up to a bad game?
A: Well, it is what it is. You can't hide from the fact that last week we did not perform very well. Our objective is we make no excuses. We have to get better because we are facing a team that can obviously run the ball with some very, very capable backs in terms of Bradshaw and Jacobs – those two guys can run it at you – so we have to be better.
Q: Did you think it was mostly a mental problem or physical?
A: We certainly had a number of different issues and not necessarily one that we can put our finger on and say okay, we solved this problem, we've got it all solved. There are a number of different things – missed tackles, where we were fitting, things of that nature, so it was like all the way across the board we had some issues.
Q: Do you expect the Giants to run at you until you stop them?
A: Well, I think you'd have to certainly take that approach. They're certainly going to run the ball but the other thing that you really realize, too, is that they have an outstanding quarterback that can also heat things up quite a bit, but I would anticipate that they're looking to do what they think will work best against us and certainly if they look at that film they're certainly going to think, we should be able to run the ball on these guys.
Q: Peyton seemed to take a number of hits last week – did the pass protection break down?
A: With us, our standards around here are so high, we just don't have very many sacks throughout the history of our system here so one sack or one hit is one too many, but nevertheless, I think that our guys are looking for a great challenge, because they are going to face a formidable pass rush this week – some guys who can really get up the field and rush with power and speed, so we're going to have our work cut out for us.
Q: What do you think about the quarterback you're facing this weekend?
A: What do I think about him? I don't have a great answer for you on that, I guess. I'm a big fan of him.
Q: How come he gets to shove you in the closet and the big brother doesn't do it to the little brother?
A: I don't know. That's the way it worked out, I guess.
Q: Eli has talked about this time around that he is going to try and enjoy this game, do you feel the same way or did you enjoy the last one?
A: I know both of us were relieved. We knew that when we played each other this season that it wasn't the opener. Four years ago, we had all the questions all preseason. The fact that it's week two, we just get to focus on our first game as I know Eli was, and now I understand it's week two and the questions. The fact is that it's one week, and after this week it'll be over, so I think both of us are pretty relieved as far as when the game was going to be.
Q: You guys don't actually face each other on the field, but is there anything you guys do compete directly against each other when you're home or during the offseason?
A: Not really. The time that Eli and I are together is so rare, being on the same schedule. This is probably the only time I will see him this fall, obviously until after the season is over, it will be the short visit I get with him before the game. Any chance that he and I have to be together, like with all my family, the times that we're together is pretty rare and we get time to enjoy each other's company and be around them. If we play golf, it's more friendly, having fun, and being together. It's not really a competitive situation, it's a support relationship. We try to help each other and try to be around each other.
Q: Was that different growing up at all?
A: Yeah. For me, I was two years younger than my other brother, Cooper. He and I were very competitive against each other. Eli being five years younger, we never played in the same leagues together. There was a bigger age gap. I've always tried to help and support Eli. He has done the same thing for me, and that's why he and I have a good relationship.
Q: The last time you time played each other, Eli was a young quarterback in the developmental stages. Do you see this matchup now as a little more equal?
A: Yeah, certainly there is a big difference between being in your second year and being in your seventh. There's a difference in experience for any player in the amount of time that you'd played, especially at quarterback. Certainly, a lot has happened since that game four years ago. It's two different teams, I think. We have a different head coach, we have different assistant coaches, a lot of different players. There is not many players that were on defense for the Giants for that game four years ago. There is a lot of new players there. I think it's a different situation.
Q: You have had a very high profile over the years. Do you find yourself pulling back publicly?
A: I would agree with that. I think certainly when you get into your 13th year, your time becomes football. Physically, there are certain things you have to do to get ready to play and get ready to train. I've tried to keep my time available to concentrate more on football. I'm trying to think of how I want to phrase this. I've always had football as the top priority, I feel like in the past couple years, I have cut back on some of the other stuff.
Q: Did Eli always mimick you, as in dressing like you did and do what you did, when you both were younger?
A: I don't know if I ever necessarily noticed that, so I think he could give you a better answer to that. I always felt very fortunate being the middle child. I had an older brother to look up to, and a younger brother who I could hang out with. I always felt good about being the middle child and having the best of both worlds.
Q: The Colts aren't really familiar with 0-2 out there, how badly does this team need a win?
A: It's an important game. Certainly we didn't play well enough against Houston in the opener. We are playing an excellent team on Sunday. I've always said the team you're playing doesn't care what happened to you the week before, whether you had a huge win or a disappointing loss. It's up to us to try and play better. It really starts with practice this week, trying to have a good practice in order to get ready for this week's game.
Q: You talked about Eli evolving as a quarterback, how about your personal relationship with him?
A: I don't think it has really changed. I think our relationship has been that way for some time now. He and I are very close friends as well as brothers. It's like the same for me and my brother Cooper. I think the three of us get along well. I don't give advice to Eli unless he asks for it. There are certain things I ask him about, too, about football and what not. He certainly is a grown man, and he has a lot of experience. I just try to be there for him when he needs me, and I know it's the same way that he's there for me.
Q: How often do you guys talk every week, has that changed this week?
A: It just depends. There is no set schedule. Depending on the week, whether it's a day game, night game, Monday night game. It just depends, usually though it winds up being about twice a week.
Q: Did Houston show everyone how to beat the Colts?
A: I hope not, I hope that wouldn't be the case. I think what Houston showed that we won't play well if we make mistakes and don't execute, some of the basic fundamentals of the game, that it's tough to win and especially against a good team. I think that was the case on Sunday. Houston played well, and I thought we didn't play well enough at some critical times.
Q: What about the Giants defense from week one is so notable to you?
A: They're very athletic, with a lot of flat out athleticism showing up at all phases: the front, the linebackers, the safeties. There is a lot of speed. They did a great job of creating some turnovers and a lot of athleticism there, and in the secondary as well.
Q: Were the packages confusing at all, or could be confusing?
A: I think one thing that's tough is that it's a new defensive coordinator, and he has new players. Certainly there are some looks against Carolina that they had not shown before. I can't speak for Carolina, whether they were confused or not, and I'm not in a place to do that. Anytime you have a new coordinator, there's not a whole lot of film to draw back on. Even though Coach Fewell was in Buffalo last year, he has new players. When you have new players, it allows you to do different things. With the defensive line the Giants have, it gives them great flexibility with playing a lot of d-lineman. With the athleticism at corner and safety, it allows them to do a lot of different things. There is always a little bit of the unknown here in the first weeks of the season.
Q: Did you get hit more than normal last week?
A: I don't really keep a count, I guess. It was the first game of the season so I don't really have a number count in mind each week.
Q: Where does Eli rank in all the people you know who know football well?
A: I think Eli is at the top. I've never said that I know it better than anybody else and sometimes people assume things or give me credit for things that may not necessarily be true. Eli is an experienced NFL quarterback that plays probably in the toughest division in football. He sees tremendously complicated defenses every single week, but always twice a year from Philadelphia, the Redskins, and the Cowboys. He's seen three different (defensive) coordinators on his team the past three years, which every day in practice, he is seeing different looks. He hasn't missed a start. It'd be hard to find a guy who knows more about defense and is experienced like Eli is because he has been in every single Sunday and he's always ready to play. He takes the cerebral part very seriously, and usually when I call or talk to him, he's studying, so that's what a quarterback's supposed to do in my opinion.
Q: Who is the better golfer?
A: Eli and I are pretty good partners, actually. We usually play together if we're playing somebody or playing together, usually we're partners. We're pretty good at brother in lawing, if you can do that as brothers as I guess. We're good partners.