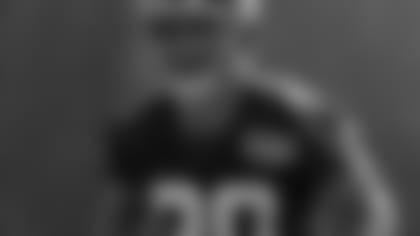 What did you first think of when you found out you were drafted by the New York Giants?
Safety Cooper Taylor: I kind of blacked out. I was so excited at that time. I had talked to some teams early in the day, but there had been a gap for a couple hours and I didn't really talk to anybody. I didn't really know or have a feel for what would happen. So when I got the call, it was sheer excitement. I just was speechless. It was one of the greatest feelings I've had in my life. The first thing that came to mind was the prestige of the Giants, their amazing success, a Super Bowl-winning team, coach Coughlin, an incredibly successful future Hall-of-Fame coach, and just the amazing players that have come through and played on this team. It's an amazing feeling being part of something like that.
What did you know about Tom Coughlin?
Taylor: Coach Coughlin is a hardnosed guy, a great football coach who demands perfection, and definitely a person who strives at getting his players to understand and focus on the details. It definitely helps, especially as rookies, because we're trying to figure out the game. In order to be great, you have to do the little things right, and coach Coughlin definitely teaches that, professes that, and tries to instill that in the rookies.
Who were the greatest influences in your football career that got you to this point?
Taylor: I've had a couple great influences in my football career. My dad has been a great influence in my life, including my football career. My defensive coordinator at the University of Richmond, Bob Trott, who coached with the Browns for a little bit and the Giants in the early nineties, he's a guy that really taught me how to understand and play the game the right way, and he's had an incredible influence on my life. I just can't be more thankful to him for helping me through this process and also back in college.
If you could model your career after any player – current or former – who would it be, and why?
Taylor: There's a guy that I met a couple times and actually got coached by coach Trott at Arkansas, a guy named Steve Atwater. He's a great Hall-of-Fame safety for the Denver Broncos. He's a bigger safety that could run and move. If I could have half of his career, I'd be a successful guy.