EAST RUTHERFORD, NJ - This is a high-anxiety week for Giants offensive coordinator Kevin Gilbride and his defensive counterpart, Perry Fewell.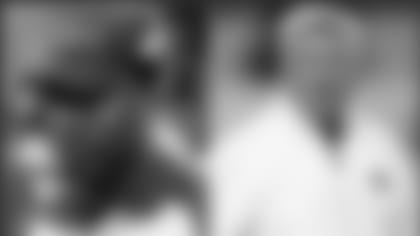 Both coaches face exceptional challenges as they prepare their units for the game Sunday night in Philadelphia between the Giants and Eagles, two teams tied atop the NFC East with matching 6-3 records.
Gilbride is trying to construct a game plan while compensating for missing players. Shawn Andrews, his starting left tackle the previous two games, has not practiced for two days because of back issues. He could still play against the Eagles, but Gilbride is still working around the absences of three 2009 Pro Bowlers, wide receiver Steve Smith (pectoral), center Shaun O'Hara (foot) and tackle David Diehl (hamstring/hip).
Fewell's test is to devise a plan to ground Michael Vick and the high-flying Eagles, who rolled up 592 yards while pummeling the Washington Redskins Monday night, 59-21.
First Gilbride. The Giants' offense performed reasonably well without the three missing starters last week vs. Dallas. The unit gained 480 yards, the third consecutive game the Giants reached that total, a franchise first. But the Giants didn't score enough points and lost to the Cowboys, 33-20.
Andrews, a Pro Bowler at right guard in 2006 and 2007 with the Eagles, had played well in his first-ever games at left tackle. But just as he began to hit his stride, his surgically-repaired back flared up, forcing another reshuffling on the line. Second-year pro Will Beatty, who returned last week after missing seven games following foot surgery, has been working at left tackle. Beatty was drafted at that position but has never started a game there. Kevin Boothe started last week at left guard in his first action of the season.
"Unquestionably, not only do you wish you had your full complement of players, you wish they were out there for the full complement of practices," Gilbride said. "It's not the ideal situation, but hopefully they'll be ready to go and you just do the best you can under the circumstances, knowing that there's been limited practice time and you're counting on the time being made up in meetings, watching film and compensating for the fact that they're not out there physically doing it. It's not the ideal, it's not the way you'd draw it up, but it at least gives you a chance so that you're prepared and if (Andrews) is prepared, I'm sure he'll play well, but it's just a matter of putting forth the necessary time."
Because of the relatively limited experience of some of the linemen who might play, Gilbride would probably prefer to scale back his game plan. But the complexity of the Eagles' defense makes that unfeasible.
"You wish you could, but the problem is that they don't let you because defensively, particularly this team, they use multiple personnel groupings and looks and the basis of what they do, to me, is to try to cause confusion," Gilbride said. "So the challenge is not to allow that to happen and not to allow that to slow you down and you continue to perform with the efficiency and the coordination that you need in order to have a chance to win. In terms of what you do offensively, just by the nature of what they do, they limit you and certainly if it's a guy that is less experienced or it's a guy that maybe needs further assistance from either a tight end or a back or an additional lineman or what have you, that just compounds the matter."
Andrews could play against his former team and reduce some of Gilbride's anxiety. Tom Coughlin said Andrews was "day-to-day," but sounded hopeful when he addressed the player's situation for the first time after practice today.
"He has been stiff and sore before but never to the point where he didn't feel like - he actually came out and tried to work yesterday," Coughlin said. "He felt he could work. As long as he was in a two-point stance, he felt he could.  But then the smarter move prevailed and we didn't push it any. He was a little bit better this morning. And hopefully he will be a little bit better tomorrow."
The linemen who did practice typically kept their focus on the task at hand and not on their missing teammates.
"We go out there and practice," former left guard and current center Rich Seubert said. "That's why we have guys on this team to be here, to play. So whoever is in there, we expect him to step up and play well. Whoever is in there has got to be ready to go. You're only one play away if you're not starting. So you never know when the opportunity is going to come, but when it does, you have to be ready to step up and make a name for yourself."
"There have been many times throughout my 10 years in the NFL where I've seen guys not practice and play," right tackle Kareem McKenzie said. "So is that out of the realm of possibility? No, it's not. It's completely acceptable when you think two years ago when Plaxico (Burress) couldn't practice but did play."
The linemen believe Andrews would have to be admitted to a hospital for him to miss a game against the team that drafted him in the first round in 2004 and released him five years later.
"That's what makes the question all the more farcical, to me," McKenzie said. "That would seem the obvious answer to me. Going against his old team, I don't think he would miss that opportunity for anything."
While the offense sorts through its missing parts, Fewell had almost a full group today. Cornerback Corey Webster sat out practice with a sore toe.
"They fitted him with a shoe and he just didn't feel comfortable," Coughlin said. "Instead of pushing it and creating an issue – hopefully he will work tomorrow."
Now Fewell just has to figure out how to maneuver all his players into positions where they can slow down Vick and the Eagles' offense. Vick's Monday night performance has been well-documented – 333 passing yards and four touchdowns, plus 80 rushing yards and two more scores. He has won the last two NFC Offensive Player of the Week awards and his 115.1 passer rating leads the league.
But Fewell said he's not losing sleep trying to figure out how to vanquish Vick and his mates.
"They're pretty good," Fewell said. "They're a very potent offense. A lot of different weapons – good speed… You can't say enough about how they're playing. They're playing at a championship level right now."
Coughlin watched the first half of the telecast of Monday's game, but Fewell waited until he got the game tape before beginning his study of the Eagles.
"I just thought, 'Wow, they're clicking on all cylinders, we have to play our best football,'" Fewell said. "You can't go out and have a mental lapse, you've got to play until the whistle is blown. That old adage, you've got to play 60 minutes of football with these guys is very true because they play full speed and they play 60 minutes of football and they play fast."
Especially Vick, who is arguably the NFL's fastest quarterback. The Giants would like to sack and punish Vick. But Fewell admitted those goals can contradict each other.
"They're very conflicting," Fewell said. "You kind of pick your poison. Sometimes you have to try to contain him and keep him from running, sometimes you have to go take a shot at him, but he's a guy that no matter what you do structurally, defensively, he can break down that structure and that's the most exciting thing about him and that's why everybody likes to see him play, because he knows how to break down that structure.
"If you've got all the lanes filled up, he's going to find a little seam. If you're in coverage and everybody is plastered in coverage, he's going to find that little seam to run or if you're playing whatever coverage, he's just going to throw the ball up and he's throwing the ball so accurately right now. He's pinpointing the football from 30 and 40 yards deep, so he has been breaking down defenses in the games that we've been looking at that he's played."
But none of those defenses are ranked first in the NFL, as the Giants are. The Giants are allowing an NFL-low 270.2 yards a game. They are also first in first downs allowed (13.9 a game) and opponent third down conversion percentage (28.9 on 33 success in 114 tries). The Giants will enter this battle well-armed.
"I like what we bring to the table versus what they bring to the table," Fewell said. "I think we have to come ready to play solid, fundamental football and if we do that, I like our chances.
"I like the way our guys prepared today for what they do. I think our guys are excited about what we have. Again, we have to come and play 60 minutes of football. Hey, we're going down to win a football game. That's the only reason we're going down there. We're taking that crew down and we're going to go down and win a football game."
*Tight end Kevin Boss (back) did not practice today. Coughlin said he thinks Boss will practice tomorrow.
Defensive end Osi Umenyiora (knee) and fullback Madison Hedgecock (hamstring) were limited. Linebacker Gerris Wilkinson (hand) and return specialist Darius Reynaud (hamstring) worked fully.
*A scoring change has cost the Giants their only sack from the Dallas game.
Umenyiora has been credited with a three-yard sack of Jon Kitna on the second play of the second quarter. After reviewing the play, the Elias Sports Bureau has changed the play from a sack to a rush for minus-three yards.
Umenyiora now has 8.0 sacks, which drops him into a four-way tie for third in the NFL. Dallas' rushing totals from the game are 28 carries for 100 yards, Kitna's are five carries for two yards and the Cowboys had 327 net passing yards.
*Since 1990, the Giants are 8-15 against teams that played the previous Monday night.