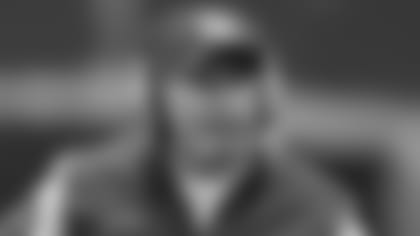 Q: This is your 15th NFL season. I would guess by now you get a feel for a team by observing its attitude, work ethic and practice habits during and after training camp. You've watched this team now on the field for five weeks. What kind of gut feeling do you have about this team as you head into Sunday's opener against Carolina?
Coughlin: "Let's see what happens. We know the style of game that we're going to play, the team that we're going to play against, they're a very, very good defensive team. A team that rushes the ball, defends the run, has really had an outstanding preseason. You're going to have to line up and go toe-to-toe with a team like this and win the game knowing it'll be a fourth quarter win, that kind of thing. They have the two great runners (Jonathan Stewart and DeAngelo Williams). You have to tackle. If you miss a tackle, they're coming out at you. They break more tackles than anybody. So we've got to be an exceptionally alert, disciplined defensive football team. We've got to run to the ball. We've got to gang tackle these two backs. They're both close to the ground. They're very powerful, very fast and they do break a lot of tackles.
"What I saw in the resolve in the short week prior to New England (the Giants' preseason finale), that's what I'm counting on. I'm counting on that kind of continuation of the buildup, of the anticipation of playing a regular season game and knowing full well the excitement of the first one and also the idea that it is a 16-game season. The captains have been elected. I feel like we have outstanding leadership from the selected captains. I think I told our football team that no one can do it by themselves. The captains need exceptional help from the team in order to keep the priorities in order. I like where we are in the excitement of the week and looking forward to our game on Sunday."
Q: The players elected Eli Manning, Justin Tuck and Chase Blackburn as the team captains. What do you look for in your captains? What do you want your captains to do?
Coughlin: "Set a good example. Leadership. Strength in the locker room. Different people work in different ways, but if you know the program that we run, the emphasis being on preparation and work ethic, we've got to be strong enough that when either one of those two things is not there on the part of the individual, that you're confident in correcting it - with one player, with a group, however it's best dealt with. Normally, what I've said in the past when I see things that I'm not pleased with is I put that on the leaders of the group and now they're captains. So what do I look for? I look for leadership. I look for strength of character. I look for consistency. I look for people who understand that what we preach is right and they're willing to back it up and not worried about peer pressure. Then it's peer pressure in the positive way."
Q: Do you meet with the captains and say, 'I expect you to do this…?'
Coughlin: "I just did it in front of the entire team before I announced it to the world. I will start out the season meeting with those three guys, and we'll see where it goes from there. I think that they can communicate with the group. I think by doing it this way, I think I have put more responsibility to be recognized by the other players."
Q: Eli was a first-round draft choice, Tuck was taken in the third round. Chase, as we've talked about before, came in as an unheralded and unknown guy. He has risen from a player who everyone thought was a training camp extra to a team captain.
Coughlin: "The reason that the players recognize Chase is because, yes, he is a veteran now, but his attitude has always been, 'Whatever you want me to do, I'll do it to the best of my ability.' He's always got a smile on his face, whether it's the offseason program, the in-season strength and conditioning program, practice on the field - 'What I can do, I'll do it.' He does it with energy. He does it with enthusiasm. He shows the way. He runs down the field on special teams. He shows other players that this is the way it should be done. He's a good example to a lot of young kids coming into this league trying to figure out how it is you make it.
"I also want to say that one of the guys who the players also felt very strongly about was Lawrence Tynes. Lawrence has demonstrated that he's very confident. He's been a very reassuring, very controlled, very confident individual who has definitely been a strong point as you go through the transitional changes that have taken place on special teams. He's been an anchor with regard to the establishment of what we want to accomplish and really in showing the way. He's really been a boost to the coaches and the players in terms of watching the development of a special teams outfit that's obviously been confronted with change."
Q: You will have several rookies play in the game Sunday, notably your new punter, Matt Dodge, and first-round draft choice Jason Pierre-Paul. Do you talk to your rookies before their first regular season game about not letting the moment get too big for them?
Coughlin: "I talk to them individually, take them aside. You like that feeling of development, of the momentum - you want that. You want the excitement, but you want them to understand it has to be controlled and managed. It has to be a thoughtful energy."
Q: Jeff Feagles gave you, I'd imagine, a sense of security the last few years. Is Dodge kind of an open book for you?
Coughlin: "Well, we've had a lot of experience this year in the preseason, and he's benefitted from all of that. It's going to be very different now obviously. But we can't have a mistake. You can't have a bad play. You have to give the other guys on our punt team a chance and put the ball where we want it placed. This will be a field position game, and he will be a big part of it."
Q: You haven't really been asked about Eli much except when he had a cut on his head. Has he had the camp and the preseason you hoped he would have?
Coughlin: "There was a week when he couldn't work. So I think he's back on schedule, and I thought the short week and the way that he played against New England put us right back in business."
Q: He had his best season statistically last year. What areas are you looking for him to improve this season?
Coughlin: "He's grown in every category in each of the years that he's been the quarterback of the New York Giants. What I always do with Eli is challenge him in a logical way and a realistic way to go to the next level. So where his completion percentage might be a certain number from last year, I'll challenge him to go higher. His quarterback rating, I'm challenging him to go higher. I'm challenging more touchdowns, fewer negative plays, less of anything taking away from that. So my challenges are always to the next level, to the higher power, higher regard."
Q: And his response has always been…
Coughlin: "It's always that way (that he wants to improve). Always that way. It's never been any different."
Q: When Kenny Phillips had his surgery last year, some people said the kind of condition he had in his knee could be career threatening. But he's on track to play on Sunday. Could you speak to his approach and determination from when he had surgery almost a year ago to this week?
Coughlin: "I believe it's the faith that he had in himself, in his doctors and his rehab. I don't think I ever saw a moment when he didn't think he was coming back. Never. His response was always extremely positive. No matter what you asked him what his status was, the training room, the people downstairs in charge of his rehab were always very supportive of where he was. We did an outstanding job of bringing him along. We still have to see it (on the field). He's going from 25 plays to big time numbers. There's a lot to be seen still. It's no done deal. It has to be proven."
Q: But again, you wouldn't put him out there if you didn't think…
Coughlin: "The medical people tell me he's ready, and he thinks he's ready."
Q: It's never a mystery what Carolina wants to do. They're going to come in here and they like to run the ball. Defensively, they've made a lot of changes. They took Jon Beason who made two Pro Bowls as a middle linebacker, and moved him to the weak side. What do you see from their new defense?
Coughlin: "Same kind of defense, a new structure. The front is playing the same. Their tackles are different, but they're getting after it just exactly the same. (Ed) Johnson inside is a load. (Louis) Leonard is a load. (Defensive end Tyler) Brayton's playing well. Charles Johnson (the other defensive end). They've got a young kid named Greg Hardy who has played very well in the preseason. Their linebackers are fast, aggressive, downhill players. (Dan) Connor in the middle has allowed them to put the real speed at both outside backer positions. Their two corners (Chris Gamble and Richard Marshall) are veteran players. They will take chances. They will take risks. They have a lot of faith in what's going on up front. The safeties are very aggressive. (Charles) Godfrey's down at the line of scrimmage. He's a physical tackler. (Sherrod) Martin is a very fast kid playing in that secondary. They have a good team. Preseason, you saw it."
Q: One last thing. This is the cliché question of the week, but they beat you 41-9 last season, so is revenge a motivation or is too much made of that?
Coughlin: "I don't think you use that word. I don't say that word. I think there's more of a pride than there is anything else. I think that's a very positive thing. (Revenge is) not the motivator that you think it is. I think pride is the motivator."
Q: Pride…
Coughlin: "I mean, there isn't any question about the way you felt last year after the game."
Q: Some of the players have said that this game will tell a lot about this team, your team. Do you agree?
Coughlin: "It's one game. I think there's no doubt we'll find out a lot about our team, but I also know it's one of 16 regular season games. You're going to grow from whatever. You'd like to win and continue to improve based on that, and that's what we're playing for. You play to win. That's all you do is you play to win. I don't buy into the short term stuff. This is all about the long term. All you've got to do is go back a couple of years and you know exactly what I'm talking about. So there's nobody being painted into a corner in any circumstance here. I think we've got a good football team. Let's see if we play together. I mean, that's where it starts. Let's see if we can complement each other. You preach that your team has to complement each other - your special teams, your defense and your offense all have to play together with the same regard whether it be field position game, whether it be special teams contributions, whether it be a tackling outfit that is an aggressive team that tackles well on special teams and tackles well on defense; your new players, how do they fit in and how do they emerge as you talk about complementing each of your groups. That's the major thing that happens when you leave preseason and go to regular season, because the trial and error is over. You've got to go play, and you've got to go win. So whatever your plan is, whether you're an individual, whether you're a defense, special teams or offense or total team - whatever your concise plan is going into any game, with this being the first game, then you've investigated it, you've studied it, you've prepared, you've thought about it. You've got to go do it. You've got to do it precisely. That's where it is right now with the first game of the year for any team in this league. You don't play guys long enough (in the preseason) to give you a reference for all of those things.
"So here's where we are. And who's going to emerge? Let's see. You don't talk about a lot of guys. In order to be the kind of team you want to be, you've got to be talking about a lot of names Monday. Not just a few names. Not just the few names you're talking about here. Every guy, 45 men, 45 men on Sunday afternoon have to make a huge contribution in order for any team in this league to win. And the old cliché about you're only as strong as your weakest link, let me tell you something, in this league it is not a cliché. If one guy is not doing his job, the other guy will find out and he will take advantage of it. And it'll cost you. On the other hand, if he rises up and plays way higher than expectations, then you're going to benefit. Those are the things when you start talking about when you ask the questions, those are the questions you're trying to answer. You've got to see your team play together. Do you rally around each other? Do you create things for the other guy? Turn it over a couple times in that plus territory. Take the ball and go on longer drives. Punt the ball down in there in the minus-five yard-line. Tackle the runner inside the 20 on kickoff. Run the ball back to the 35-yard-line on kickoff return. Do these kinds of things. Tackle well. Tackle together. Gang tackle."