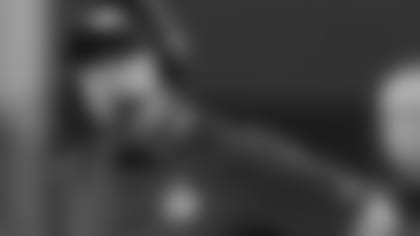 ---
At your news conference yesterday you were noticeably energetic and upbeat. I think a lot of people were surprised by that. Are you always cognizant of portraying the positive…?
"That's the way I feel. It's the start of a new week. Let's go. What are we going to do, stand around and feel sorry for ourselves? No. Not going to happen. We have a team, we have to build. If we're going to continue to bring these guys together, then obviously it's got to start. Start with me."
You talked earlier in the week about the team practicing well, but it not transferring to the game. Not to put a word in your mouth, but I assume that is frustrating. Did you talk to the team captains about that?
"No, I didn't. You just keep working at practice. At some point it clicks to where it is one in the same."
Monday, one of the phrases you used was, "damn the torpedoes, full speed ahead." What has that been like as you've tried to turn the fortunes around?
"Sunday night, Monday, I'm disappointed. It's time to get going again. You've got other people in this building trying to figure out, 'What's he like, what's… so let's go."
The offensive line struggled last week in Carolina. After a position group has issues in a game, do you spend more time with that unit? Do you make yourself a more noticeable presence?
"No, I always stop in there. After the offensive team meeting I go in there and observe what's going on. I may pick up on a word or two that's being said in there and I may jump in it and reinforce it. I may make something light out of it. Whatever is in the flow. But any more? Any more? No. It's professional football. We have guys that are going to put that uniform on and go play. And find a way to win. Compete, compete, compete."
The players this week have been upbeat, saying the Giants still have a great offense, you will see a different team this week, etc. You originated the phrase, "talk is cheap, play the game," but do you like the way they responded to what obviously has been a very disappointing start to the season?
"I think that they really do, the players really understand to stay together, stick together, stick together, build together, grow together, become what we look for in terms of one team, one group. That's what I think they're trying to say. They worked very well yesterday (Wednesday), worked hard yesterday. But we did a pretty good job in practice last week, too."
---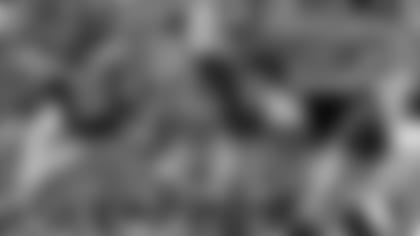 ---
Eli obviously has the eight interceptions. When things are going poorly his calm demeanor never changes. Do you think he's that calm inside?
"He's himself. He's going to act - the word is not calm, I don't know what the word is. Concerned. Certainly, he's concerned, regardless of what his demeanor is. He wants it to improve, he wants it to be better, he's willing to do whatever it takes to make it better. But, you know, everybody's frustrated because there's no button. I'm not pushing that button (there actually is a big red button on his desk) and it gets better. You just have to keep going and moving ahead."
Before the season finale vs. Philadelphia last year, you did something I never saw you do before when you entered the field and walked right over to Andy Reid. Everyone knew it would be his last game as Philadelphia's coach, so I assume you wished him well.
"I did. Because Andy Reid is a good person, he's a friend of mine, we've competed against each other for a long time, he suffered a personal tragedy (the passing of his oldest son last year). I can't imagine not extending to someone under those circumstances, no matter what. I thought he handled his situation extremely well, very courageously. But, you know, that was the right thing to do. And hopefully I'll always be able to do the right thing."
This is the 20th time you're going against each other in the regular season…
"Somebody said that the other day."
Yesterday on his conference call he called you a great person and a Hall of Fame coach, by the way.
"I'd like to win one game."
---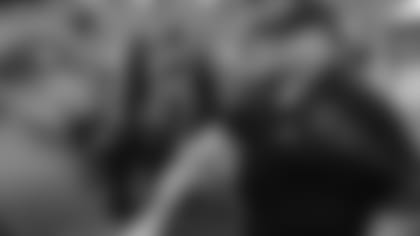 ---
But given what you know about him as a coach, I guess you're not surprised that they've turned around as quickly as they have.
"Andy Reid, I'm not sure where he is now, but he was close to a 70% winning percentage until probably last year. He makes a 14-year run in one place. He's an outstanding coach and an outstanding person. And I like the guy. I think he's a good guy. I like his family. I see him at the league meetings. I have great respect for him. You look at their talent and I'm not surprised. Their defense is outstanding and their quarterback (Alex Smith) doesn't give the ball away. They have no turnovers in three games." * *
When Reid was in Philly he rotated his defensive line all the time and in Kansas City he doesn't do it at all.
"He probably doesn't have enough guys, but it's okay. The guys he's playing are playing very well."
I guess you don't want to take them off the field anyway.
"No, not in that scheme. It's a linebacker scheme. But he's taking those guys that are big guys and playing them like outside backers. Pretty effective. And (strong safety Eric) Berry has had an exceptional year coming down (into the box). It's a good defense."
And obviously you know his offense…
"No, he's tweaked it. It's definitely been tweaked. He's adjusted well to his personnel. He started the season off, he really hasn't had his tight ends together. But he doesn't mind playing three wides and the quarterback runs."
You say he tweaked it a lot, but do you still see multiple formations?
"Oh yeah. The first six or eight plays are going to be from a different formation. And he uses a lot of personnel combinations."